Putin's Q&A: Around the world in 80 questions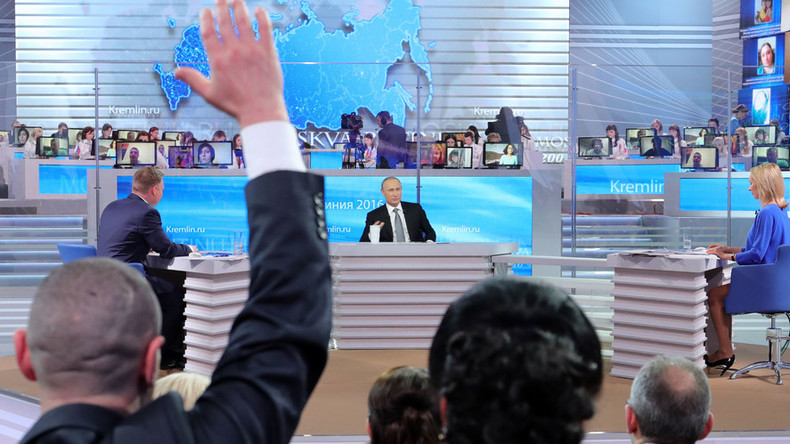 'There are more questions than answers' the American reggae artist Johnny Nash sang in 1972. The same was certainly true of Thursday's marathon Q & A with Vladimir Putin, when over 3 million questions were sent in by the general public for consideration.
Today's session, compared to others we've had in the past, was a relatively 'quickie' - it 'only' lasted three hours thirty-nine minutes - one hour and eight minutes short of Putin's record, set in 2013.
And the Russian President 'only' answered eighty questions. What a slacker!
Even though no records were broken, it was still a pretty impressive watch - particularly for Westerners unused to the rather revolutionary idea of leaders answering a flurry of questions directly put to them by members of the public for hours on end.
Understandably, given public concerns, everyday problems concerning rising prices, the Russian economy and the state of the national infrastructure were among the earliest questions put to Putin. The President said that rising prices were a temporary phenomenon and they were expected to stabilize.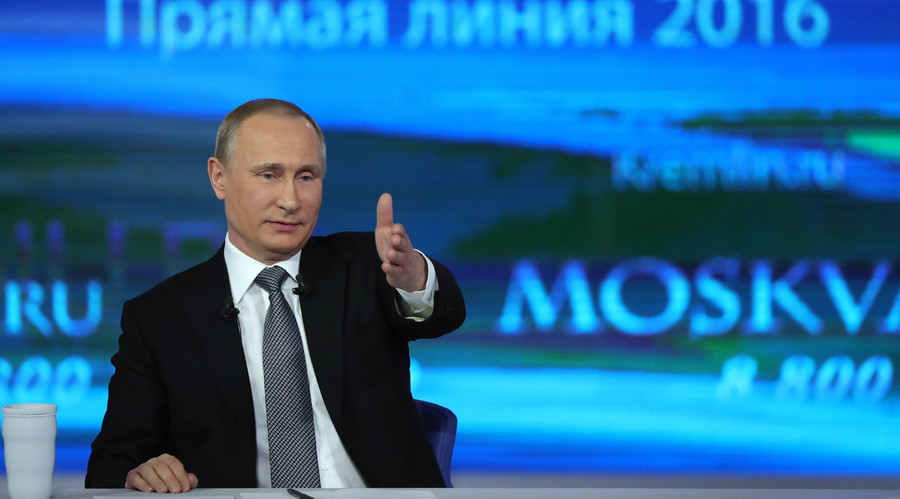 'Katya' from Omsk asked the President why roads and pavements in her city were in such a terrible state. Putin promised that money had been earmarked for road improvements, but that he would act to make things better.
(Later we learned that the Omsk authorities, following Katya's question, pledged to fix the roads by May Day).
On the subject of Western sanctions, Putin said there was no sign that they would soon be lifted, even though Russia had complied with the Minsk agreements in relation to Ukraine.
Putin was surely right about this. I have long argued that Ukraine was only used as a pretext to impose sanctions on Russia. If it hadn't been about Ukraine, it would have been about something else. Vindictive neocons in the US State Department and elsewhere in western elite circles were angry with Russia for blocking their plans for regime change in Syria; pushing for sanctions was their way of paying Russia back.
Note how events in Ukraine 'kicked off' not long after Russia's diplomatic intervention prevented air strikes on Syrian government forces in the summer of 2013. A coincidence? I think not. Those cookies were all ready to be distributed in the Maidan from the moment the plans to bomb Syria were thwarted.
Putin was absolutely correct to say that the crisis in Ukraine had been "artificial", noting that the same oligarchs remained in power in the country.
"Russia needs a stable and prosperous Ukraine. We're interested in Ukraine getting up on its feet," Putin declared. It'll be interesting to see how the neocons spin that one.
What u think abt #Obama admitting #Libya was his biggest mistake?-Only strong man cud do it,it's bravery.Sad that mistakes continue. #Putin

— Maria Finoshina (@MFinoshina_RT) April 14, 2016
Putin said that Barack Obama's admission that Libya had been his "greatest mistake" showed that the US President was a "decent person". Can we imagine Obama ever reciprocating and showing such generosity to Putin? I think not. Personally, I'd take issue with the idea that Libya was a "mistake" - I think the destruction of the country with the highest living standards in Africa was quite deliberate - as was the destruction of Iraq - but of course Putin is too polite and diplomatic to say such a thing.
The Russian President also warned the US from repeating in Syria the 'mistake' it made in Libya. Well, we'll only know that there's been a real shift in Washington when the US drops its calls for 'regime change' and allows the Syrian people and the Syrian people alone to decide who governs them.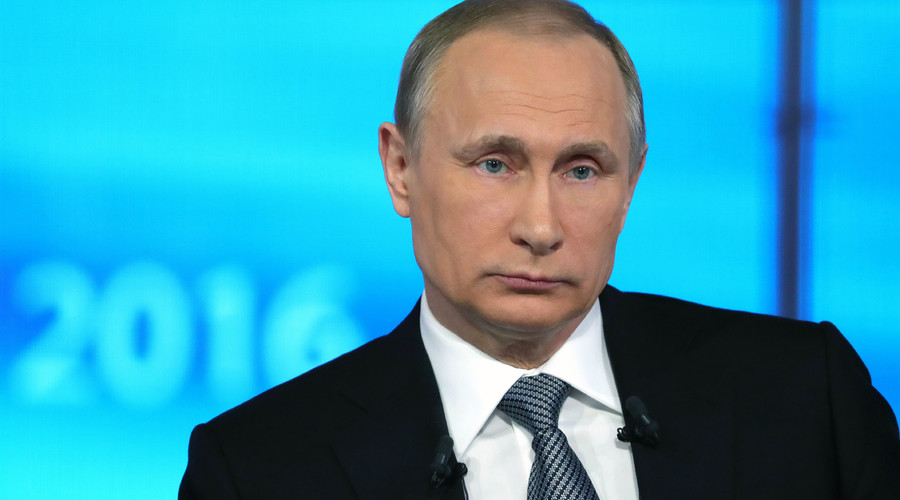 Putin noted that Russia and the West had co-operated constructively on issues such as the Iran dossier and non-proliferation, but that the US needed to respect Russia as an "equal partner" and not act as if it was a superior nation.
Can the world's leading imperial power stop acting so aggressively and start treating other countries as equals? What a world it would be if it could.
The subject of the #PanamaPapers leaks inevitably came up with a questioner asking Putin why he did not sue western publications for spreading lies.
Putin's reply was interesting and worth looking at in detail.
"Odd as it may seem, they do not publish falsehoods about offshores. The information is correct", he said. Putin did though add that the authors of the publication did not accuse anybody.
"They allege that some of my friends do some business. So the question they ask is if there is any chance the money from the offshores may end up in the hands of some officials, including the president".
"Who is behind these provocations," Putin asked.
Putin believes that the #PanamaPapers leaks were not a plot, but part of a "targeted information attack" against Russia and aimed to "throw dust into people's eyes". Well, if that was indeed the case, then it's backfired spectacularly - as its US allies - including David Cameron who've been feeling the heat following the revelations.
While many serious topics were discussed in the Q&A session, there was, thankfully, plenty of light relief too. The question that made me smile the most was one from a 12-year-old girl, Varvava Kuznetsova, who asked the President: "If Poroshenko and Erdogan were drowning at the same time, whom would you save first?"
"If someone wants to drown, saving them is impossible. Yet, we are ready to reach out a helping hand, if they want," was Putin's clever answer. I hope Poroshenko and Erdogan were watching - because here was an olive branch if ever there was one.
In the last question, Putin was asked if he ever swore. "There is such a sin in Russia, and I'm guilty of it, but mostly only at myself", he replied.
After such a successful Q&A, I'm sure it was only bitter western Russophobes who were swearing at their television screens.
You can say what you like about Vladimir Putin- and we know how much the neocons hate him - but can you imagine 'Call Me Dave' Cameron, Barack Obama or Francois Hollande answering EIGHTY questions direct from the public live on television for three hours thirty-nine minutes - on topics ranging from the conflict in Syria to whether we should have porridge for breakfast? No, neither can I. Our leaders in the West are far too 'democratic' for such things.
So let's get on with some more Russia-bashing and Putin-bashing, shall we? It helps keep people's minds off the democratic deficit back home.
Follow Neil Clark @NeilClark66
The statements, views and opinions expressed in this column are solely those of the author and do not necessarily represent those of RT.
You can share this story on social media: