'US tripping over its feet in Syria'
Published time: 25 Mar, 2016 12:30
Edited time: 25 Mar, 2016 12:41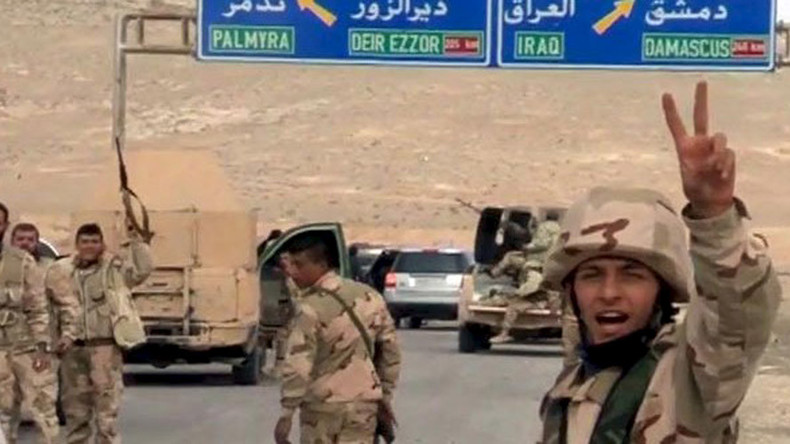 US foreign policymakers are confused about their handling of Syria, and don't know what to do and what they want, and wish the whole issue would just go away, says war correspondent Eric Margolis.
The Syrian Army has advanced slowly in heavy fighting with Islamic State (IS, formerly ISIS/ISIL) near Palmyra's ancient ruins on Friday reports Reuters, citing state media and a monitoring group.
RT: The State Department was not particularly enthusiastic about the Syrian army's gains against ISIS in Palmyra. Why is that, do you think?
Eric Margolis: I think one of the worst jobs in the world is to be a State Department spokesman these days. The American foreign policymakers are tripping over their own feet in Syria. They don't know what to do; they don't know what they want; and they wish the whole thing would just go away, but it's not. And they don't want to applaud Russia for breaking the ISIS insurgence. They don't want to say anything nice about President [Bashar] Assad in Damascus. We should just let them rest a bit and be calm for a while.
RT: Palmyra is at a strategic crossroads in central Syria between Damascus and the contested eastern city of Deir ez-Zor. Could this be a game-changer for the Syrian army?
EM: As a former military man, to me this is an important achievement. This is the most offensive that I've seen as the Syrian Army have got renewed morale, probably better weapons, certainly better leadership. And they have been on the defensive for so long that this is an important offensive operation. It is backed by the Russian air force, which is a small number in Syria, but doing a very capable job. And I suspect that Russian Special Forces may also be operating in this area.
READ MORE: Syrian Army '1km away' from taking Palmyra from ISIS – military sources to RT
RT: In the past, Syrian military found it difficult to hold on to their territories. How can we be sure that they are going to keep it this time?
EM: I think the ISIS force, DAESH, or whatever we want to call them, are definitely on the defensive. They are not in a position to launch a major offensives, because further north US-led Iraqi forces and Kurds are getting ready to attack Mosul, which is the biggest city held by ISIS. So ISIS is in trouble. Its finances have been damaged by Russian airstrikes.
The statements, views and opinions expressed in this column are solely those of the author and do not necessarily represent those of RT.