Turkish gambit: Ankara wants €6 billion & visa-free travel to EU for hosting refugees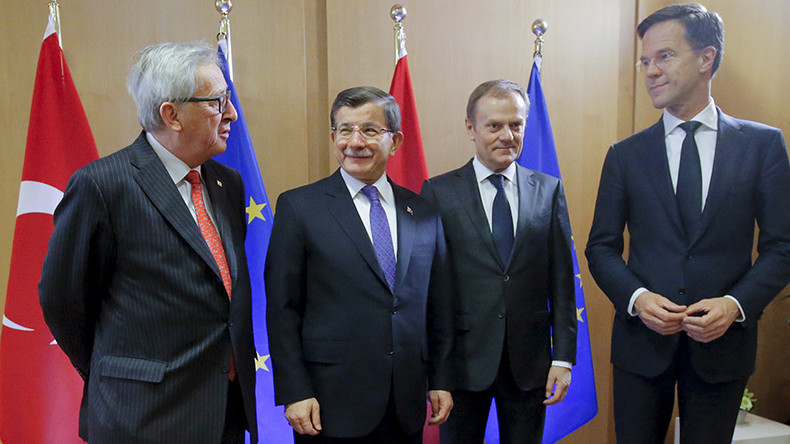 With Britain in the early stages of deciding whether to stay in the EU or not, the prospects of having millions of Turkish arrivals could force a Brexit, Robin Tilbrook, chairman and founding member of the English Democrats, told RT.
Diplomats are meeting in Brussels for a two-day summit in an attempt to negotiate a refugee deal with Turkish Prime Minister Ahmet Davutoglu. Turkey says it will accept migrants from the Middle East in exchange for financial support and political concessions.
Moreover, the Turkish government is demanding visa-free access to Europe for its citizens.
RT: What are the biggest stumbling blocks?
RTl: I don't know, but it's going to be a struggle, isn't it? Mrs. Merkel's future really depends on it. I think the awareness in Europe and indeed in Germany as to just what a mess she's made of it, I think we might start to talk of 'making a Merkel of it' rather than just a mess of it.
RT: What's the EU's position on this deal?
RTl: The fact that you have got all the various different member nations having a say on it. But then on the other side there is an increasing desperation at the EU official level trying to get something that works for them and seems to - at least temporarily - resolve the issue.
RT: What's the UK's position on this deal?
RTl: I think the answer is that the people feel rather differently to the politicians, and I dare say that is probably true across most of the EU. Most people do not want large numbers of refugees coming to their country; the opinion polls have been very steady on that throughout this whole crisis. We also don't want visa-free access for 77 million Turks either, thank you very much.
RT: Do you think the way the EU is dealing with Turkey is right? Is the EU using this as a carrot?
RTl: I think the Turkish government is angling for it. They are trying to get some concessions and who can blame them? They are in a negotiating position and they feel that they should negotiate for, in particular, money, I suppose. We are now talking about €6 billion in a way of a subsidy. But I do think the more worrying thing is for us, for people in this country – is the number of people – we just can't possibly cope with those kind of numbers. It is absolutely unmanageable.
And of course there is a big political impact of it possibly. We are in the beginning stages of our referendum as to whether to stay in the EU or to leave. And the talk of having 77 million Turkish citizens potentially able to come without visas into the EU that will certainly be a big boost for the votes of people to leave.
The statements, views and opinions expressed in this column are solely those of the author and do not necessarily represent those of RT.