AfD vs Merkel: Victory by chance or new trend?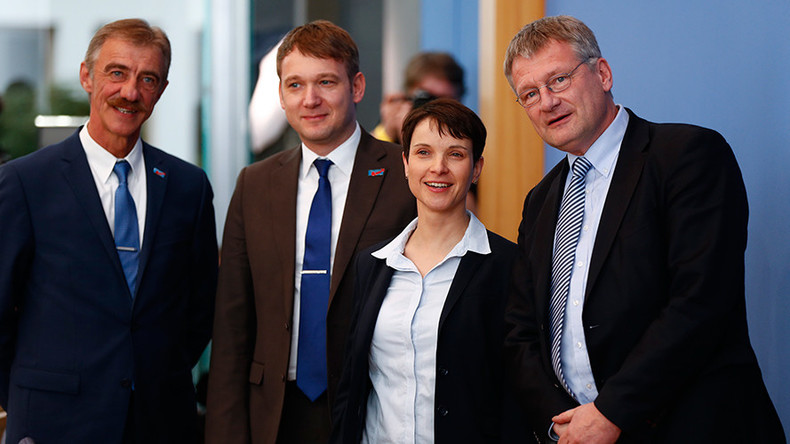 Why is the CDU losing ground in its traditional strongholds to the AfD? Is it a test of the German people's support for Angela Merkel's open-door refugee policy? What are voters telling the Chancellor and is she likely to shift position?
The German Chancellor suffered a bruising in Sunday's regional elections. Official results show many voters have turned their backs on Angela Merkel in favor of the anti-immigration Alternative for Germany party, the AfD.
Boris Preckwitz, author and AfD party member told RT his party has performed even better than they had expected.
"I think we were about four or five percent better than it was in the polls. It was an interesting surprise. The votes came from a very wide spectrum of the whole of society. Most votes came from former conservative CDU voters, another large amount came from the left-wing parties…" he told RT.
Angela Merkel has criticized the anti-immigrant Alternative for Germany (AfD) party saying it was "not bringing together society and not offering the appropriate solutions for the problems, but it is stirring up prejudice and polarizing."
Preckwitz argues that the party has already made several proposals on how to deal with the migrant crisis.
"Basically, we don't believe in what Angela Merkel tries to sell as the European solution. This is something she is really isolated on right now. If you look at the reactions of the other European countries, she basically has no other allies in other countries that go along with her and this is the worst development in recent months as she isolates Germany within other EU member states," he told RT. "The solution of course would be to take care of all the refugees very close to their original home countries, where they come from, at refugee camps, and also to transfer certain numbers of people who have the most severe problems…within Europe within our asylum or refugee system."
Professor Wolfgang Renzsch from the University of Magdeburg's Political Science department says that there is still a difference between eastern and western Germany.
"We have different cultures in East and West which explains the [election] result," he told RT.
"When we look at the success of AfD – an extremist right wing party – we have to see that it is mostly a protest process against social disintegration of the society. And the refugee crisis has actualized that. Here we have to see that East is still economically rather weak and there are number of people who fear, that [they may lose jobs] and [face] difficult circumstances and that causes the protest. The refuge crisis was the primary incentive for that," he told RT.
Also, he went on, people in the eastern regions are concerned about the migration because – unlike western German cities – "they are not used to foreigners," Renzsch added.
The statements, views and opinions expressed in this column are solely those of the author and do not necessarily represent those of RT.