'Israel never short on pretexts when it comes to destroying Palestinian homes'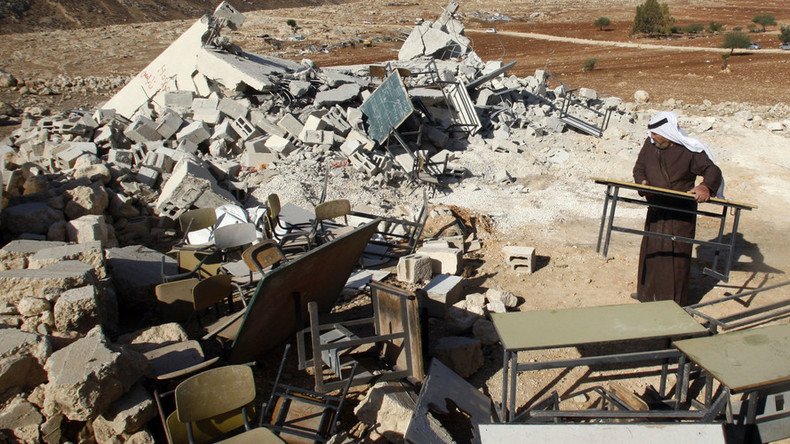 The Israeli pretext for demolishing Khirbet Tana, a village to the east of Nablus, was that it is located near firing zones, says Dr. Ramzy Baroud, editor of PalestineChronicle.com.
Israel demolished at least 41 structures, including an elementary school, in Khirbet Tana village in the West Bank on March 4, displacing 10 families and 36 people, including 11 children. It also affected the livelihoods of five more families The current destruction trend is the highest on record in the West Bank since 2009.
RT: The UN says the West Bank demolitions are "restrictive and discriminatory." What is your reaction to the news that many buildings in one village have been destroyed?
Dr.Ramzy Baroud: I think there's a couple of important things that need to be said about it. Number one: in this particular case the destruction of the Khirbet Tana village is really not a reaction to any particular violent event that emanated from that village. That village has been destroyed nearly 11 times in the past. Other villages such as al-Araqib in Naqab (Negev region) have been destroyed 93 times in the past. So this is kind of an ongoing story where people are trying to carry on with their everyday life and Israeli military has other plans. The other thing that needs to be said about this is that this village is located in what is known as 'Area C'. 'Area C' is nearly 60 percent of the West Bank. It was designated under the so-called peace process, the Oslo Accords in 1993. It has been designated as an area that is under the control of Israeli military. As a result, the Israeli military has been running amok in that area since 1994. They have destroyed hundreds and hundreds of homes, schools, clinics and other facilities in these areas and that continues.
RT: Can you explain the reason the Israeli authorities give for this demolition?
RB: There are all kind of pretexts. Israel is never short on pretexts when it comes to destroying Palestinian homes. In this area in particular the pretext is that it is located near firing zones. Guess what? The firing zones of the Israeli Army are 18 percent of the total size of the West Bank - almost one-fifth of the occupied West Bank is designated as firing zones! Which means you are looking at 38 different municipalities, villages, locality that could potentially be entirely destroyed because [they are] located near these firing zones.
RT: What is the impact on the communities there?
RB: If we look at Khirbet Tana alone, just this particular incident, there is a small school that has been constructed by international volunteers, by European volunteers; it has been funded by Oxfam. This school is now destroyed. There is no other option but to walk to Nablus that is about 10km away in an area that is extremely difficult to move with school buses and any other vehicles. So, the children or their families will now have to make a choice: either drop out of school altogether or have to walk 10 km to the nearest school to that village. These kids have committed absolutely no crime, they do not deserve such a fate. Their future is now on the line as the future of other Palestinian children living in other communities that have been destroyed recently.
The statements, views and opinions expressed in this column are solely those of the author and do not necessarily represent those of RT.
You can share this story on social media: