'Obama is ordering Black leaders to endorse Clinton'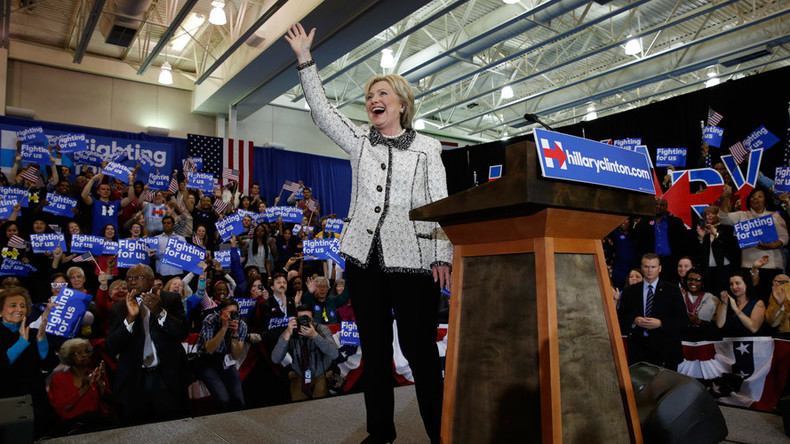 While the situation with Hispanic voters is uncertain, Hillary Clinton looks to have endorsements by black leaders sewn up nationwide just days before Super Tuesday, says Patrick Henningsen, founder of 21stcenturywire.com.
RT: Hillary Clinton has already given her victory speech in South Carolina. How significant is this victory for her?
Patrick Henningsen: This is a tremendous amount of momentum going onto Super Tuesday. It is a landslide victory. It looks like 75/25 split in favor of Hillary Clinton. And going into this primary there are more or less neck-and-neck in terms of pledged delegates. After [Saturday] Hillary Clinton will have a little bit of an edge. But looking forward to Super Tuesday, there are around 865 delegates up for grabs. And 66 percent of those are in six states, the biggest ones are Texas and Georgia. And Hillary Clinton has an average of a 33 percent polling advantage already in those two large states. So, she is looking very strong going into Super Tuesday.
RT: Looking ahead to Super Tuesday, do you expect those 11 states to decide the race?
PH: Yes, I think it is safe to say with the amount of delegates that will be awarded after Super Tuesday. If we go by present polling, Hillary Clinton will have something like 590 to 360 delegate advantage over Sanders. We also have to factor in the other side, which is the superdelegates - these are party luminaries, elected officials, the Democratic Party establishment effectively where Hillary Clinton has something like over 400 already pledged as superdelegates, which are kind of outside of the democratic process. There is a separate discussion and debate you can have about how democratic the superdelegate process is on democratic side but that is the reality of it. So, Bernie Sanders will need a tremendous come back, a complete sea change to happen to get just even with Hillary Clinton, should the Super Tuesday predictions come true.
Former presidential candidate Robert David Steele told RT: "It is not possible to win in America today as an independent, or as a green, or as a libertarian. The entire system is completely raped. 60 per cent of all American voters are completely disenfranchised...It doesn't matter who wins the White House because the two-party tyranny is still going to be in control of the Congress. So right now, no matter who wins…they will be impotent, figurehead theatrical presidents."
RT: Both Clinton and Sanders are fighting for the minority vote and it seems to still be an open battle. Which candidate do you expect to win over black and Hispanic voters?
PH: I can say the Hispanic voters - that's uncertain. That is not as homogenous as a demographic as a lot of people would like to believe. However, in terms of "black endorsements" from black political leaders and black caucuses from state to state it is pretty clear that the White House has made series of phone calls. And this is probably a deal that was struck in 2008. You can go all the way back to the Bilderberg meeting in Virginia in 2008 where decision was made Hillary was going to back off a little bit from the Obama campaign, Obama got elected of course, as we know. But Obama is now probably quietly giving his orders to the black leaders to endorse Hillary Clinton. Look at South Carolina - the complete landslide in terms of the African-American or the Black vote. So, she looks to have all those endorsements pretty much sewn up nationwide. That is going to be very tough if you are Bernie Sanders.
The statements, views and opinions expressed in this column are solely those of the author and do not necessarily represent those of RT.
You can share this story on social media: