RT grabs 13 nominations at New York Festivals
Published time: 24 Feb, 2016 11:06
Edited time: 25 Jan, 2018 11:12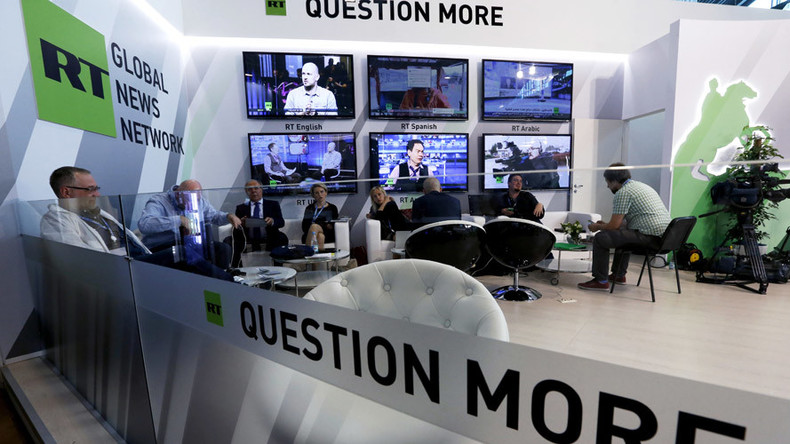 RT's channels have secured 13 finalist spots – more than CNN – in one of the world's largest news and documentaries festivals.
Stuck in Yemen, RT's coverage of the evacuation of US and UK citizens from Yemen following airstrikes by the Saudi-led coalition, will be competing with CNN, PBS and Al Jazeera for the trophy in the Best Coverage of Continuing News Story division. RT also facilitated Russia's efforts to get Yemen residents from the US and UK out of the country.
RT's special reportage on the United Nation's General Assembly meeting in September 2015 and RT America's coverage of the Baltimore protests that erupted after the death of Freddie Gray are both nominated for Best Newscast.
In the Now, RT's daily current affairs and media commentary program, is in the finals of the Best News Analysis/Commentary category, while Ameera David is nominated as best News Anchor for hosting financial show Boom/Bust on RT America.
Four of RT's documentaries made the cut: Trauma, about the humanitarian crisis in eastern Ukraine, in the Current Affairs category; Sleepy Hollow, Kazakhstan, about a sleeping anomaly in a small Kazakh village, as an Environment & Ecology feature; Her War: Woman Vs ISIS – among National/International Affairs documentaries; and Sumud. 40 Years of Resistance, focused on the refugees from western Sahara, by RT Spanish, in the Politics category.
The final four nominations went to RT's promo projects: Cosmotrek, Politicking with Larry King, Victory Day 70 (RT's special project dedicated to the anniversary of the Great Patriotic War), and RT 2035 video, created to celebrate the network's 10 years on air in 2015. The viral clip imagines the channel 20 years from now, with retired President Barack Obama and Secretary of State John Kerry lamenting the changes in the world.
New York Festival's World's Best Television & Films competition honors programming in all lengths and forms from over 50 countries in Television and Film industries. The 2016 awards ceremony will take place on April 19, 2016 in Las Vegas at NAB Show.
RT is a global TV news network that broadcasts 24/7 in English, Arabic and Spanish from its studios in Moscow, Washington, DC, and London. It is available to 700 million viewers worldwide. RT is the most watched TV news network on YouTube with more than 3 billion views. It is the winner of the Monte Carlo TV Festival Award for best 24-hr broadcast, and the only Russian TV channel to garner three nominations for the prestigious International Emmy Awards for News.