A dose of Dadaism to call the Sultan/Saudi bluff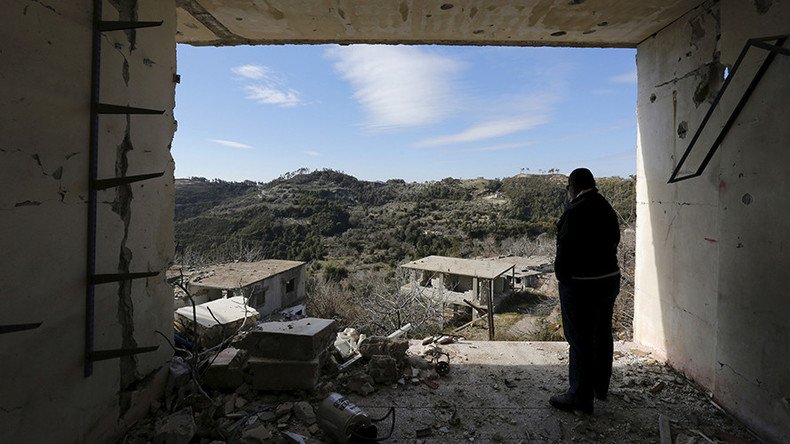 Darkness dawns at the break of noon, sirens blare, red alerts convulse – and it feels like we're 30 seconds from the 9th circle of hell. The best lack all conviction, while the worst are full of demented intensity.
Is this the end, beautiful friend?
Well, not really. It's a bluff. So let's invoke Dada – the original internet – to put this hellhole in perspective. Dada was born a century ago at the Cabaret Voltaire in Zurich – smack in the middle of WWI. *Dada was not only a revolution in art; it's a revolution still in progress.
Dada is a state of mind – pretty much the ideal antidote to manifestations of Cold War 2.0; it is all about destabilizing pomposity; search and destroy symbols; dislocation of language. So with multiple intimations of doom shaping the onset of (fake) WWIII, what's best than to keep on truckin' fueled by impertinence and fantasy? After all, "Life is a Cabaret" (Voltaire). Come to the cabaret.
Cut to a gaggle of rollicking Wahhabis making a cabaret entrance, complete with jets overflying Incirlik. They seem to be getting ready for…boo hoo! Ground operations in Syria! They desire it. Utterly. But, alas, there's no plan. Listen to ringmaster Adel al-Jubeir in all his transgender glory; they may eventually add a "ground component"! But it all depends on 'His Masters' Voice' issuing his permission. And the permission is not forthcoming.
"The timing is not up to us," moan the Wahhabis. So, thirsty for the limelight, and adding to the suspense, enter… the Turks! "The best time to enter Syria is now," howl the pro-AKP hordes from Ankara to Antalya. How can we possibly allow those seedy YPG Kurds to concoct a buffer state along our border and, moreover, one that is controlled by the Yankees and the Russkies?
Syrian Kurdish Democratic Union Party (PYD) Terrorists! Off with their heads – like the Red Queen said, inspiring Abu Bakr al-Baghdadi. Our destiny is to set up a 'secure' refugee enclave 10 kilometers inside Syria. And forbid these refugees – by all means necessary – to cross into Turkey.
Onwards to the Jarablus pocket, north of the Azaz-Munbij line! It's Kurd-shelling time!
Oops! They did it again. The neo-Ottomans forgot to register that 'His Masters' Voice' does not regard the PYD and the YPG as "terrorists". After all, they are gallantly battling ISIS/ISIL/Daesh. And they are not connected to "moderate rebel" Jabhat Al-Nusra, a.k.a. Al-Qaeda in Syria, while all the favorite Wahhabi/neo-Ottoman-linked goons are excited Nusra lovers. How Dada is that? And the Dada-o-meter spectacularly explodes into interstellar space as we add the serious possibility that no less than US Special Forces may be giving a little help to their Kurdish friends.
Say hello to my no-fly zone
While all hell is (moderately) breaking loose, everyone seems to have forgotten that Russia has (discreetly) imposed a de facto no-fly zone over virtually all of northern Syria. Not even squalid crows fly along the border, not to mention Turkish F-16s and copters. Turkish planes know that if they enter Syrian airspace, it's an Ashes to Ashes scenario (Bowie dubbed in Cyrillic). So what is Washington to do? Provide "air support" to the neo-Ottomans and risk WWIII? Obviously not.
The Kremlin totally gets Dada but plays constructivism. The secret: to win against ISIS/ISIL/Daesh and assorted Salafi-jihadi terror gangs is impossible without sealing the same Syria-Turkish border the neo-Ottomans are itching to trespass. After all, that's the highway from where the Jihadi/Weaponizing flows in and smuggled oil flows out. Russia, constructively, is willing to strike deals with anyone who's not Salafi-jihadi. But there's the rub. The Russian guest list does not match the American guest list.
So how do you get into the club? And once inside, whose tune will you be dancing to? Israel, Egypt, Jordan and even the Emirates – that profitable marriage between Abu Dhabi oil and Dubai smuggling rackets - are in close touch with the Russian game in Syria. They want closure. Not exactly the Wahhabi/neo-Ottoman game. But even if the double down desperadoes might be "supported" by Qatar and Bahrain in that notoriously elusive "ground operation", the notion they would dare to confront both Russia and the US head to head is nothing but prime Dada.
So no wonder selected neo-Ottoman heads are doing more spinning than dervishes in Konya. We hate everybody! But we can't declare war against ISIS/ISIL/Daesh, the PYD and that regime-unchanged ingrate Bashar Assad all at the same time!
To mollify their unspeakable chagrin, the neo-Ottomans dutifully persist in their offensive against… more Kurds - those of the PKK in Anatolia. But should they strike harder on the PYD in Syria, expect the PKK in Turkey to mastermind a lethal counterpunch.
And then, amidst such mayhem, whose head is held high as a portrait of moderation? The TSK (Turkish Armed Forces)! Picture proud Turkish generals resisting to play the (fake) prologue for a possible WWIII. How Dada is that?
White on white, anyone?
Common sense though has not prevailed - yet; that would have been so un-Dada. Re-enter 'Northern Thunder'! Wahhabi General Ahmed Asseri continues to insist the notorious ground operation is "irreversible". Sorry, eventually reversible if the green light from 'The Masters' never shines.
Still, never underestimate a frantically fearful Wahhabi for superior Dada effect. Jubeir, at the Munich Security Conference, said with a straight face that Assad is the "single most effective magnet for extremists and terrorists" in the whole Middle East. So it's regime change or what, self-beheading en masse? Now that would be some performance art worthy of the Dadaist Manifesto.
Russia, meanwhile, behaves as placidly as Malevich's White on White. Moscow certainly does not want to wallow into a Syrian swamp. And yet Russia is already firmly placed in Syria – and is not going anywhere apart from expanding its geopolitical footprint even further. That's called Mediterranean projection. Everyone else, live with it.
We keep ragin', ragin' against the dying of the (Southwest Asian) light… And then, in a flash, we might even glimpse the possibility of the big powers, Russia and the US, reaching an ersatz of symbiosis in Syria, which may eventually translate into that "peace process" Kerry and Lavrov are so fond of. Who wants WWIII if not the mentally disabled? Oops, we Dada-it again. Tell it to 'Sultan' Erdogan and warrior Prince Mohammed bin Salman.
*Dada was an art movement that surfaced during World War I in Zurich in negative reaction to the war. The art, poetry and performances of the Dada artists is often nonsensical in order to convey their message.
The statements, views and opinions expressed in this column are solely those of the author and do not necessarily represent those of RT.
You can share this story on social media: