Iowa Caucus breakdown: 'Clinton did not trounce Sanders; Cruz did not lose to Trump'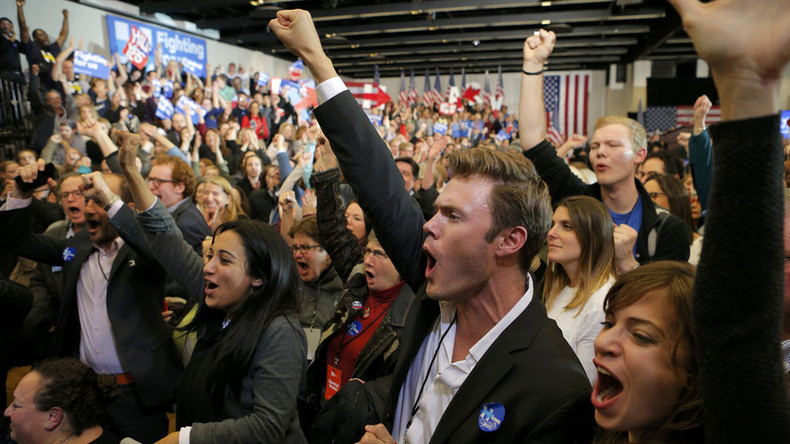 The aftermath of the Iowa caucuses is: take it easy. The great Hillary Clinton machine was expected to bulldoze Bernie Sanders instead of winning by 0.2 percentage points says media and legal analyst Lionel.
READ MORE: Deadlocked in Iowa: Clinton, Sanders virtually tied

The US turned its full attention to the State of Iowa for the biggest event yet in the race for the White House. RT discusses the results with political pundit, Lionel.

"What is happening right now is: we, the American media particularly, are told: "This is the frontrunner" without any indication of why is it the frontrunner. And by the way, I would defy anybody in any of the Iowa caucuses to explain what any of the candidates really stand for…"
RT: As preliminary results are coming in, what are your expectations on the caucuses in Iowa?
Lionel: Hillary Clinton, it was expected, would have run away with this. This is Iowa, this is the microscopic, subatomic faction, but nonetheless it has got everybody focused… It is also very interesting to see how Ted Cruz has done better than Donald Trump. What you are going to hear people suggest is that it is the 'evangelical' vote that did it…
There has always been something that indicated that Ted Cruz was more of the darling - not perfect - and keep in mind that Donald Trump was the one who brought up yet again what we call 'the birther controversy' because Ted Cruz was born in Calgary, Canada. It is interesting also to know what accusations stick. Hillary Clinton, by virtue of all of the suggestions, suspicions and allegations of security breaches – she's Teflon, she's Kevlar, nothing sticks to her...
RT: With almost all the votes counted Hillary Clinton leads Bernie Sanders by less than one percent for the Democrats. What's your prediction?
Lionel: Prediction is: Take it easy. Barack Obama did really great years ago in Iowa and then was destroyed later. This is like taking blood pressure during the day, it is one reading. However, if your blood pressure is so low that it is near death or so high that you are about to have a stroke, that means something. Notice at home you are going to hear this phrase: "He has suspended his campaign." Nobody drops out anymore: "I am not quitting, I am just suspending it." That is very important for you to understand, by the way, so you can keep raising money, not just necessarily to defray your costs and you get to keep your delegates…
RT: Is Iowa much of a barometer for what happens next? What are your predictions?
Lionel: Once someone brings Hillary Clinton back to reality, once someone brings the smelling salts out and alerts her and tells her that winning by 0.2 percentage points is not winning when you were supposed to slay this doddering 'socialist'. After that happens, then we'll see. Let me explain something: Two things happened tonight – first, they expected Hillary Clinton to trounce Bernie Sanders… Next, everyone expected Trump to actually also bulldoze. But he is not out of it yet. You see, one of the things that we love to do is, American media loves style. We love a fad, something that is 'viral'; we love this virality without any understanding of where it is going next… The most important thing is that Bernie Sanders said: "I am going to force Hillary Clinton to the left." What he is forcing her to do is to have swallow hard and say: "I am going to get hard on Wall Street." She has never said anything about a Wall Street sales tax. He has redefined this schematic. This is enormous.
RT: Trump is second and a dead heat in the Democratic camp. What's next? Any upsets ahead?

Lionel: The ability of the media to dictate who is going to be the actual winner and the frontrunner, I must say, hats off to Mrs. Clinton for basically declaring victory when - I guess technically she won - but everybody expected Bernie Sanders to be trounced. This was the great, the almighty Oz. This was Hillary Clinton, the presumed nominee. That was amazing. A couple of things here: it is interesting to note how everybody is going to spin this. Hillary has indicated so far what she is doing by declaring victory. Bernie Sanders was the dark horse, that factor that scared the Democratic Party because for the first time he actually enunciated ideas, thoughts and platforms that were prototypically and classically leftist if you will. Trump was absolutely the firebrand, wild and in essence systematically disconnected to that classic, prototypical right-wing, heavily evangelical platform. And holding up the Bible was not going to change anything…
The statements, views and opinions expressed in this column are solely those of the author and do not necessarily represent those of RT.
You can share this story on social media: