2016: The year Angela Merkel's chickens finally come home to roost?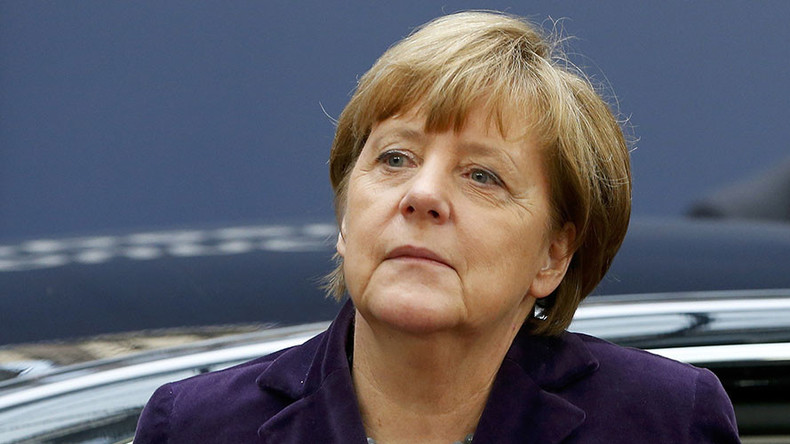 The EU has been storing up problems for years, which brings to mind the popular cliche, 'when it rains, it pours'. Could 2016 be the year the levee finally breaks?
As the 20th century concluded, I was a Dublin cub reporter. There was an older journalist I greatly admired. He specialized in dramatic celebrity tales, and the more woeful, the better. One day we were both dispatched by separate newspapers to interview Michael Schumacher, who was in town to promote some product or other.
The motorsport legend was the healthiest looking person I'd ever seen, with impeccable manners. A real class act. My colleague, however, was determined to pierce the tough Teutonic exterior and gave it his best shot.
"1997 was a terrible year for you Michael. You led the (Formula One) championship going into the final race. But your car had a technical problem and you realized you'd probably fail to finish. So you tried to provoke an accident with Jacques Villeneuve (the chaser). Yet, it backfired on you. Villeneuve won and you were punished and suspended for the entire season for unsportsmanlike conduct," he argued.
Schumacher nodded and looked quite amused.
"In 1998, you failed again in controversial circumstances and then, just when you thought 'things couldn't possibly get any worse,' remarkably, they did. In 1999, with the title in your grasp, you broke your leg." The racing legend smiled a very broad smile. "Nice try," he countered, "you are a very good journalist."
The interviewer had attempted to provoke a headline-grabbing sound-byte. He failed. Germans are tough nuts to crack.
If that reporter could interview Angela Merkel right now, he would probably lob these grenades. "2015 was a dreadful year for the Europe you lead, Chancellor, and you personally. There were terrorist attacks in Paris, you spent months trying to resolve the Greek crisis and Ukraine continued to be an irritant. Then you faced an unprecedented refugee crisis, your handling of which appears to have blown up in your face. Especially in light of last week's events in Cologne where about 1,000 men of foreign origin attacked women in the city," he'd explain.
"Spain has now elected a 'hung' parliament, Poland's new government are countermanding EU norms and experts increasingly claim that the Euro was a mistake. Now, just when you think, 'things couldn't possibly get any worse,' remarkably, they could. A British exit from the EU looks increasingly likely and your own coalition partner is turning on you."
Would Merkel flinch or, like Schumacher, would she maintain the icy visage?
Stepping up a gear
The European project is in trouble. So, too, is Merkel, its uncrowned Queen, and to a far greater extent than a broadly supportive, corporate media admits. Tensions are mounting between the Chancellor's immediate circle in Berlin's CDU and their sister party in Bavaria, the CSU.
The southern grouping's chief, Horst Seehofer, has strongly condemned Merkel's liberal refugee policy. Whispers in the German capital suggest that even a leadership heave, previously unfathomable, is no longer impossible if public anger grows. When Christopher Gilles of Cologne Police tells BBC that the force can't guarantee women's safety, it's clear that these are not normal times in Germany.
The refugee crisis, and Merkel's surprise response to it, has strained relations across Europe. Eastern countries, ironically major beneficiaries of EU freedom of movement, are largely unwilling to accommodate migrants. The UK, over 4 years, has accepted only 5,000 Syrians. By contrast, Germany was expecting 1.5 million asylum seekers in 2015, according to the Daily Telegraph.
Meanwhile, Hungary has erected fences on its borders and some EU states are calling for a suspension of the Schengen agreement. European leaders fear that 2016 will witness an even larger influx than 2015, especially if Berlin continues to accept all comers.
Vroom, Vroom for Brexit?
Yet, another issue may over-shadow even the refugee crisis. Britain will, almost certainly, hold a referendum this year on whether it remains in the EU. Right now, opinion polls suggest that support for continued UK membership stands at 42 percent. That's the lowest positive rating since 1983.
At the same time, 41 percent of respondents said they'd vote for a 'Brexit' with the other 17 percent undecided. While bookmakers odds favor a narrow win for the Europhiles, if David Cameron fails to secure an acceptable deal for Britain in upcoming negotiations anything could happen. The "out" campaign has room to flourish if Europe's problems endure, as most experts believe they will.
Without Britain, the EU project would struggle. With London no longer involved, NATO would surely grow in relevance, thus diluting Brussel's foreign policy influence. Also, shorn of the UK to balance matters, Germany's control of the union would become overbearing. Plenty of member states would be perturbed by both those scenarios.
British opposition figure Nigel Farage, a committed opponent of the EU, declared last month that a 'Brexit' would mark a "tipping point" that could doom the EU completely. "For those of us who believe in nation state democracy, 2016 is a very bright dawn indeed," Farage insisted in an EU parliament address.
Nevertheless, it's not only Britain wavering. Last month's Spanish elections were inconclusive, resulting in the most fragmented Madrid legislature ever. Podemos, an organization founded less than two years ago, won 69 seats, while the establishment People's Party lost 64. Another grouping, Citizens, took 40 benches in its first ever election. Analysts suggest that Spain faces another ballot as the logjam seems unbreakable.
The chuckle brothers unite?
Then there is Poland. The largest of the formerly communist nations elected the conservative Law and Justice, headed by Jaroslaw Kaczynski, in October. Brussels has watched aghast as the new regime has imposed curbs on media freedom and replaced westernisers with party loyalists in key state institutions.
Even more troubling for Eurocrats have been tentative signs of an alliance between the Poles and Viktor Orban's Hungarian administration, long the scourge of liberal democracy champions and 'Atlanticists.'
As if all that wasn't enough, the Greek issue is far from resolved. In the midst of growing social unrest, its economic disaster continues, like, with respect to Homer, an endless odyssey. Seemingly from nowhere, Finland has emerged as the Eurozone's worst performing economy, with its GDP contracting even more than that of Greece late last year (Ironically, Helsinki was the continent's biggest cheerleader for austerity and took the hardest line on Athen's woes during last year's emergency talks).
In addition, after the numerous terror incidents of 2015, France is traumatized. The far-right Front National was the biggest single party in December's Regional elections with 27 percent of the vote. Only clever manoeuvring from the centrist movements, the Republicans and the Socialists, stopped Marine La Pen's outfit from taking control of a few districts. Over in neighboring Italy, the Five Star Movement and the equally Eurosceptic Lega Nord and Noi con Salvini groupings are currently polling at a collective 44.5 percent.
Clearly, the EU's future has never looked so insecure.
Schumacher could have retired in glory back in 2004, after his fifth successive Driver's Championship. Instead, he mistimed his retirement and departed with a whimper in 2012, after placing 13th.
Merkel would be well advised to study her compatriots trajectory. The longer she clings on to power, the more circumstances are likely to derail her plans, no matter how well intentioned.
2016 will be a massive year for Europe. Will Merkel and the EU project survive it?
The statements, views and opinions expressed in this column are solely those of the author and do not necessarily represent those of RT.
You can share this story on social media: