'French Front National victory a warning to rest of Europe'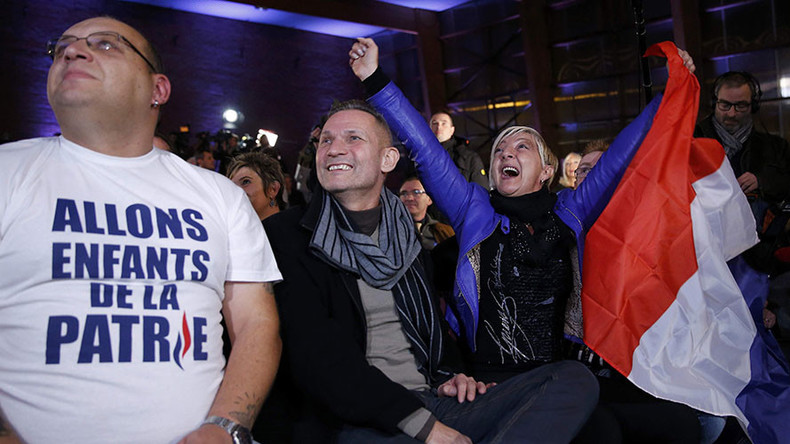 Marine Le Pen's Front National party has won a decisive first round in France's regional elections. RT discussed with experts the reasons and possible consequences of the result.
READ MORE: Marine Le Pen's National Front leads in first round of French regional elections – exit poll
Commenting on Marine Le Pen's far-right National Front leading in the first round of regional elections, Gearóid Ó Colmáin, independent political analyst, said that "the Left is just so pathetic".
"We have an officially left-wing government which is neoconservative. And it is pursuing a foreign policy which is ultra-neoconservative and ultra-Zionist and the French people are sick and tired of these foreign wars that make no sense. Even though the media in France have been portraying Bashar Assad of Syria as a demonic dictator killing his own people, the French people would prefer to see him in power rather than Islamic State. That is logical. And yet, we have a government that refuses to back Bashar Assad against terrorism", he told RT.
Colmáin believes that what Marine Le Pen is doing "is talking very basic logic and which most people can understand".
"The foreign analyst of the Front National when they talk about international relations, they tend to be a lot more diplomatic than the ruling party – the so-called Socialist Party. So, for example, they don't demonize Putin. Marine Le Pen is on record saying that she admires Vladimir Putin. From the international perspective, Marine Le Pen is more intelligent than her competitors", he added.
According to Colmáin, "there is, of course, a much deeper agenda involved in this. The far-right party is very close to Israel. If Marine Le Pen says she supports Bashar Assad, it doesn't not mean the France is going to pursue the anti-imperialist policy. Marine Le Pen is very much for the interventions in Africa. What she is basically trying to do is exploit the discontent that exists in French society with the mainstream parties, with the other parties".
In his opinion, "there is no opposition, really. What you have are about four main groups of the right-wing parties: you have Trotskyists under [Jean-Luc] Mélenchon –absolutely ridiculous when it comes to foreign policy; they supported bombing of Libya - right-wing neoconservatives with dressed up in socialist language. Then you have Francois Hollande, a neoconservative, utterly discredited politics. You have [Nikolas] Sarkozy – a gangster, basically, he should be in jail; and Marine Le Pen. So, you don't have a choice in mainstream politics. I don't really think any of them are going to change France".
He thinks Marine Le Pen "is probably going to be the candidate for the election".
Front National is leading all parties in six out of 13 French regions and garnering 28 percent of the national vote, according to Interior Ministry estimates. Lode Vanoost, Former Deputy Speaker of the Belgian Parliament, thinks "this was to be expected even without what happened in the last weeks".
"The Front National is not exactly a new phenomenon in France. The only thing that is surprising is the surge that they got from the recent events. But this would have happened, something similar, maybe a little bit smaller, anyway even without the latest events", he continues.

In Vanoost's opinion, "what this means for Europe is a warning signal".
"This is not just about the migration, the refugee problem or the terrorism problem. It is not a coincidence that FN scores the best in the regions, in the areas, in the cities, in the suburbs that are hit hardest, that are hit the most by the neoliberal economic policies of the government. There is an undeniable relation between those issues. These are people that are totally alienated from the traditional parties. They do not feel represented anymore. The tragedy is that they are being told constantly that their solution would lie in getting rid of all these people that they don't like, the truth, of course, said all is different. But, absolutely, this is a warning signal to the rest of Europe", he told RT.
Le Pen and her niece, Marion Marechal-Le Pen, are both set to take more than 40 percent of the vote in the north and southeast of the country, TV exit polls showed on Sunday.
"We all knew that there was a deep dynamic behind the National Front vote and, by the way, it is extremely important to look where the National Front got its best result - in districts where the unemployment has been the highest", said Jacques Sapir, director of studies at Ecole des Hautes Etudes en Sciences Sociales.
"So, there is some kind of link between the votes for the National Front and unemployment", he added.
"Now, the Socialist Party is quitting the polls in some districts, mainly in the north of France and in the very south, the region which is called PACA [Provence-Alpes-Côte d'Azur], but also in the third region. And the fact that there will be no other contenders that the National Front on one side and the Republicans – the former UMP – on the other side. This is a major, very important change in French politics", Sapir argued.
"It is the last test elections before the general elections, presidential one, in particular in 2017. That is why these elections are so important", Thomas Guénolé, political expert and journalist told RT.
"Also, it happens just after, first, the attacks of January against Charlie Hebdo, and then the very recent attacks in Paris in Saint Denis. And so, the impact on votes was something a lot of people in France wanted to see, especially far-right voting. And on voting the impact is enormous", he continued.
"Do you realize what it means if one single party, being the far-right party, which is around 40 percent of the votes in the big north of France and the big southeast in France. It is something like 10 points above what they do usually. It is gigantic".
The statements, views and opinions expressed in this column are solely those of the author and do not necessarily represent those of RT.