Japan's constitutional crisis spells the end of democracy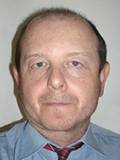 Derek Monroe
Derek Monroe is a writer/reporter and consultant based in Illinois, USA. He has reported on international and US foreign policy issues from Latin America, Poland, Japan, Iraq, Ukraine, Sri Lanka and India. His work appeared in Foreign Policy in Focus, Alternet, Truthout and Ohmynews, and has been published in over 20 countries.
Derek Monroe is a writer/reporter and consultant based in Illinois, USA. He has reported on international and US foreign policy issues from Latin America, Poland, Japan, Iraq, Ukraine, Sri Lanka and India. His work appeared in Foreign Policy in Focus, Alternet, Truthout and Ohmynews, and has been published in over 20 countries.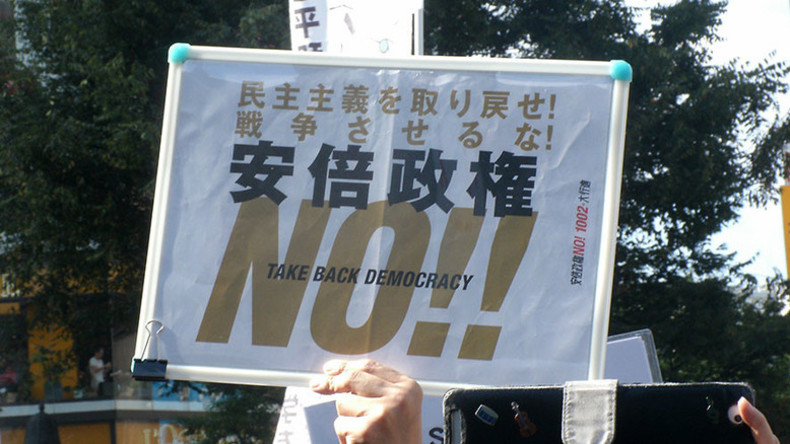 One Sunday afternoon on June 29, 2014, at Shinjuku Station in central Tokyo, a man in his 60s set himself on fire. Photographs and videos posted online by witnesses showed a middle-aged figure in a suit addressing the crowd with a megaphone right before drinking a bottle of gas and dousing himself with the other.
The man read the anti-war poem by Yosano Akiko, a national legend, as warning to fellow countrymen and his act of desperation was completely and utterly ignored by the Japanese media as it moved on to cover trivial and entertainment stories of the day. The incident as well as other dramatic acts of protest against the policies of Prime Minister Shinzo Abe of the Liberal Democratic Party (the LDP) is indicative of fundamental shift in modern Japanese politics that put the country on the wrong path according to the majority of Japanese public opinion. People are very angry and the anger is spearheaded by growing numbers of the precariat that according to most recent statistics already reach 41 percent of the working population, mostly its women and the young. In that mode the Student Emergency Action for Liberal Democracy (SEALDs) group was launched on May 3, 2015, the Constitution Day, and has served as wake up call for the nation. On August 30, 2015 it organized the largest demonstration ever in Tokyo that according to some estimates had up to 350,000 participants.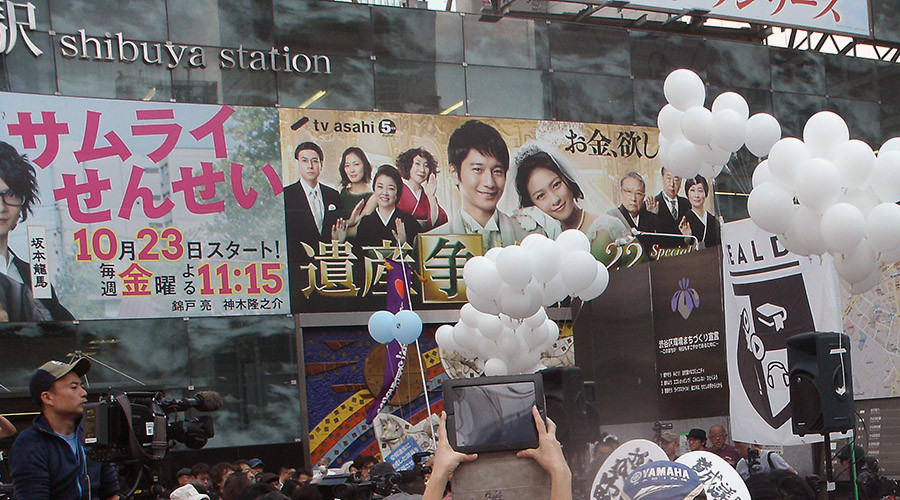 Reacting to failed policies post the 3.11 nuclear and tsunami disasters, domestic and foreign policy failures by successive governments, Japanese students have taken up responsibility of the nation's consciousness.
According to Jeff Kingston of Temple University, "the core members of SEALDs belonged to the Students Against Secret Protection Law (SASPL) that protested Abe's secrecy bill from February to December of 2014. That legislation passed, but they were aroused by the Abe Cabinet's decision on July 1, 2014 to autocratically reinterpret Article 9 of the Constitution to allow Japan to exercise the right of collective self-defense. Promoting such a radical shift in Japan's security policy without following procedures laid out in the Constitution for revising the constitution spurred the students to take to the streets to preserve constitutionalism."
Okuda Aki, a 23 year-old student at Meiji Gakuin University and founder of SEALDs stated: "If one government can change things just with their interpretation, then the Constitution itself is altered and the government can do whatever it wants."
This spirit of defiance and anger at the corrupt ruling elite was present on October 20th at Tokyo's Shibuya Station demonstration I attended as a member of the foreign media. At a distance of about 50 meters from a crowd of at least 800 strong, the NHK, Japan's biggest and public broadcaster, reporting crew was standing nearby busy at work. The work was reporting on the contest for "cute Halloween costume" right by the statue of Hachiko dog that was revered for the fidelity to its master. It actually was very evocative on the same relationship that the NHK has toward the power that runs the country regardless of its civic responsibility to millions of its mandatory fee paying subscribers as well as citizens of democracy. As the students repeatedly shouted "this is what democracy looks like" and featuring variety of opposition speakers such as Mizuho Fukushima of the Japanese Social Democratic Party, the two story "Koban" police station structure nearby was busy with plain clothes police coming in and out and providing surveillance of the event. Three buses and a command SUV of riot police were parked nearby just in case the demonstrators would get out of bounds of tape cordoned space to disrupt the "Kawaii Halloween" -"cute Halloween" spectacle next to it and the shopping district nearby.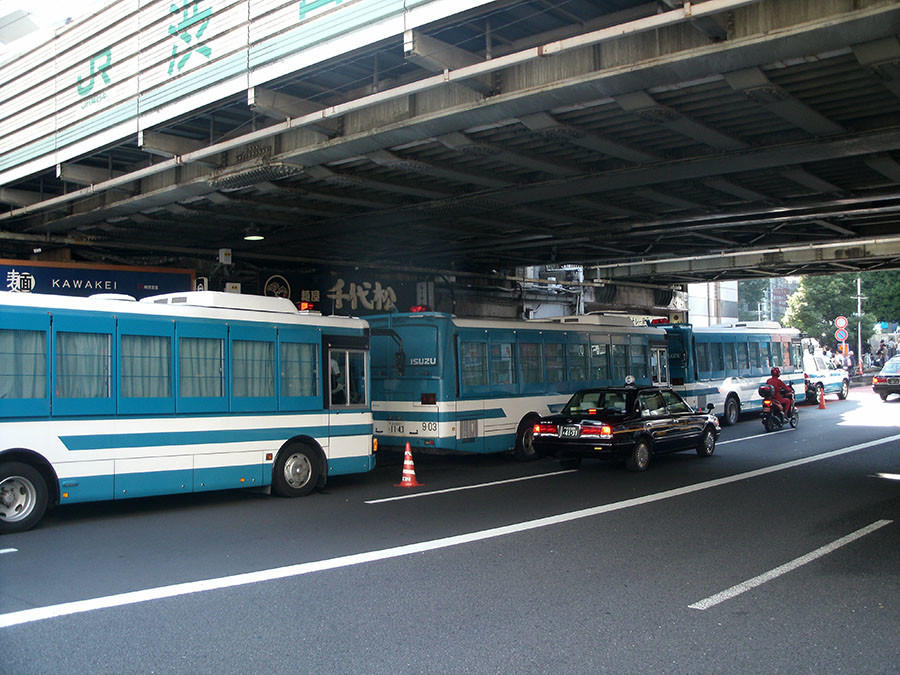 Japan is a country at crossroads not only due to its economic model that outlived its usefulness in an age of globalization and the TPP, but also due to its political elite breaking the law in order to reshape the country into image shaped by ideology. Almost all of its constitutional scholars have condemned what can be characterized as Abe's unconstitutional putsch as did a former Supreme Court justice and a number of ex-directors of the Cabinet Legislative Bureau, the bureaucracy that screens bills to determine their constitutionality. Using the Trojan Horse of legislative propriety, PM Abe and the LDP cited the 1959 Supreme Court decision on the Sunakawa case to justify its legislation allowing Japan to exercise the right of collective self-defense although the decision in this case had nothing to do with it.
In addition to political engineering that followed economics, concerted efforts by the US Chamber of Commerce in Tokyo and individual large foreign investors to "revamp" Japanese labor market resulted in masses of the precariat now working in "hacken" -"temporary system" of employment for wages that are stagnant for the last 25 years. On the ideological front, the Abe administration proposed eliminating humanities and social science programs from national universities as to muzzle any possible signs of dissent coming from academia and beyond.
As signs of this socio-economic "change" are galvanizing the people on the losing side of the equation (the young, women, unemployed, retirees, farmers), PM Abe's forceful tactics and more than enthusiastic support from Washington raises questions about his real political constituency. For example while Abe's state secrets bill would put the end to any serious reporting on a changing political landscape, and was met with opposition from the Japanese Federation of Bar Associations, Reporters Without Borders and the Japanese public, Caroline Kennedy, the US Ambassador to Japan and Obama appointee, approved and supported it. In the same time the Japanese political elite increasingly sees the opposition as work of terrorists and not of democratic process while the political hacks such as Shigeru Ishiba and Taro Aso (both of the LDP) even stated that to overcome it "we can learn some tricks" from the Nazis.
The trick referred to in Aso's remarks was quiet and clandestine transformation of Germany's Weimar Republic Constitution into a Nazi tool after their parliamentary victory in 1933. Ironically enough, PM Abe's Defense Minister, Nakatani Gen, wrote a few years ago that revising the Constitution by reinterpretation and legislation would lack legitimacy. That is exactly the policy he is now tasked with as the LDP's Council of National Defense approved the draft of the full-scale rearmament of the country on May 30, 2013. While the Abe policy changes have a widespread opposition in society, the only things reinforcing them are the business community and the media. The business community is effectively addicted to never ending financial stimulus of Abenomics that in turn wind up on corporate balance sheets while effectively bankrupting the country into a level of 250 percent GDP debt ratio while doing nothing to address growing unemployment and poverty. In the same time the show on the media front goes on. The rare voices of criticism are persecuted as was the case of conservative German daily Frankfurter Allgemeine Zeitung (FAZ) reporter Carsten Germis.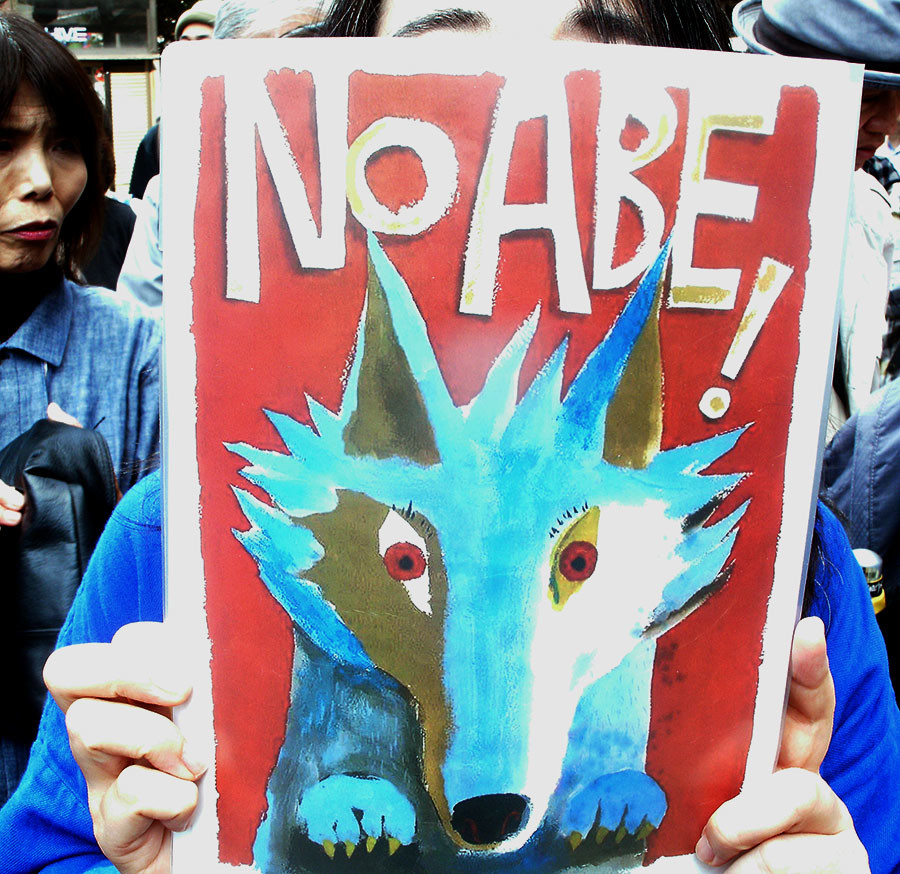 Unhappy with his reporting the government officials personally attacked him and then tried to use their diplomatic mission in Germany to get him fired. Interestingly enough a similar story also happened to this reporter as he was giving a series of lectures on Fukushima in 2012. The lecture was attended by Japanese Consulate General in Chicago official who then took extensive notes and left soon afterward. Months later I found out due to my Freedom of Information Act (FOIA) request that the local library and the village government official in Libertyville, Illinois, were contacted by Japanese Government Chicago office and one official coming as far as New York to discuss the Fukushima lecture and having it replaced by all paid propaganda program called "Kizuna." The conversation took place outside of the office and in a private capacity as to leave no record of what was discussed. This case as well as the FAZ points to a systemic program of propaganda and media manipulation that allows the Japanese Government to sell the unsellable: its scandalous and criminal handling of the Fukushima disaster and satellite-like servility to the foreign power against interests and opinions of its population.
SEALDs experience shows that what is left of democracy in Japan will not go down without a fight. The tragedy of Japanese nation is the repeated attempt to re-learn its history into narrative that serves nobody but a very slim political class. One can only hope that the only import that actually worked for all of its people, the constitution, will survive this administration attempts to destroy it.
The Japanese Government did not respond to request for interview.
The statements, views and opinions expressed in this column are solely those of the author and do not necessarily represent those of RT.