By shooting down Russian jet, Turkey exposed as more than terrorist accomplice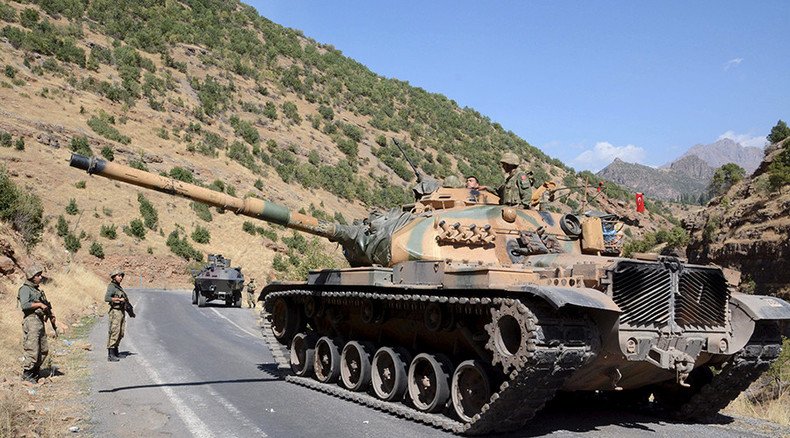 Turkey has shown its hand by destroying the Russian warplane over Syria and followed through on its previous threats to Russia. We must now regard Turkey as a hostile state that supports terrorism.
As has been widely reported, on November 24, Turkey – an EU aspirant NATO member – shot down a Russian warplane on legitimate Syrian duties. As a result, one pilot was killed and the other was rescued by Russian Special Forces. Another soldier was killed during the rescue operation and Russia lost a rescue helicopter in the process.
Turkey has been sabre-rattling at Russia for some time. It made a tremendous hue and cry about a previous brief accidental incursion into its airspace, backed up with threats and warmongering. Only two days before this incident, Turkey was threatening Russia with 'serious consequences' if it didn't end its operations near the Turkish border.
Turkey's actions were clearly premeditated rather than a response to an incursion as first claimed. But they didn't manage to get their story straight and have been backfilling ever since. The ever-changing Turkish version of events has more holes in it than a piece of Swiss cheese. Turkey claims it gave the Russian plane ten warnings but Wikileaks showed us proof that Turkey claimed the planes were allegedly in Turkish airspace for only 17 seconds.
There would have been no time for ten warnings or for the pilot to seek authorization to fire, so he was acting on a standing order. He had permission in advance from high up the Turkish food chain to shoot a Russian plane down.
Russia says the plane was attacked over Syria and has published credible evidence to prove it. The plane crashed in Syria and the pilots ejected and landed in Syria. Russia has no reason to knowingly enter Turkish airspace while on Syrian duties.
Turkey knows that Russian planes are legitimately operating close to its borders in Syria. So the Turks were not acting against any actual or perceived threat. They are likely hoping to evade any serious Russian retaliation by hiding behind NATO's skirts with a supportive narrative guaranteed to come from Uncle Sam. NATO has already announced that the organisation agrees with Turkey's claims and has pledged to stand in solidarity with them.
The attack was premeditated to the extent that even TV crews and others with cameras were standing by waiting to film the events. They were clearly tipped off in advance.
Turkey is now claiming that it didn't know the plane was Russian and have rushed out a dubious unverified recording of what is claimed to be the warnings given to the 'unidentified' plane.
There seems no doubt that the terrorists in the area whose loyalties are with Turkey had a heads-up and instructions to kill the aircrew. That one of them got away with his life is going to be inconvenient for the Turkish narrative. The pilot reports that there were no warnings of any kind, they know the area like the back of their hand and were not in Turkey.
Let's be realistic here, this was a planned attack, probably cleared in advance with the Americans, with a story concocted in advance to give plausible deniability.
Follow the Money
What Turkey was really reacting to is Russia disrupting the lucrative and murky oil deals some of its officials and family members of President Recep Tayyip Erdoğan are tangled up in.
Large amounts of stolen oil are transported illicitly by ISIS to Turkey for onward transportation and sale. The profits from which are helping fund the expansion of ISIS and turning a nice profit for some people in Turkey. Russia has been disrupting this supply chain by bombing the tankers and the production plants. This means certain people in Turkey are losing a lot of money due to the effectiveness of Russia's air campaign. Some sources claim that one of these people is Bilal Erdoğan, son of Turkish president Erdoğan.
Clearly, there is enough money to be made from stolen oil that decision makers in Turkey were prepared to commit a war crime in defence of it and damage Turkish tourism at the same time.
Tourism in Turkey Will Suffer
Turkey may have just imploded its tourism industry overnight. It has long been a very popular destination for tourists from Russia. Over four million tourists from Russia visited Turkey last year.
Russian tour operators Pegas Touristik, Natalie Tours, Biblio Globus and Tez Tour have already announced they are ending package holidays to Turkey.
The backlash against Turkey is already being seen in Russia. There have been protests outside the Turkish embassy in Moscow and Russians are being very vocal on social media.
With Egypt also off the table for many Russians, Greece will no doubt welcome the 2016 influx of tourism from Russia with open arms.
Rethink on Turkey needed
President Putin has described Turkey's actions as a "stab in the back by terrorist accomplices" – and it's hard to disagree with him.
The West needs to take off its rose-coloured glasses in respect of Turkey. Turkey has spent years allowing terrorism to flourish in the region. Far from trying to usher Turkey gleefully into the EU, as Brussels is trying to do, they should be kept at arms length. Turkey has proved itself to be dishonest, hostile and disingenuous.
Turkey cannot be considered a partner or an ally to countries that are legitimately fighting terrorism. Turkey is complicit in the support of terrorism. They must be treated as such.
Russia is now beefing up its air defenses in the region, and future bombing missions will be flanked by fighter planes. It is unlikely that Moscow will be as restrained as they have been on this occasion if something similar happens again.
Russian Lieutenant General Sergey Rudskoy was quoted as saying, "We warn that every target posing a potential threat will be destroyed". If Turkey commits further acts of war against Russia, they know to expect robust military retaliation.
We must now regard Turkey as a hostile state that supports terrorism rather than a European ally and an agreeable holiday destination.

Stuart Smith, for RT.
The statements, views and opinions expressed in this column are solely those of the author and do not necessarily represent those of RT.
You can share this story on social media: