Putin and Hollande go after Erdogan's racket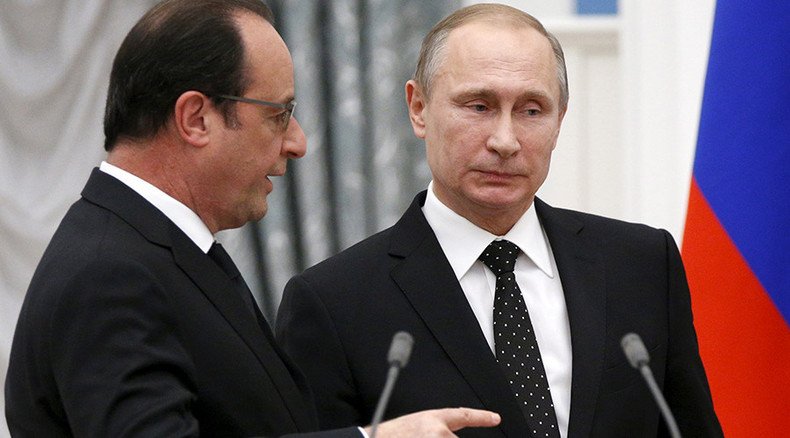 It all started with French President Francois Hollande, after the Paris attacks, having the temerity to advance the idea of France working together with Russia in the same coalition against ISIS/ISIL/Daesh in Syria.
Turkish President Recep Tayyip "no excuse" Erdogan thought NATO and Russia by this time would be at each other's – Cold War 2.0 – nuclear throats, while Washington had brushed off Hollande's idea with a cascade of platitudes and distortions.
And in less than 17 seconds, Prime Minister Ahmet "I ordered it myself" Davutoglu had authorized Turkey to shoot down a Russian Su-24 - only a few hours before Hollande met with President Obama.
So everything seemed to be falling into place. No chance of a new détente between the Atlanticist powers and NATO. On the contrary. Erdogan was sure he had sabotaged for good the Hollande-Putin face-to-face meeting in Moscow.
Not so fast, Sultan.
In Moscow, Hollande and Putin confirmed that France and Russia will not be torn apart. The French leader declared: "What we agreed, and this is important, is to strike only terrorists and Daesh and to not strike forces that are fighting terrorism. We will exchange information about whom to hit and whom not to hit."
Now that unveils a thrilling horizon. In the "to hit" section we already find Daesh and Jabhat al-Nusra, a.k.a. al-Qaeda in Syria, which the Vienna negotiations have already branded as terrorists.
And considering that al-Nusra has gobbled up, co-opted or instrumentalized an array of Salafi outfits, "moderate" or otherwise, it won't be hard for the Russians to convince the French these are all legitimate targets.
Also significant is that France will increase support to "rebels" fighting Daesh on the ground; that's code for the YPG Syrian Kurds – one of Erdogan's nemeses alongside the PKK.
So the Sultan's risky shoot down investment is not paying too many dividends. What if Hollande came up with the same old scratched Obama CD, as in "Assad just go", while Putin re-emphasized that "the fate of the president of Syria must stay in the hands of the Syrian people"? Everyone knows this is not the main priority of the Vienna negotiations. The main priority – as reiterated by the declaration of war inbuilt in UNSC resolution 2249 - is to smash ISIS/ISIL/Daesh.
And then the clincher, as Putin and Hollande reached a consensus: there will be a barrage of air strikes against the fuel tanker truck convoys transporting stolen Syrian oil across Daesh-controlled territory on the way to Turkey.
There goes in flames the profitable racket of 'Sultan's' son Bilal Erdogan, a.k.a. 'Erdogan Mini Me', one of three shareholders of marine transportation corporation BMZ.
Send in the Sukhois!
Putin delivered a sarcastic cruise missile as he said it was "theoretically possible" that Ankara didn't know about stolen Syrian oil entering Turkish territory from all points Daesh, but he added that was hard to imagine.
So leaving nothing to the imagination, one of Russia's S-400 AA missile defense systems is already on combat duty at the Hmeymim airbase, and another one is on the way.
The 'Sultan' has been warned. From now on Russia has three major priorities:
1. A de facto no-fly zone already in effect south of the Turkish-Syrian border enforced by the S-400s. Ankara is so scared it grounded even owls and crows.
2. Already in effect; Russia will hit – hard - anything that suspiciously moves on every transport corridor in and out of Turkey. Turkish "humanitarian" convoys – carrying, what else, weapons – were pulverized in Azaz, which is only five kilometers from the Turkish border. And truck distribution points were also bombed near Raqqa.
3. Already in effect; Russia massively bombing the whole wide region where CIA ops run a cash and weapon highway to the Free Syrian Army (FSA) and "innocent" Turkmen. Russia started carpet bombing the Jabal Turkmen area immediately after Russian pilot Lt. Col Oleg Pershin was rescued.
As I detailed here, there is absolutely nothing "innocent" about this whole war theatre crammed with a dozen al-Qaeda-friendly Turkmen militias.
And there's more.
Not only Russia will smash the Turkmen/Chechen/Uzbek/Turkish Islamo-fascist militia connection in Latakia Province; it will most of all smash the Syrian stolen oil bonanza which benefits 'Erdogan Mini Me'. Extra bonus: Smash the sea tankers as well. Francois Hollande abides.
So 'Erdogan Mini Me' better seek refuge in Dubai. But oops, that does not preclude an "accident" after a wild night in town.
Highway to Hell
By now, Erdogan and 'Mini Me' must have gotten the message. They thought they had it covered when they took out the Su-24, which was not "violating" anything apart from the ultra-lucrative dirty oil extravaganza that profits, among others, 'Mini Me'. Get rid of a sell oil for Daesh program, defying a NATO oil embargo? That's an offer Russia cannot refuse.
At least two major questions are left unanswered. How come the US-led 'Coalition of Dodgy Opportunists' (CDO), in over a year, never – and the operative word is never – bombed any of the wheels in the Syrian stolen oil machine?
And how come no one among the CDO – Americans especially – did anything to prevent 'Mini Me' and others from actually funding the Daesh racket for so long? The CIA obviously knows all this and more, with geostationary satellites all over 'Syraq' working overtime.
Well, the CIA was too busy running the cash and weapons highway through Turkmen Mountain to be disturbed by a mere oil smuggling op.
But now Russia is going after all of them; the CIA weapon highway, the Turkish-enabled Jihadi highway, the Daesh-to-Turkey stolen oil highway. Sultan and 'Mini Me', get ready to embark on a highway to hell.
LISTEN MORE:
The statements, views and opinions expressed in this column are solely those of the author and do not necessarily represent those of RT.
You can share this story on social media: