Russian plane bombing, Paris attacks: What are the consequences?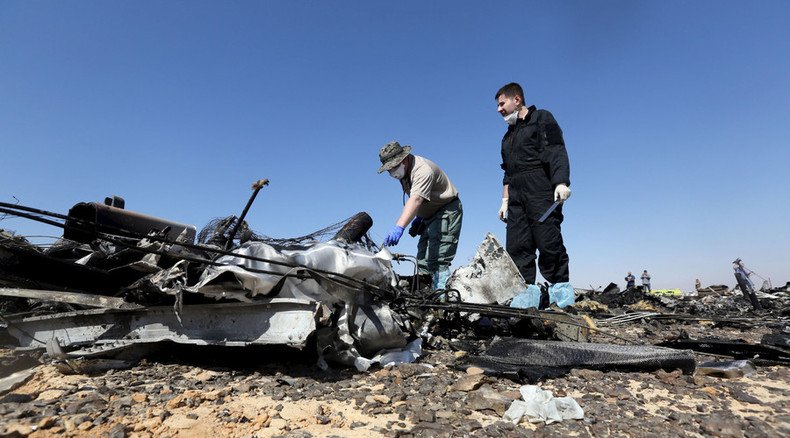 Will the latest attacks – the Russian plane crash in Sinai and the Paris carnage - boost international efforts to pull back terror in Syria and Iraq? How should the international community fight the terrorism threat?
The Russian plane crash in Sinai was confirmed to be a terrorist attack Tuesday. ISIS has claimed responsibility for the attack as well as for the Paris massacre. RT discussed with experts what impact these events would have on global security.
READ MORE: Plane crash in Sinai a terrorist attack - Russian Security Service
Zivadin Jovanovic, a former Minister of Foreign Affairs of the Federal Republic of Yugoslavia, says the Russian plane attack is yet more proof of the growing aggressiveness of terrorism as the universal evil endangers the world. This certainly will have multiple negative effects, he adds.
"First of all, it will be affecting civil aviation especially within the regions where the terrorist organization operates. And on a global scale there will be negative effects on civil transport. It will require indeed new measures, perhaps, not known up to now to stop this and to show much more efficiency in eradicating this universal evil."
In his opinion, this practically means that the world community - perhaps under the auspices of the UN - has to get together, unite and see how civilization can get rid of this danger.
"I think there is a need, perhaps, for the UN Security Council to initiate a World Conference on the struggle against international terrorism. To succeed in such an undertaking, terrorism [must be] treated as universal, a global danger without exceptions and without any double standards."
He says the finding of an explosive device onboard the Russian passenger jet will change the perception and the approach to conflicts in the Middle East, with a tendency to get more coordination of all those who involved in the struggle against terrorism.
"This I think is absolutely necessary if the world [wants to] get security in such a sensitive area as civil aviation and civil life of the world community in general."
Srdja Trifkovic, Foreign Affairs Editor, said it is now obvious that there will not be chance of a political solution in Syria unless the terrorist threat is removed first.
He says his first thought following Tuesday's announcement by the FSB that the Russian plane crash was a terrorist attack was: "How right Putin was to emphasize yesterday [at the G20 summit] the need for joint action and how misguided those unnamed partners that he mentioned, who did not want to join forces, because obviously they regard Russia's terrorist problem is somehow less important than their own."
From now on, Trifkovic said, "The Russian president has a free hand in deciding how to deal with this problem regardless of whether the US and his own allies are serious about the anti-ISIS fight or not."
"After all that has come to pass since last Friday night the old mantra of 'Assad must go!' will no longer be heard. Obviously there will not be chance of a political solution in Syria unless the terrorist threat is removed first," he told RT.
According to Trifkovic, when General Abdel Fattah el-Sisi became Egypt's President and the Muslim Brotherhood was suppressed, there were many unhappy Egyptians who sympathized with the Islamic regime, and they can be found at all the levels of society. "It is to be feared that Egyptian security procedures and the vetting of their personnel leaves a lot to be desired. From now on it would be highly advisable for air companies to use their own security personnel in addition to the one at the airports to be found locally," he added.
'The role of the innocent victim of terrorism will not get us anywhere'
Jan Oberg of the Transnational Foundation for Peace and Research believes that ISIS, that took responsibility for Paris and for the shooting down of the Russian plane, "obviously have" the reach to carry out terrorism on a large scale.
He is not surprised because he thinks "they are a consequence of the occupation, bombing, destruction and misadministration, and outrageously stupid policies of the US and Paul Bremer when they came in to administer Iraq which was a wrong war from the beginning, like Afghanistan was a wrong war and a wrong response to 9/ 11."
"So, yes, they got a lot weapons from the West. President [Vladimir] Putin announced that he knew where ISIS is financed from – it is a lot of Western countries," Oberg said. "Why did they appear in the first place? If we are unwilling to play any other role than the innocent victims of terrible terrorism we are not getting anywhere like a doctor cannot do anything to a patient if he doesn't ask what the problem is," he told RT.
READ MORE: Putin: ISIS financed from 40 countries, including G20 members
John Wight, the author, says that for quite some time now jihadists have been active in Sinai.
Wight suggests the Egyptian government has been unable to quash the activity of jihadists – there have been some attacks on Egyptian security forces. "Despite what the Egyptian President [Abdel Fattah] el-Sisi said, clearly there is a security breach in the Sinai, there was vulnerability at Sharm el-Sheikh," he adds. Wight says he "can only foresee that no airline will want to be flying there any time soon."
The statements, views and opinions expressed in this column are solely those of the author and do not necessarily represent those of RT.
You can share this story on social media: