Helmut Schmidt's last cigarette: Europe has lost a voice of reason
The death of Helmut Schmidt genuinely marks the end of an era. The 96-year-old former German Chancellor and celebrated media pundit was a voice of reason in an increasingly self-destructive Europe.
In a country renowned for both conjuring and vigorously applying rules, Germany's smoking laws have been a modern day aberration. While the rest of Western Europe has clamped down vigorously on the 'evil weed', Germans have been less totalitarian. Any weekend visitor to Berlin can confirm that 'no smoking' signs are generally more ornamental than practical.
For a long time, the undisputed leader of Germany's tobacco enthusiasts was Helmut Schmidt. Back in 2011, he even lit up during a lengthy interview with state-funded broadcaster ARD, sparking outrage among adherents of 'Gutmensch,' a particularly German version of extreme political correctness. That's what made Schmidt so unique: He stuck to his guns, no matter how out of step with convention.
Now, at the age of 96, Helmut Schmidt has smoked his last cigarette. With that, Germany has lost its most influential voice of reason. Additionally, Europe bids farewell to one of its last great independent thinkers. Unlike today's callow bunch, Schmidt came from a generation which refused to be bullied by Washington. Or dictated to in the name of 'Atlanticism'.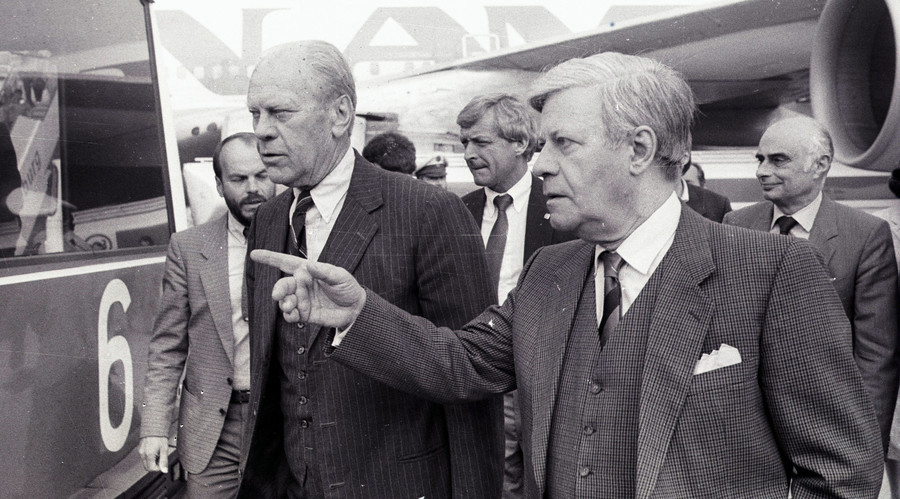 Schmidt's time in power, from 1974-1982, was turbulent. The 70's were a difficult decade for West Germany, with its industrial engine stuttering after two decades of amazing growth during the post-war wirtschaftswunder (Economic Miracle). Sharp rises in oil prices and a strong Deutschmark had buckled trade and job losses had reached levels not seen since the Weimar Republic-era. With the Bundesbank in almost total control of fiscal policy, Schmidt couldn't run deficits. Hence, the only solution was to convince trade unions that West German workers needed to take wage cuts, lowering production costs. Naturally, this wasn't a popular policy.
The Miracle on the Rhine
Schmidt was following in the footsteps of two iconic figures, Konrad Adenauer and Willy Brandt. Adenauer, known as Der Alte (the old man), had, in 1961, become the oldest democratically elected leader in history at the age of 85, eventually completing 14 years in office. Meanwhile, despite serving for only five years, Willy Brandt left his mark as the father of Ostpolitik and stout defender of Berlin.
Brandt's bravery would eventually lead to Germany's reunification. Of course, Kurt Georg Kiesinger and Ludwig Erhard had also briefly served, but with far less impact.
In Bonn, Schmidt wrestled with major security problems. The Baader-Meinhof Gang were engaged in a domestic terror campaign and West German aviation was targeted by Palestinian hijackers.
Meanwhile, unemployment remained stubbornly high and his government was forced to cut social welfare payments and freeze child support. The latter policy would accelerate West Germany's demographic decline. This didn't greatly worry Schmidt, who believed the world was over-populated.
Foreign relations were a mixed bag. He didn't get on with US President Jimmy Carter - whom he perceived as weak - and fell out with Israel's Menachem Begin. At the same time, West Germany's friendship with France intensified.
No fire without smoke
Ironically, Schmidt proved more influential as a civilian than as the country's head of state. After being voted out of office, he became co-publisher of Hamburg's heavyweight weekly newspaper Die Zeit. His weekly interview column, "A Cigarette with Helmut Schmidt", was legendary in Germany. From his Hanseatic pulpit, the former Chancellor dominated national discourse for over three decades. Bizarrely, his political career had served as a warm up for his real calling as the country's conscience.
Schmidt laid into reunified Germany's new leaders and their treatment of European allies. He reserved particular scorn for unquestioning Washington 'fanboys' and neoliberal bankers. The benefits of rapprochement with Russia were a customary theme. Latterly, Schmidt began to welcome the rise of China as a counterweight to US hegemony, saying "it's the only highly civilized country in the world that has existed for 4,000 years but still exhibits signs of vitality."
His dismissal of British over-confidence in their power and influence was frequently amusing in its accuracy. "The British claim to have a special relationship with the US, but if you mention this in Washington, no one knows what you are talking about," was a classic Schmidt put-down. Another was when he told The Guardian that the British Empire is "gone, even though you think it still exists."
Schmidt believed the EU had become unbalanced and that Germany was the problem, blaming its high current-account surpluses (around 7 percent of GDP) for destabilizing the euro currency project. He continuously urged Angela Merkel to introduce debt-forgiveness for Greece, followed by an investment package. "In reality, much of the billions of euro granted to Greece exist only in the books," he rationalized. The former Chancellor warned that a Greek exit from the Eurozone was "completely unwanted."
NATO aggression
When the Ukraine crisis erupted in late 2013, Schmidt blamed the "megalomania" of EU bureaucrats for creating the problem. He also lashed out at Eurocrats for meddling in Georgia, saying "Georgia lies outside of Europe… we have no business being there."
Last year, he told the Bild newspaper that spending more money on NATO risked allowing Russia, the US and Europe to "sleepwalk into conflict."
Describing anti-Russia sanctions imposed by the EU and the US as "nonsense," he insisted that Russia's reunification with Crimea was "completely understandable," following the Maidan coup which devastated Ukraine. Schmidt emphasized that Brussels' travel bans and asset freezes on Moscow's officials were symbolic and would "affect the West as much as the Russians."
Helmut Schmidt was a giant of post-war European politics and, arguably, Germany's most loved public figure. At 96, it's churlish to lament his passing. However, his role as a voice of reason and experience, in a rudderless Europe dominated by Washington, was a necessary one. Without Schmidt's wisdom, Europe's modern penchant for self-immolation will face even less opposition. A man who managed to somehow avoid the pitfalls of smoking has left us at a moment when Europe is snared in numerous booby traps.
Ruhe in Frieden, Helmut Heinrich Waldemar Schmidt (1918-2015)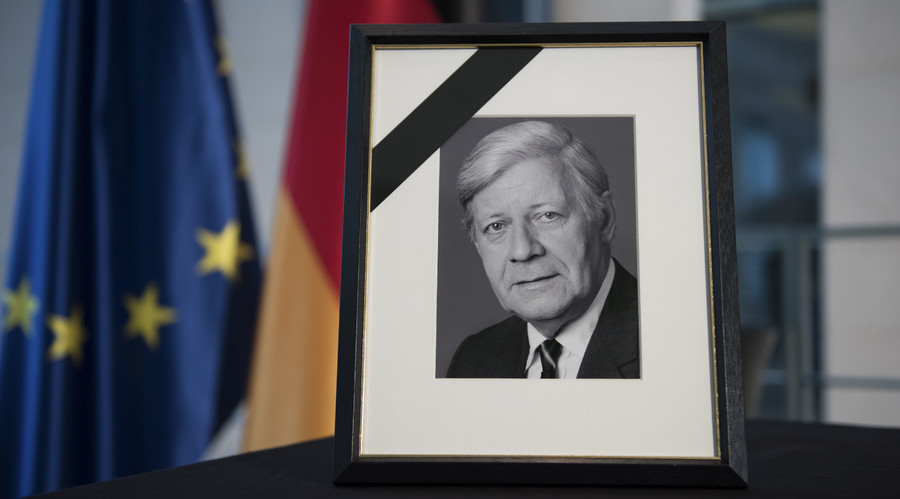 The statements, views and opinions expressed in this column are solely those of the author and do not necessarily represent those of RT.