Larry King and the art of the interview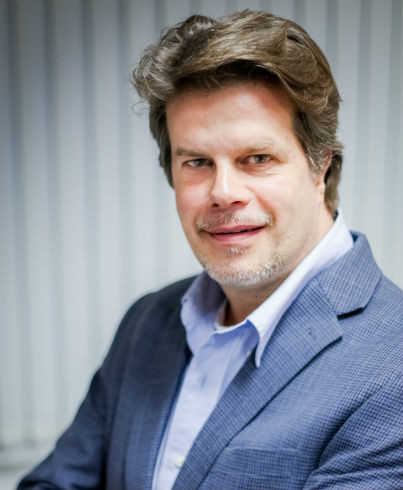 Robert Bridge is an American writer and journalist. He is author of the book, 'Midnight in the American Empire,' released in 2013. robertvbridge@yahoo.com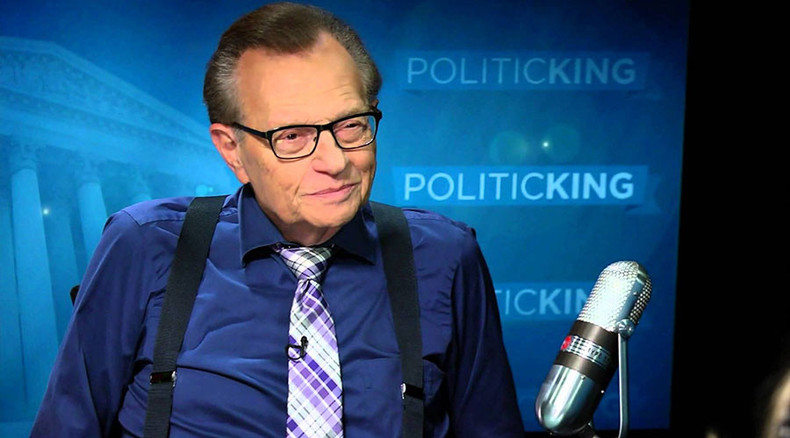 The world renowned master of the conversation, Larry King, sat down with BBC to discuss his 58 years' experience picking the brains of the world's movers and shakers. He was even happy to set the record straight regarding his affiliation with RT.
In a candid conversation with the BBC's Evan Davis, King, appearing far more wise than weary at a sprightly 81 years old, demonstrated the vast knowledge he has attained over the duration of a lengthy career that shows no sign of slowing.
Just watched appallingly biased interview with Larry King on @BBCNewsnight. Had to defend working for @RT_com on prog that peddled WMD B.S.

— Neil Clark (@NeilClark66) November 3, 2015
Here he gives a very modern explanation as to what he believes is one of the main driving forces of politics today.
"In 58 years of interviewing, I've interviewed many politicians, moderated many debates, and watched a lot of politics," he said, before hitting the nail on the head regarding the spectacle of US politics. "The difference now is social media – the avenues of expression are such that the campaigns in America begin two years before the race.

What happens now is you can have a Trump or a Sanders or others burst forward and then, because of the constant exposure and too much attention, you burn out."

On interviewing
Asked to explain his method for delivering audiences an interesting interview week after week, King emphasized the importance of not putting the interviewee on the defensive.
"You learn more... if you ask good questions and you elicit thoughtful answers. You learn more about the person. If I begin an interview by saying: 'Evan! Why'd you do that?!' I make you defensive. That may be thrilling television, but you don't learn a lot."
Davis then suggested that King was often criticized for asking his guests what he described as "softball questions."
King responded: "I've never understood the softball question and when I've been told that I say: 'Well give me an example of a softball question?' And I've never heard of a good example."
Again, King stressed the importance of putting the guest at ease in order to gain the desired information in a non-confrontational way - a method popular among many interviewers these days.
"To me, it's one or the other," he explained. "Do you ask good questions, do you ask shorter questions so that the guest can talk, do you listen to the answers and do you follow up based on what the guest said."
"The problem with a 'Did you' question is that all I can say is 'no.'"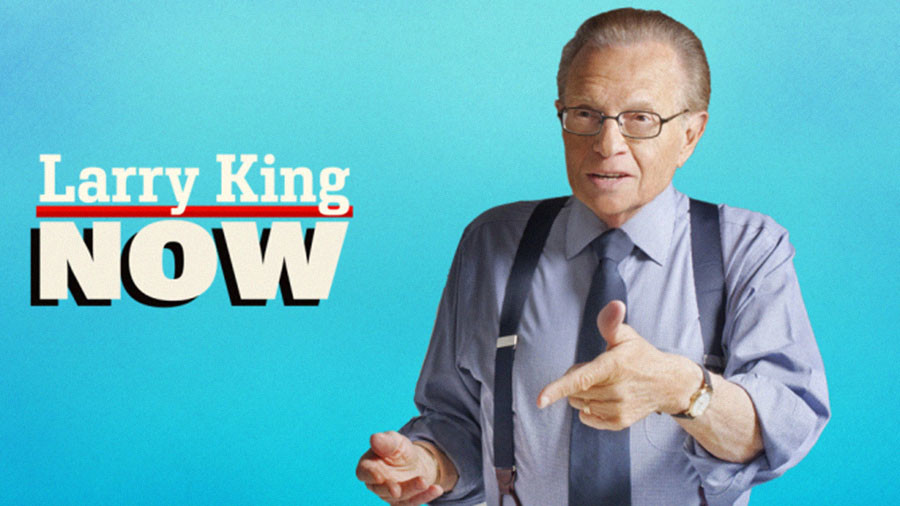 On his spat with Piers Morgan
The interview then turned to a much-publicized spat King had with his successor at CNN, Piers Morgan.
"I don't understand it anymore," King mused. "When I was asked about Piers, I said 'I like him personally, I didn't like his style of broadcasting.' That's all I meant. If he's thin-skinned, he's thin-skinned… I've got nothing against Piers."
Davis implored King to explain what he didn't like about Morgan's style.
"Too much about him," was the terse response.
On his move to RT
The line of questioning then turned to King's professional affiliation with RT, a switch that Davis found somehow difficult to comprehend.
Evans: I think no one would have guessed that Larry King was going to come back on RT… You're the all-American interviewer.
King: RT distributes our program… and we have a wonderful arrangement with RT. They've never interfered with anything I've ever done.
The BBC host was taken aback by the answer, unwilling to believe what he was hearing, and the humor of the moment was not lost on viewers.
Evans: Have they ever said, 'Look, we don't want that episode; we'll take that one?'
Again, King disappointed Evans' assumption that there must be something more to the story.
"I've never had that happen," King said with a wry smile. "We've had Putin criticized frequently."
Evans remained adamant: "You've never self-censored when you're making a program, thinking 'this would be a bit awkward.'"
King, who demonstrated his professionalism by remaining fully composed despite Evans' relentlessness, set the record straight once and for all: 'I've never done that in my life. If the audience trusts me; if you trust me to ask good questions then I don't come with any agenda. And you can watch me in complete comfort knowing that nobody is telling me what to ask or what to do or what not to do.
Now Evans was left clasping at straws. If King had made a voluntary decision to work with RT, then, according to his rationale, it could only have been due to the last possibility: monetary consideration.

"I know a lot of people are saying 'he did it for the money.' Did you sell your program to RT for the money," Evans shamelessly asked King, a man who, we could surmise, has little financial concern at this stage in a long, successful career.
King didn't miss a beat: "I've never did anything for the money. I never got into this business for the money. Look at this: I have never, in 58 years, gone to work. I've gone to do a show, but never gone to work.

The television veteran could not resist a playful jab at the young BBC host.

"You're not working now, Evan. We're sitting here talking, and they pay you. Who are you kidding?"

Starting November 10, King's two shows, "PoliticKing with Larry King" and "Larry King Now," will be broadcast in the United Kingdom exclusively on RT UK.

The statements, views and opinions expressed in this column are solely those of the author and do not necessarily represent those of RT.