TPP deal: Why so much secrecy?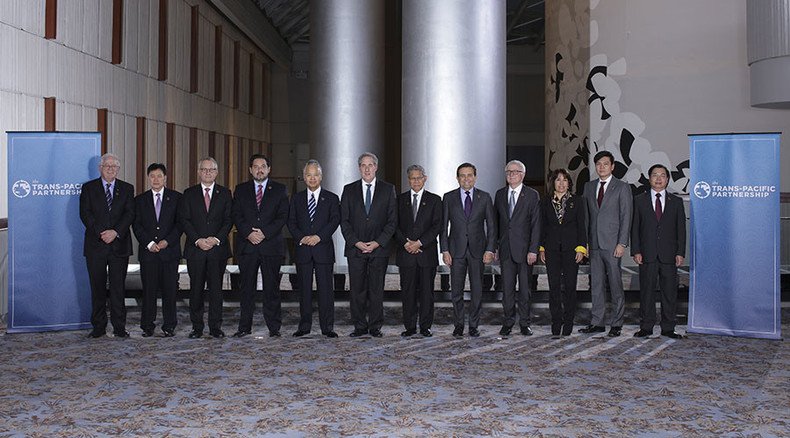 The negotiations on the largest global trade agreement [TPP] in 20 years were kept as secret as possible, however, some information leaked. Experts comment on potential implications of the agreement.
READ MORE: What is the Trans-Pacific Partnership and why you should care

This treaty may turn out to be a kind of a 'killer'
We are going to see the continuation of big problems with the pharmaceutical industry and price gouging, says Dr. Jack Rasmus, Professor of Political Economy at Santa Clara University in California.
RT: There's not much information available on this agreement so far. What do you think are its potential implications?
Dr.Jack Rasmus: There are leaks that have come out here. And I think one of them that is really important is that this treaty may turn out to be a kind of a 'killer'. And by that I mean, specifically, if you look at the provisions that have been leaked on the generic drug agreements. Generic drug agreements will protect the pharmaceutical industry in the US that is already price gouging American consumers raising prices for life-saving drugs by thousands of percent now and creating quite an issue in the US in possible legislation. This treaty, what it does, protects those pharmaceutical companies. It allows them to continue to charge for up to five to eight years those high prices and prevents generic drugs from providing lower prices. So, it is really a big concession to the pharmaceutical industry. And it will allow… pretty much because this treaty prevents legislation that contradicts the treaty if it goes through, we won't be able to pass this legislation in the US. And the treaty has its own courts, so, you won't be able to issue regulations. It allows corporations to challenge in those treaty courts and sue governments who try to regulate it. So, we are going to see the continuation of big problems with the pharmaceutical industry, price gouging and causing problems. And then, of course, there is the tobacco industry as well.
READ MORE: Leaked TPP investment chapter: Corporations can sue states in private courts
RT: Some are calling the deal 'the biggest global threat to the internet', any ideas why?
JR: It is a question of being able to sue the governments, being able to pass legislation that regulates these companies, prevents them from raising prices which they try to do in the US. But if the provisions of this treaty go through then governments are going to have hard time regulating these companies and preventing them from making more profits off the internet. That is a big problem in the treaty in general. Governments won't be able to regulate industries; industries will be able to raise prices at will.
RT: It's believed that one of the goals of the Trans-Pacific Partnership (TPP) is to get a step ahead of China which is not included in the deal. To what extent do you think this is true?
JR: It is absolutely part of Obama's pivot to Asia. If this deal does not go through, then it is going to really upset the economic side of his whole strategy of boxing China in. We will see whether it goes through or not. There is a lot of opposition potentially in Congress. But will not know that until early next year.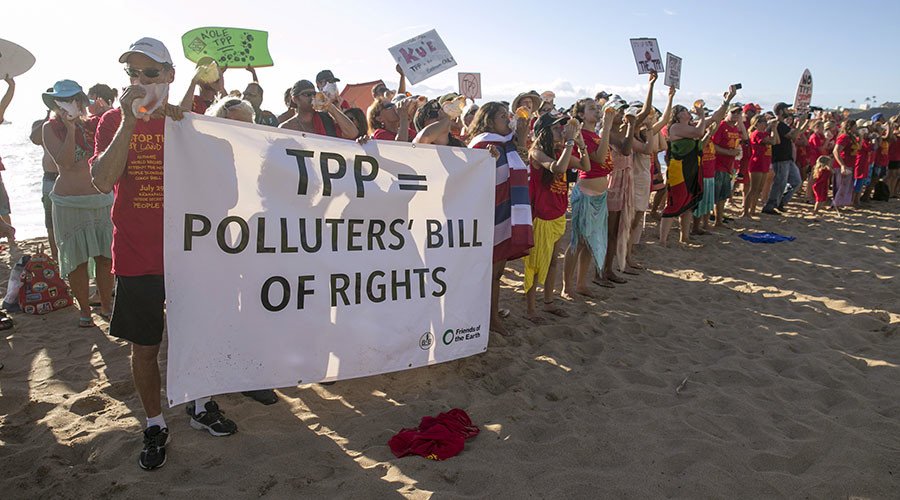 This is more harmonization of regulation internationally agreement than a free trade agreement
Most of the agreement is about extending US patent law, US trade mark and copyright regulations to other countries, says economic expert Felix Moreno.
RT: How do you understand implications of the TPP agreement?
Felix Moreno: First of all, we had some information from WikiLeaks, thankfully. But it is very worrying that the agreement has been negotiated in so much secret, and there's so much secrecy involving eight years of negotiations. The main implications, the headline that has been given by the proponents of the agreement and the signatories is that it is all about tariff reduction. But the reality is that tariffs being reduced were not that significant except in some cases, for example, for New Zealand agriculture... But most of the agreement is about regulation and about extending US patent law, US trade mark regulation, US copyright regulation to other countries – signatories of the agreement…There could have been much larger tariff reductions like, for example, Japanese agriculture, they have made exceptions for those things. So, this is more harmonization of regulation internationally agreement than a free trade agreement.
READ MORE: Australian politicians slam TPP for 'excessive secrecy'
RT: Why do you think there is so little information available on this deal?
FM: From what we've seen this is an agreement written and negotiated very hard by special interests, by large multinational companies with interests in all these countries. And obviously if they saw these details becoming public it would be much harder for the agreement to be ratified by national parliaments. For example, this agreement has to be ratified in the US Congress and there's quite a bit of opposition there from, for instance, the car industry unions and also from environmental defenders who think that this agreement is going to have negative impact in some countries. Also there is a great deal of labor rules, employment rules which are going to be changed in many of these countries. We are talking about over a third of the world economy and more than a third of the world's international trade. So, it is going to affect a lot of people which is why the people who've been most closely involved in drafting the agreement have worked so hard to make sure that it didn't come out to the public. And that the public didn't have as much to say as they could have, especially in the US.
LISTEN MORE:
The statements, views and opinions expressed in this column are solely those of the author and do not necessarily represent those of RT.
You can share this story on social media: