Are you ready for the two-headed coalition?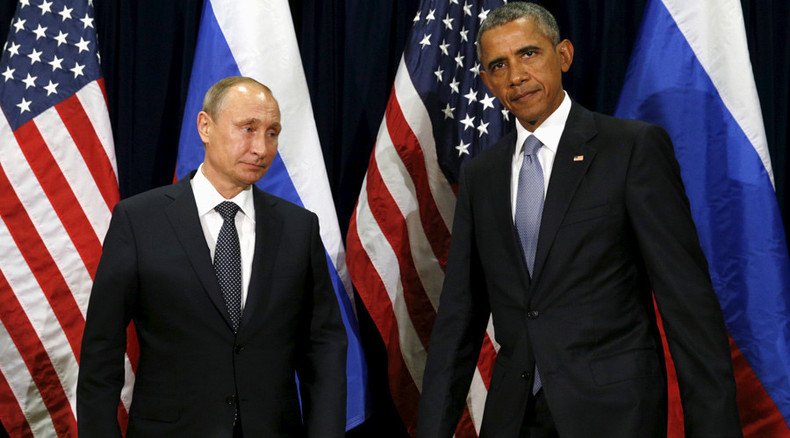 Showdown at the UN. A much-hyped face off after two long years. The ultimate "you talking to me?" geopolitical moment.
And then Russian President Vladimir Putin said it's imperative to form a broad international coalition against terror – especially of the ISIS/ISIL/Daesh kind - similar to the WWII anti-Hitler drive.
And US President Barack Obama, predictably, blinked.
So, in the end, "they didn't discuss coalitions in the classical sense of the word," according to Russian Foreign Minister Sergey Lavrov.
For the media pack/vulture coalition, Lavrov also had to specify, once again, what Moscow is doing in Southwest Asia: "Both governments of Iraq and Syria received [this] assistance from us. We sent our military specialists to help use this equipment and we believe that all those who fight on the ground against the terrorist groups ISIL and others must be coordinated. Not necessarily under a single command."
So the road map ahead, after 90 minutes of face off and no agreement on any specifics, seems to point to a two-headed coalition, one led by the US, the other by Russia, in theory coordinating on the ground.
Predictably, once again, US neocons and 'neoliberalcons' are fuming. 'Czar Putin' is "overextending", like the Romanovs. The eve of the Putin-Obama face off, a headline in a US corporate rag had summed it all up; "President Obama confronts Russia, China and Iran in speech to UN." It's all here. The ultimate Pentagon wish list – featuring the prime "threats" to 'Exceptionalistan' apart from ISIS/ISIL/Daesh. Or, geopolitically, the road map of the turbulent years ahead: the Empire of Chaos against Eurasia integration.
LISTEN MORE:
Realpolitik resurfaces
For the galleries, we had the predictable Obama performance at the UN podium, delivered as if impersonating a bored poseur on crack; demonizing Russia, sideswipes at China, condescending on Iran. Iranian President Rouhani at least skipped it, meeting David 'of Arabia' Cameron on the sidelines.
On stage though, Rouhani was dead serious, speaking on behalf of "a great nation" mourning the loss of over 150 Iranians during the hajj, victims of "the incompetence and mismanagement of those in charge." That is, the "let's turn Mecca into Disneyland" House of Saud.
But even while getting no satisfaction on stage Obama was forced to practice realpolitik; Washington is "prepared to work with any nation – including Russia and Iran" – on Syria. One wonders how prepared it is to work with the House of Saud/'Sultan Erdogan' regime change freaks. Virtual scimitars were drawn in the UN corridors before the fateful Putin-Obama face off. At stake was nothing less than a perception of global leadership. Russia and Iran eventually prevailed – imprinting the notion that, first of all, the fake "Caliphate" must be convincingly defeated, and then Assad may eventually go, through a democratic process.
But political Dadaism worthy of Tristan Tzara is still rearing its demented hydra-head. This Tuesday Obama hosts a summit of sorts on the fight against ISIS/ISIL/Daesh to which Tehran has not been invited – because it's a "state sponsor of terrorism" (since 1984) according to the State Department. And Moscow is not attending.
Putin instead called on UN member states to join a ministerial meeting led by Russia as current president of the UN Security Council. The practical result would be a new UN resolution on combating the fake "Caliphate". With Turkey, Saudi Arabia and Iran all on board.
This is a BRICS position. Brazilian president Dilma Rousseff, on stage, directly blamed the fake "Caliphate" and "associated groups" – as in Jabhat al-Nusra - for the Syrian tragedy. Chinese President Xi Jinping stressed "respect for national security" as a pillar of the UN charter – without even having to mention Syria.
But it was Rouhani that went no holds barred. What a pity his speech was lost in translation. Rouhani blamed the invasion/bombing of Iraq and Afghanistan, and Washington's support for Israel for creating the terror matrix. Tehran's position on Syria is close to Moscow's, although not necessarily indistinguishable. For instance, there is no coordination on the ground between them on military aid to Damascus.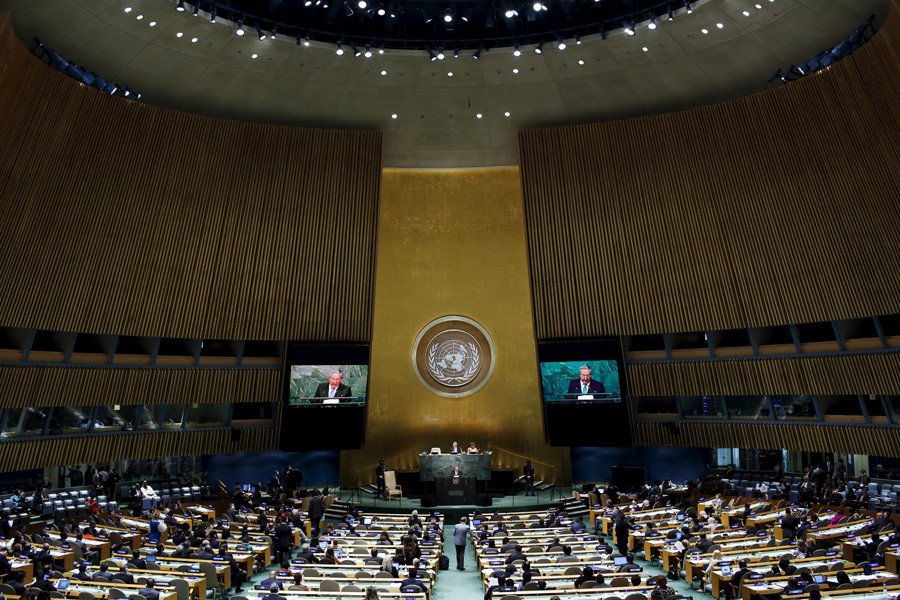 Xi, for his part, delivered a one-two-three punch. 1) the move towards a "multi-polar world" is an "irresistible trend". 2) China is committed to peaceful development, and won't pursue "hegemony, expansion, or sphere of influence". 3) partnerships must evolve where everyone is "treated as equals," and big and strong countries do not 'bully the small, weak and poor; the law of the jungle is not the way for countries to conduct international relations."
Cue to apoplectic hysteria engulfing neo-cons and 'neoliberalcons'.
Are you with them or against them?
Behind all the posture under the glaring lights, a subtler undercurrent is detectable. The Obama administration – despite its solidly embedded neocon cells and its overall humanitarian imperialism character – is slowly beginning to realize there must be a serious collaborative road map to be followed across "Syraq".
Last week, 'Sultan Erdogan' had a crucial meeting with Putin. Afterwards, he immediately changed his regime change tune: "We can have a process without Assad, or something like going with Assad during a transition period." The always slippery Erdogan now seems to support what he defined as a "triple initiative" on Syria featuring the US, Turkey and Russia. And that could also include Saudi Arabia and Iran. This is no less than the backbone of the coalition Russia is proposing.
As Plan A for the fight against ISIS/ISIL/Daesh, Rouhani at the UN even invoked an echo of the Joint Comprehensive Plan of Action (JCPOA) agreed between the P5+1 and Iran for the nuclear dossier. It's important once again to remember that as it stands, Iran and Russia have no "military coalition" in Syria – as Rouhani stressed in New York. What does exist is an intelligence sharing agreement among Syria, Iraq, Iran and Russia, just set up in Baghdad. Call it the Gang of Four (Damascus-Baghdad-Tehran-Moscow). Why not?
Putin insisted at the UN on coordination between all anti-ISIS/ISIL/Daesh forces based on UN principles. The key principle at stake is statehood. In the Syria case, that translates as support for the government in Damascus, which may have monstrous flaws, but it's the only game in town. The "alternative" is the Salafi-jihadi barbarians.
So this is the way the regime change obsession of the Obama administration ends; not with a bang, but a whimper. The question is how will the Obama administration still plan to use Salafi-jihadis for its "Assad must go" operation while also fighting them as leaders of a coalition. Certainly not by using the "no more than five" moderate rebels it trained and weaponized with a $500 million budget.
LISTEN MORE:
The statements, views and opinions expressed in this column are solely those of the author and do not necessarily represent those of RT.
You can share this story on social media: