Oil price crash: 'Saudi Arabian economy going to fundamentally change'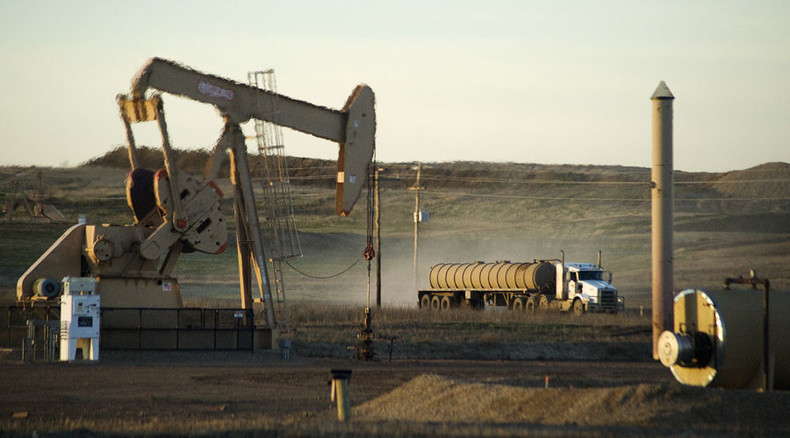 With oil prices at a low level, Saudi Arabia will have to take new steps to become a normal country, not just one of oil barons, where the money flows like water from the well, says Jeffrey Albert Tucker, distinguished fellow of the Foundation for Economic Education.
Saudi Arabia is facing unprecedented budget cuts. As the world's largest oil exporter it's been struggling in the face of falling crude prices which have been cut by half in a year, plunging below $50 a barrel.
READ MORE: Oil crash forces S. Arabia to cut 'unnecessary' budget expenses
RT: The ultimate medicine for Saudi Arabia's financial trouble is a reduction in the output of oil. Why is Riyadh choosing the hard way?
Jeffrey Albert Tucker: Saudi Arabia is in trouble right now because of the crash in oil prices and this is very much analogous to what happened in 2008 when the US economy was so dependent upon a very high housing price and when it fell, then you saw a great deal of fiscal instability and financial upheaval. That's happening in Saudi Arabia right now because of the crash of the oil price. The falling oil price has been a great benefit for the world economy. It's not so good for Saudi Arabia that is so dependent upon a kind of constant revenue stream from oil.
RT: The Saudis need the price of oil to stand at least $100. Do you see Riyadh eventually cutting production to drive the price up?
JAT: I don't think Saudi Arabia will be able to cut production because with a cut of production they reduce the revenue and they take a great risk. Saudi Arabia is not the only oil producer in the world, there are many others and so they are in a competitive relationship. That attempt to recreate a cartel kind of situation that we saw many decades ago - there is no hope for that in the modern world. So no, they will keep production as high as possible which is only going to drive the oil price down further.
RT: The Saudi Finance Minister says they are working to 'cut unnecessary expenditure'. How far will Riyadh have to go with the cuts?
JAT: The Saudi Arabian economy is going to fundamentally change. They've been able to depend on this oil revenue stream as almost a sole source of the productivity of the country for a very long time, but with the prices at this level things will have to change. It will have to become a little more diversified and it's going to lead to a great deal of economic, cultural and possibly political instability. I think this is a wonderful thing for the world economy and for Saudi Arabia.
RT: The Minister revealed neither the scale nor the details of the cuts. But do you think they will impact the ordinary Saudis?
JAT: It's going to impact everything. The aristocracy is going to completely and fundamentally change in light of this. Saudi Arabia is going to have to make new steps to become a normal country, not just the country of oil barons where the money flows like water from the well, that's no longer going to be true. In a modern economy - that's diversified and globalized - everybody has to adapt and that includes even old world economies like Saudi Arabia.
RT: Saudi Arabia has projected an official budget shortfall for this year of $39 billion. The IMF and other institutions though believe the actual deficit will be significantly higher. Just how much damage is the Saudi economy taking?
JAT: This is an unusual deficit for Saudi Arabia; it's not unusual for European or American standards. These levels of deficit are nothing, there is just a little bit of a shock to Saudi Arabia that's not used to facing this kind of fiscal shortfall. So I hope that the response will be to diversify the economic structures and to become truly competitive in a global market place rather than relying exclusively on oil revenue, because certainly it's not sustainable under the current structures.
LISTEN MORE:
The statements, views and opinions expressed in this column are solely those of the author and do not necessarily represent those of RT.
You can share this story on social media: