Show me the money: Madonna's staggering hypocrisy on gay rights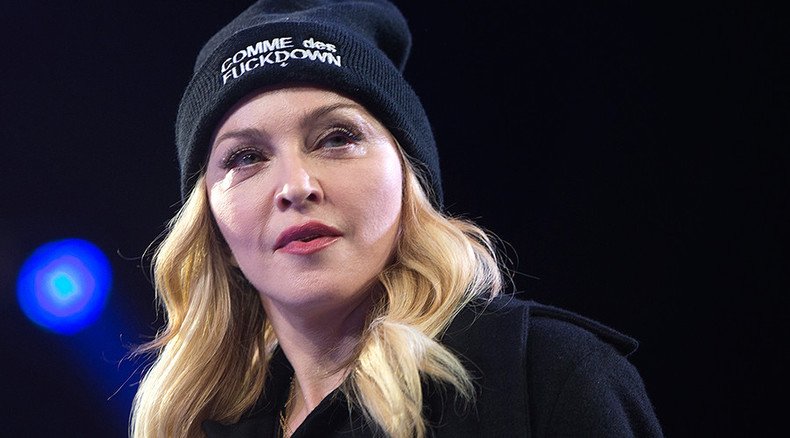 Madonna co-owns fitness clubs in Russia. She is also happy to appear in countries where homosexuality is illegal. Her refusal to play concerts in Russia is opportunistic hypocrisy.
I met Madonna once. When I say "met," I mean "said hello to Madonna once." It was at Berlin's Kaffee Burger, on the famous TorStrasse, during the 2008 Berlinale Film Festival. Oddly, Kaffee Burger is famous for its 'RussenDisko' (Russian Disco). The Berlin institution, which exclusively plays music by Russian bands, is hosted by Vladimir Kaminer, a celebrated Moscow-born writer.
Now, it seems that Russian Madonna fans won't be graced by her presence. The eighties' pop icon has announced that she will never tour the country again. "I won't appear in Moscow or St. Petersburg anymore, because I don't want to perform in places where being homosexual is tantamount to a crime," she told Entertainment Weekly.
Madonna is absolutely entitled to appear wherever she chooses. The 57-year-old veteran, however, has exposed her charlatanism, and in this instance she is definitely being a hypocrite. Madonna is not the selfless defender of gay rights she purports to be. As it happens, she also has lucrative business interests in Moscow and St Petersburg. Furthermore, homosexuality is not actually a crime in Russia, or even close to it.
Let's deal with the latter point first. Homosexuality is legal in Russia. It has been since 1993. Additionally, transgender people are allowed to change their legal gender following sex reassignment surgery. Incidentally, the American states of Ohio, Tennessee, Idaho, Oklahoma and Kansas do not allow this. The infamous "gay propaganda" law, passed in 2013, makes it a criminal offence to distribute information about homosexuality to minors. This legislation has been wildly misrepresented in the West. That said, I believe it was a mistake to ever introduce it.
READ MORE: Marine Le Pen accepts Madonna's invitation out
However, while Russian law offers protection to LGBT folk, it is fair to say that society is generally more conservative than in most Western countries. Nevertheless, Russia is not alone in this. Almost all of Eastern Europe – as well as the southern and Midwest regions of the US - is a relatively cold house for gays. On the other hand, while life is tough for homosexuals in provincial Russia, Moscow, Sochi and St Petersburg have thriving LGBT scenes. Indeed, Moscow puts the likes of Rome, Chicago and Paris to shame in this regard.
Madonna wants the Western media - especially its entertainment branch - to believe that she is taking a principled stand against what she perceives as the lack of gay rights in Russia. What Madonna doesn't tell the same journalists is that she is the co-owner of a lucrative fitness business called Hard Candy. The other directors are her manager, Guy Oseary and Mark Mastrov, a sports entrepreneur. Hard Candy operates in 10 cities worldwide. Guess what? Two of them are in Russia.
Hard Candy has franchises in both Moscow and St Petersburg. In fact, the Moscow location was so successful that Madonna couldn't wait to expand to Russia's second city. "St Petersburg, Russia was one of the most magical nights on my 'Sticky & Sweet' Tour and I'm thrilled that we've found the perfect location and ideal environment there for the next Hard Candy Fitness," Madonna told the club's website.
This, alone, would qualify as mind-bending hypocrisy. However, Madonna's ability to masquerade as a saint, while behaving like a Pharisee doesn't end there. During her 2012 MDNA Tour, the New Yorker played two shows in Abu Dhabi, yielding $8,053,500 in revenue.
In the United Arab Emirates, homosexuality is punishable by death. Yes, you read that correctly - death. Not some kind of low-level harassment, rather the ultimate sanction.
Indeed, the UAE, in partnership with Bahrain, Saudi Arabia and Qatar, is working on a test that can detect a person's sexual orientation. If all goes according to plan, these nations will then ban the entry of people whose tests return positive for homosexuality.
READ MORE: Europe 'feels like Nazi Germany,' says Madonna
Madonna has been completely silent on this front. In fact, not only is she completely uncritical of the UAE, but a Spanish architect claims he designed a home for her in Dubai. Joaquin Torres alleged the house would even boast captive dolphins swimming in the singer's living room.
Anyway, let's be clear here. Madonna says she won't play Russia because of her concerns for gay rights. Yet, the normally outspoken pop star seems unable to elicit so much as a murmur over the far more restrictive regime in the UAE. Also, she is more than happy to profit from very successful fitness centers in Russia.
When Madonna last played Russia in 2012, tickets for her Moscow shows sold for between 1,750 rubles and 200,000 rubles. At that time, these figures equated to $56 for 'economy' seats and $6,451 for VIPs. Due to the recent ruble crisis, however, Russia is less financially attractive for everyone. The cheap seats would only garner $25 now and the elite option, $2,898. Of course, Madonna could raise her prices, but I'm not sure that cash-strapped Muscovites would splash out for her shows right now.
Madonna's behavior suggests that she only cares about LGBT rights when it suits her. The 'Material Girl' is a Class-A hypocrite.
The statements, views and opinions expressed in this column are solely those of the author and do not necessarily represent those of RT.
LISTEN MORE:
The statements, views and opinions expressed in this column are solely those of the author and do not necessarily represent those of RT.
You can share this story on social media: