'Korean Peninsula is where major militaries – US, China and Russia – face each other'
If anything happens in Korea it can explode and consume the world, but it's unlikely that things will go further than talks and perhaps a few artillery rounds, there is just a lot of gesturing, says Dr. Tim Beal, Asia specialist at Victoria University in Wellington.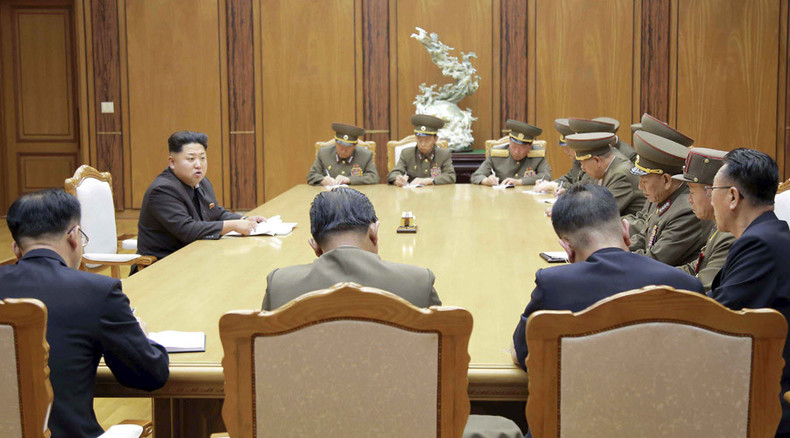 South Korean sources claim there is evidence North Korea is going to test-fire short and medium-range missiles. On Thursday the two countries exchanged artillery fire across the border.
READ MORE: S. & N. Korea trade warmongering accusations following exchange of fire
RT: How concerned should we be with the situation on the Korean Peninsula?
Dr. Tim Beal: We should always be concerned about what happens in Korea, because the Korean peninsula is where the US joins with Japan, China and Russia so this is where the major military powers in the world face off against each other. If anything happens in Korea it can explode and consume the world, that's why we should be concerned in general. In the particular circumstances of today I think we can take it all with a certain grain of salt; there is a lot of gesturing and nothing very much will happen. So we are going to get a lot of talk, we are going to get a few artillery rounds perhaps, but it's possible but unlikely that things will go further than that.
RT: The situation is hanging in the balance. What do you think the major powers should do now?
TB: Obviously both countries need to show restraint. That's not really both countries: It is North Korea versus South Korea and the US. We mustn't forget that the US has control over the South Korean military in the event of war. South Korea can't get to war without the US, so the US is intrinsically involved with this. Obviously we want everyone to show restraint and I think that's probably what will happen, but there can be accidents, and there is always a possibility that people in Seoul, people in the military might think that this is a time to bring things to a head. Only last week President Park Geun-hye said that they should prepare for what she called 'reunification,' which is a sort of code for a war with the North. Lots of things are happening in the background, but whether the background will come to the foreground of course we don't know, we very much hope not because as you said it would be catastrophic.
RT: Will the major powers step-in if the conflict escalates?
TB: Yeah, the US is there. The US has wartime control of the South Korean military. So if there is a war the US is involved. If there a war the US and South Korea… has absolute overwhelming military superiority. It will be a matter of invading the North, and if that happens China will probably intervene as it did in 1950. So there we have the possibility of a war between the US and China.
The statements, views and opinions expressed in this column are solely those of the author and do not necessarily represent those of RT.
LISTEN MORE:
You can share this story on social media: