'Impossible to predict response' if hunger striker Allan dies in Israeli detention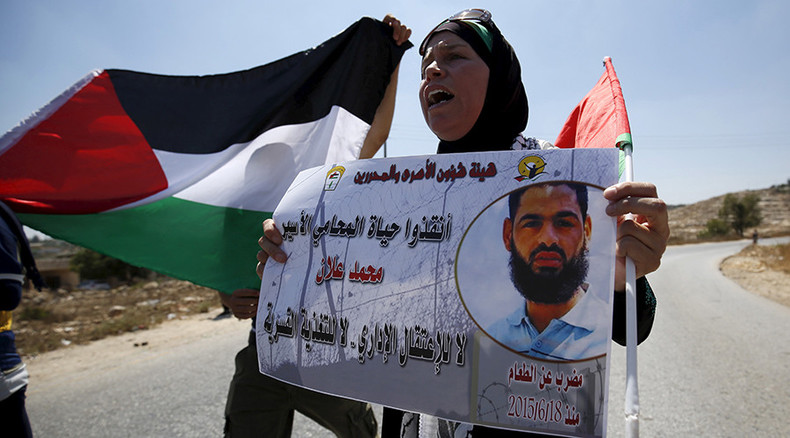 Holding detainees in prison indefinitely without charge, without letting them see a lawyer, is a criminal practice by the Israeli military and if Palestinian hunger striker Mohammed Allan dies it is impossible to predict what the response will be from the Palestinians, says Richard Becker from the ANSWER Coalition.
Mohammed Allan, a Palestinian prisoner on a hunger strike, has slipped into a coma, according to his lawyer. He has been refusing food for 60 days in protest against Israel's policy of administrative detention. He has been held in detention since November 2014, but has not been charged with any crime.
READ MORE: Palestinian hunger striker Mohammed Allan, held by Israel without charge, slips into coma
RT: Mohammed Allan has been held since November but not charged. Now that he's in critical condition, do you think that will speed up his release?
Richard Becker: It's very hard to say at this point, we are seeing a critical moment in the case of Mohammed Allan. He is being held under the emergency regulations that Britain imposed on the colony – the mandate of Palestine. Even though the British withdrew in 1948, the Israelis have continued to use these emergency regulations against the Palestinian population. And they include administrative detention, being held without charge, without seeing a lawyer going before a judge for six months - and those are renewable without end. So this is something that needs to be seen by people, to be understood that this is a criminal practice by the Israeli military. Also a criminal practice under international law is abducting Palestinians inside the occupied territories and taking them into the West Bank in particular, taking them inside Israel and imprisoning them in Israeli prisons. This is outlawed under international law, international governance and this is a major part of the reason for the protests that are going on right now.
RT: Last month the Israeli parliament approved a law allowing the force-feeding of prisoners on hunger strikes. Israeli medics have condemned it and called for a boycott. Do you think they will be able to resist the authorities' demands?
RB: Force-feeding is clearly torture. It's been carried out against people in Guantanamo over and over again. And it is clearly, indisputably, a form of torture and if they go ahead with this, that instead of meeting the just demands of Mr. Allan to be released since he has no charges against him – instead of that, if they choose to force-feed him he would be then subject to torture and very possibly - given his very weak condition - after all these weeks, 60 days of hunger strike, it could very well be fatal to him.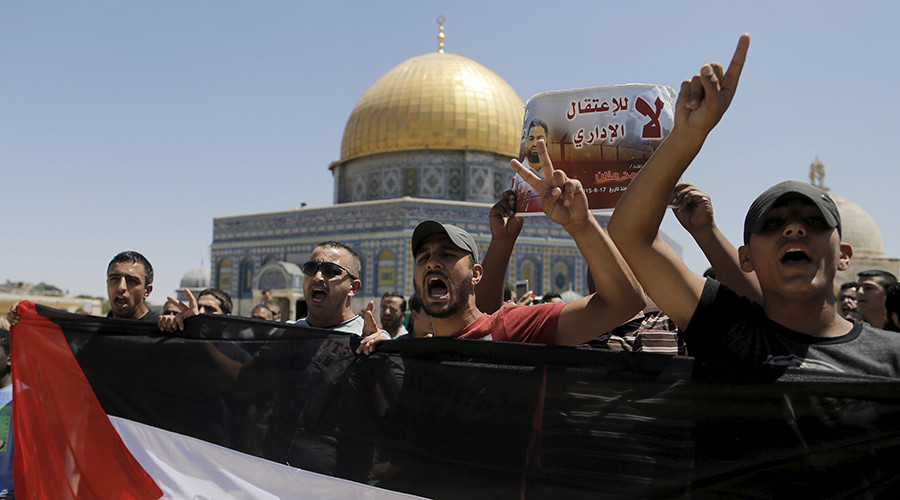 RT: Thousands of Palestinian prisoners have gone on hunger strike in protest at Israel's administrative detention system - what is it about the practice that causes so much anger?
RB: The fact that the occupation authorities who treat the Palestinians - and I have visited Palestine and written about it on a number of occasions - they treat Palestinians like less than human beings, they treat them like animals. And that goes on all the time at the hands of the Israeli occupation. On top of that there are hundreds and hundreds of regulations that are imposed on Palestinians, including administrative detention, which is really the situation where the government, the police, the military can pick you up without any charges, hold you indefinitely and subject you to all kinds of punishment, torture you while you are being held illegally inside these Israeli jails. So, of course, that is the source of great anger among the Palestinian population, along with the ongoing occupation as a whole.
RT: Mohammed Allan's case has clearly caused public anger among Palestinians. How far could this escalate, and how much of a concern is this for Israel?
RB: I think it's important also to point out that the Palestinian prisoners who represent the different factions, different parties but who are together regarded very highly by the Palestinian population as a whole, they carry great moral weight in the struggle for liberation in the eyes of the population. Therefore, we do not know how far it could go, but if Mohammed Allan dies, if other hunger strikers die or are killed, given the fact that so much has accumulated, so many atrocities have been committed against the Palestinians in recent years and over a longer period of time, of course, it's impossible to say what kind of response, what kind of resistance will come from the Palestinian people.
The statements, views and opinions expressed in this column are solely those of the author and do not necessarily represent those of RT.
LISTEN MORE: