Turkey soft-target terror attack 'very symbolic'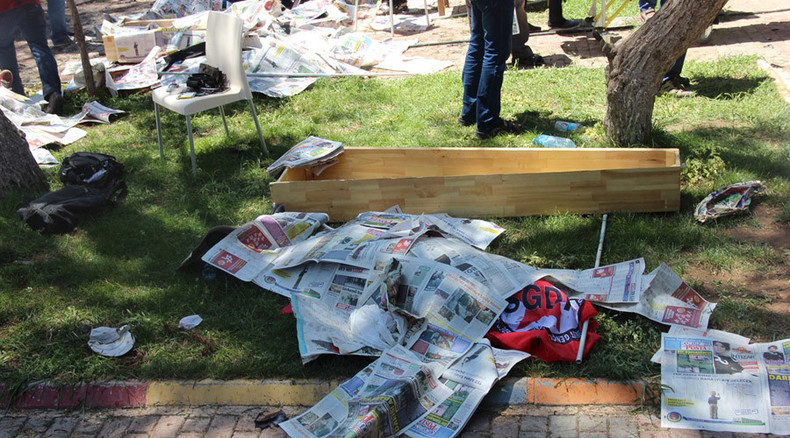 The terrorist attack at a cultural center in Suruc appears to be symbolic as people there were discussing the rebuilding of Kobani in Syria that was almost completely destroyed by ISIS fighters, says Middle East political risk analysts Shwan Zulal.
Twenty-seven people have been killed and a hundred wounded in an explosion in the southern Turkish town of Suruc near the Syrian border. Turkey's Interior Ministry confirmed the blast was a terror attack.
RT: The Interior Ministry says it was a terror attack. Who do you think is behind the blast?
Shwan Zulal: Yes, indeed. Apparently it was a female suicide bomber who detonated the bomb inside the cultural center, and the cultural center is quite symbolic because they are holding discussions on how to rebuild Kobani. This center is run by the municipality, which is controlled by the Peoples' Democratic Party (HDP) which reached the threshold in the latest Turkish elections. So this instability in the southern part of Turkey, mainly in the Kurdish area, we've seen quite few attacks, explosions by various groups including Islamic State…

RT: It looks like another soft target, doesn't it?

SZ: It does. And it's very symbolic as those people were discussing how to rebuild Kobani. I've heard in the last few weeks that people even from other Kurdish parts, in Iraq for example, they've been volunteering engineers, civil servants - trying to work out a plan how to rebuild Kobani. As we know from the last year's siege 80-85 percent of the town is completely destroyed, so it's very symbolic. As we saw a few weeks ago again IS tried to penetrate Kobani; they carried out massacres within Kobani when about 150 fighters went to the town and killed children. About 150 people were killed at the hands of IS. So there is no surprise and, again, going back about a month a similar explosion happened on the other side of the border on the Syrian side.
RT: What should Turkish authorities do to prevent such attacks as apparently the Turkish border in that area is not that robust?

SZ: There are so many theories and ideas… Obviously the borders are very porous as we've seen in the last two or three years with IS, with other groups in Syria, they have been able to come across the border and there have been accusations of Turkey helping them. But the latest attack sort of highlights how vulnerable these border areas are. Although Turkey has been still on the sideline on the IS issue they have recently started arresting people from Turkish organizations who fund and help IS. But this highlights how the situation can get out of hand… Again, in the last few weeks we've seen a marked number of these attacks in the South-East and South of Turkey where the Kurdish population is. And because of the last election in June there is no government yet in Turkey, so there is a lot of speculation where various sides could take advantage of the instability and division within the communities and so on.

RT: The Syrian town of Kobani is just a few kilometers from Suruc. Has that battleground moved to Turkey? And what will Ankara's response be?

SZ: I doubt there is going to be any sort of response apart from rhetoric because we've seen it in the past even during the election, during the campaign for the HDP party - which is a Kurdish base party in Turkey - when the leader was giving a speech with hundreds of thousands of people there were explosions then. They accused various parts - not IS itself - but splinter Islamist groups within Turkey.
RT: We are still not sure that it's been IS, maybe it was Kurdish Workers' Party (PKK), what do you make of that?

SZ: I don't think it's going to be PKK, because these people are very close, because they are the socialist party, the Federation of Socialist Youth, which is very unlikely to be an internal issue with PKK… most of the people who were there were Kurds, so I doubt there is any PKK links. The Turkish press is already speculating there was a female suicide bomber and it was an IS member. I don't know how credible this information is, but the target is very clear, who would target such a group. It wouldn't be any other group apart from IS and ultranationalists, but ultranationalists haven't had a record of doing such attacks, so I doubt it's them. It's probably the Islamists.
The statements, views and opinions expressed in this column are solely those of the author and do not necessarily represent those of RT.
The statements, views and opinions expressed in this column are solely those of the author and do not necessarily represent those of RT.
You can share this story on social media: