What it really takes for a US-Iran deal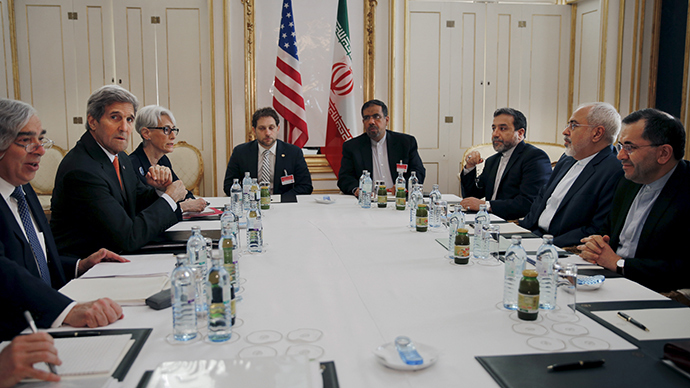 Forget the mad spinning. Here it is, in a nutshell, what it really takes for Iran and the P5+1 to clinch a game-changing nuclear deal before the new July 7 deadline.
Iran and the P5+1 agreed in Lausanne on a "comprehensive plan of action," taking into account delicate constitutional considerations in both the US and Iran. A crucial part of the plan is the mechanism to get rid of sanctions. Lausanne – and now Vienna – is not a treaty; it's an action plan. There will be a declaration when a deal is reached. But there won't be a signing ceremony.
The next important step is what happens at the UN Security Council (UNSC). All the concerned parties at the UNSC will endorse a declaration, and a resolution - which is still being negotiated – will render null and void all previous sanctions resolutions.
As it stands, all the parties – except the US government – want to go to the UNSC as soon as possible. Washington remains, at best, reticent.
Iranian negotiators have made it very clear at the table that Tehran will start implementing its nuclear restriction commitments - removal of a number of centrifuges, removal of the core of Arak's reactor, disposal of uranium stock, etc. - immediately. The IAEA will be constantly checking Iran has complied with an extensive list.
READ MORE: As Iran nuclear deadline passes, narrative battle heats up (Op-Ed)
But it has to be a parallel process; the US and the EU must for their part and "take physical action", tackling the complex mechanism of lifting all economic sanctions. Once again; a UNSC signature instantly erases all previous sanctions.
And here is something crucial; all of this has been agreed in Lausanne. The work must be simultaneous, as stressed, in tandem, by Iranian Foreign Minister Mohammad Javad Zarif and EU representative Federica Mogherini.
Those fateful parameters
Meanwhile, we have the media centrifuges spinning like mad, as I described here. On the negotiating table, there are still skirmishes related to the US desire in trying to "prove a negative" – as in the "possible military dimensions" (PMD) of Iran's nuclear program.Logically, you don't need to be a neo-Wittgenstein to see that's impossible.
The deadline extension from June 30 to July 7 is mostly about finding – rather, finding again - a "reasonable common narrative" inbuilt in the Lausanne framework, and even before.
This means Washington should make the political decision to tone down repeated attempts to introduce new demands. Iranian officials admit, "we may have had disagreements on how we do simultaneous work," but that's part of Lausanne. New demands are not.
In Lausanne, US Secretary of State John Kerry and Foreign Minister Zarif agreed on a "set of parameters" – after excruciating nine hours of debate.They also agreed, crucially, that both sides would refrain from humiliating one another publicly.
The recent record shows that's been the case – as far as negotiators and diplomats are concerned. On the other hand, US corporate media predictably has been wreaking the proverbial havoc.
Which brings us to the clincher; Iranian negotiators have yet to detect a readiness of the US government to really change the "culture of sanctions" in the UNSC. And here a diplomatic consensus emerges, involving, very significantly, Russia and Germany; this agreement will be made - or broken - on one crucial point; whether the Obama administration wants to lift the sanctions or keep them.
Watch the BRICS front
The least one can say about what's really happening in the Palais Coburg since this past weekend is that the Obama administration's position is oscillating wildly. There seems to be – finally – some movement on the American side in the sense they feel a strategic interest in changing the situation.
That will depend, of course, on the Obama administration's evaluation of all factions operating in the Beltway establishment. Diplomats in Vienna agree Kerry is personally involved in trying to change the equation. So this means the ball is really in the US court.
READ MORE: Iran, P5+1 world powers extend nuclear talks deadline by a week
But all's still murky; even oscillating wildly; the Americans continue to entertain what an Iranian official described to me as "buyer's remorse" regarding what they agreed on Lausanne in the first place.
Serious, key sticking points remain. The duration of the sanctions; confidentiality issues – as in the US, especially, respecting terms of access to Iranian military installations; and what's defined as "managed access" under certain conditions.
Also very crucial is the BRICS front at the P5+1. Neither China nor Russia wants to see any exacerbation of tensions, in Southwest Asia and beyond, because a deal is not clinched. The bottom line; with their eye in the Big Picture – as in Eurasia integration - both are committed to facilitate a deal.
Until next Tuesday, all remains in play. Obama has been spinning he doesn't want a "bad deal". That's not the issue. The issue is Obama himself making the fateful political decision of abandoning the weapon of choice of US foreign policy; sanctions. Has he got what it takes to pull it off?
The statements, views and opinions expressed in this column are solely those of the author and do not necessarily represent those of RT.
The statements, views and opinions expressed in this column are solely those of the author and do not necessarily represent those of RT.
You can share this story on social media: