RT beyond the newsroom: Charity as a way of life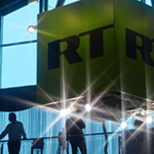 RT has been running charity programs aimed at helping disadvantaged children and other people in need. For the past 10 years we have been friends with two orphanages and took part in many charitable initiatives. We are happy to share our experience in charity work and the amazing stories of people we met on this path.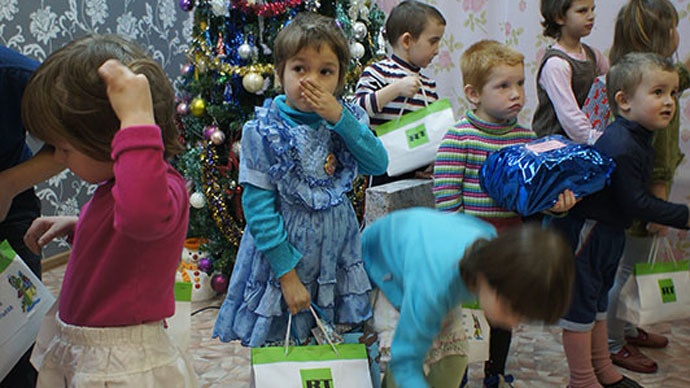 Charity is not a single donation that makes you feel better for a while. It's the way you live and the way you think - constantly. We've discovered it almost 10 years ago when we started helping children in orphanages. They grow up, and we grow with them.
Ten years ago the winter was ghastly. Dirty slush in the streets of Moscow was followed by snowfalls so heavy you couldn't see the fingers on your outstretched hand, then bitter frosts would hit turning the city into ice-sculptures of mess. This was the first winter RT existed, and the winter we launched our first channel. Days before the launch date after an 11-hour shift in the newsroom my colleagues and I talked about the fact, that it's the first truly international media effort in Russia, and one value that unites us all is… no, not news, as you might have expected. Its social responsibility and the feeling that our fortunes are simply the means to make the world around us better. There, in a conversation with the most amazing team of colleagues, we decided it's time to turn words into action – and set out to bring useful things and presents to an orphanage in a Russian province. We've been doing it ever since.
The orphanage in Yasnaya Polyana in the Tula region (just across the road from the Leo Tolstoy museum estate) was my first choice – my family was helping them when I was still at school. We'd become friends and stayed friends with the kids still living in the house and growing up before our eyes, and those who graduated from school and started their own lives. The company grew, and soon we realized we have more resources and can help more kids. The rehabilitation center for children in difficult situations in Gvardeyskoye, also in Tula region, became our next recipient. There the children live short-term while social workers from the rehabilitation center work with their families trying to resolve their issues, or before they are sent to orphanages if their problems are not worked out. Sadly, we often see the same children come back to the rehabilitation center time and again.
It's almost 10 years now. Ten years that we think and act in terms of helping our little friends. My office has long ago stopped being an office – it is a donations center, a storage unit, a gift wrapping station. Christmas does not come for us until we have all the gifts purchased, wrapped and signed. The new school year begins with us buying carloads of school supplies, textbooks, uniforms. The first day of summer for us is the day we deliver summer clothes and outdoor games to the orphanages. We've come a long way from that conversation in the newsroom to this massive operation. We've changed – now we have no idea how we ever lived before we met our kids. What we now have together is more than being colleagues, and more than casual friendship. It feels like we have one extra heart each – as, probably, any other charity activist does.
Sometimes I get a call from an unknown number and the voice tells me they've heard about our project and want to help in any way they can. Once a company donated a hundred school backpacks, another one sent a truck (no kidding, a truck) of notebooks, diaries, pens, and pencils. Once we even got a tone and a half of sweet ripe dates. Hey, there are others with two hearts out there, and their compassion and the need to share with less lucky ones is overwhelming.
It's only been 10 years. It's just a start. And the new school year is just around the corner.
Tina Berezhnaya,RT charities coordinator.
The statements, views and opinions expressed in this column are solely those of the author and do not necessarily represent those of RT.