'Political agenda to have World Cup taken from Russia'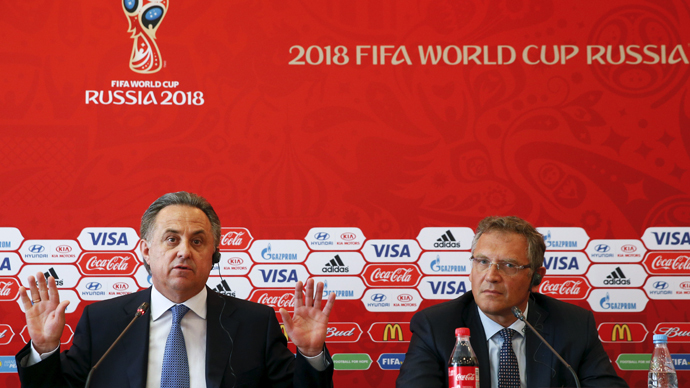 ​EU legislators have adopted a resolution that calls for FIFA President Sepp Blatter to step down immediately, a move that journalist Neil Clark calls political posturing and lacking any sort of democratic due process.
The European resolution, which is non-binding, calls for the dismissal of all corrupt FIFA officials and a review of the football governing body's decisions over the last decade, including awarding the 2018 and 2022 World Cups to Russia and Qatar. FIFA's secretary general says no violations have been found in Russia's bidding process.

RT:Why are EU legislators getting involved in the FIFA controversy if they have no legal sway in the issue?

Neil Clark: This is just political posturing, isn't it? It's not an issue for the EU to get involved in; this is FIFA, the world governing body, and they're playing politics. I think the agenda here, very clearly, is to get Sepp Blatter out now in order to get the World Cup taken away from Russia. If Blatter does stay in till December, then of course it will be more difficult to get the World Cup away from Russia because there simply won't be enough time. And I think that's the agenda. We've already had one of the Estonian MEPs actually say the World Cup should be taken from Russia.
READ MORE: European MPs support review of FIFA's award of World Cups to Russia, Qatar

RT:At the end of the day, will such pronouncements have any real impact on the situation?

NC: No… but it's going to build up the pressure on Blatter. I think it's hounding of him now. He's already said he's resigning. He won a democratic mandate just 10 days ago. He said he's stepping down for the good of football, yet he's still being hounded to step down straight away. Don't forget, this guy is innocent; nothing yet has come to light to prove that he's guilty of anything. He hasn't been charged with anything yet. Whatever happened to due process here? It's really quite extraordinary that when Russia is concerned, due process goes out the window. No evidence has been put forward that Russia bribed its way to get this World Cup... It's not a question of being pro-or anti-Russian, it's a question of being due process.
READ MORE: FIFA suspends 2026 World Cup bidding amid corruption scandal

RT:One Spanish newspaper reported that Qatar is gearing up to host the 2018 World Cup in case it's taken away from Russia. How plausible is that given that Qatar is under the microscope as well?

NC: Well, every day we are reading something else. There's definitely a political agenda to get the World Cup away from Russia. I don't think the Western elites are so concerned about Qatar; they want to take it away from Russia…. But Russia deserves to hold the World Cup; it's never held [the event] yet. No evidence has yet been produced of wrongdoing, so let's hold our horses here. The reason for Blatter having these calls to step down immediately is that some Western leaders want to get a more compliant leader of FIFA in place straightaway.
MORE:
The statements, views and opinions expressed in this column are solely those of the author and do not necessarily represent those of RT.
The statements, views and opinions expressed in this column are solely those of the author and do not necessarily represent those of RT.
You can share this story on social media: