'Darlings of the West beating gays in Kiev'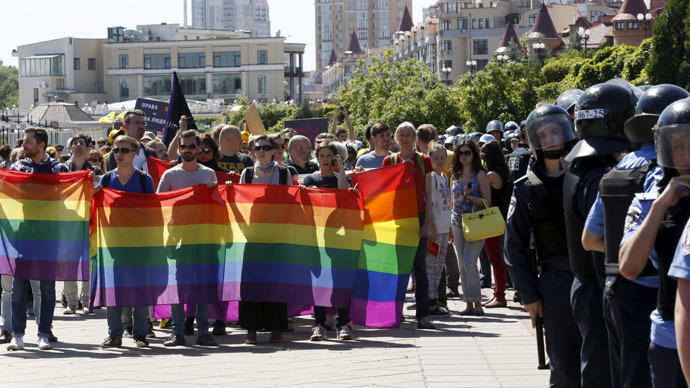 Not just gays but Ukrainians from all walks of life are not enjoying their living standards and human rights, said political analyst Alexander Pavic. The exceptions are those at the top of the structures that caused the Maidan revolution, he added.
The gay pride march in Kiev ended shortly after it started on Saturday. Participants in KyivPride2015 were attacked by about forty people, including members of the radical Right Sector group, who hurled smoke bombs and stones at the march. Some arrests were made, and five policemen were injured in scuffles.
RT:The attackers were radicals from the Right Sector, a group at the forefront of the 2014 revolution, which in part aimed to bring about liberal reforms, including a better life for the gay community. What does that say about where Ukraine society is right now?
READ MORE: Teargas, arrests & injuries: Far right attacks 2nd Kiev gay rights march
Alexander Pavic: What it says is that after the Maidan of 2013 nobody in Ukraine is really enjoying a better life - except people at the very top of the organizations and structures that caused the Maidan revolution. I think not just gay people in Ukraine, but almost everyone from all walks of life, if they look at their lives today and year and a half ago; they cannot but notice a big decline in their living standards and even their human rights. A year and a half ago no one was in danger of being conscripted to go to war. Today everyone is in that sort of danger; there is no end in sight. In actuality, the darlings of the West are beating up the gays in Kiev.
RT:What sorts of response are you expecting from the West given what happened on Saturday?
AP: Judging by the previous record of the West they kind to tend to ignore these kinds of things. I'm sure there will be pro forma, protest etc. Usually they don't make too much pressure on their allies, and they do need Right Sector. They've allowed Right Sector to integrate with the Ukrainian national army. You have US army officers training units with members of Right Sector in them. So, yes, in public there will be some criticism; fundamentally; nothing is going to change because they need these people to keep Ukraine in the Western orbit - unfortunately for everyone.
RT:What about Ukraine's hopes for membership to the EU? From what you've described the values at the moment in Ukrainian society seems to be very far away from what required in order to gain EU membership, doesn't it?
READ MORE: 'Impeach Poroshenko!' Massive anti-govt rally held in central Kiev
AP: Absolutely. Ukraine, even under the hated [Viktor] Yanukovich regime, which was overthrown in Maidan, was much closer to the European so-called way of life and Western way of life than today's Ukraine of Poroshenko and Right Sector, etc. People at least had peace, they had some hope of economic advancement, they had offers from both West and East. Unfortunately, the Western part of the world wasn't happy about the offers coming from Russia and the East. So now today nobody's living better and Western help isn't forthcoming either. I think the average Ukrainian can feel it under his skin.
RT:What has to change in Ukraine for them to get closer to Europe?
AP: First of all, you don't have a really democratic system. Since Maidan was organized in 2013 you practically have an oligarchic regime in Ukraine. It is really not a democratic regime and it's because you excluded a large segment of the population from effectively having a sane political life. If you were to include everyone in Ukraine: those for pro-Russian, those for pro-Western, and those who are neutral, that is the only way that you can really have any semblance of a society. Unfortunately, anything pro-Eastern, pro-Russian, even neutral is being almost demonized and marginalized. As a result, you don't have a balance in society and in Ukrainian politics.
The statements, views and opinions expressed in this column are solely those of the author and do not necessarily represent those of RT.