Will a Pan-Arab 'NATO-style force' secure the Arab region?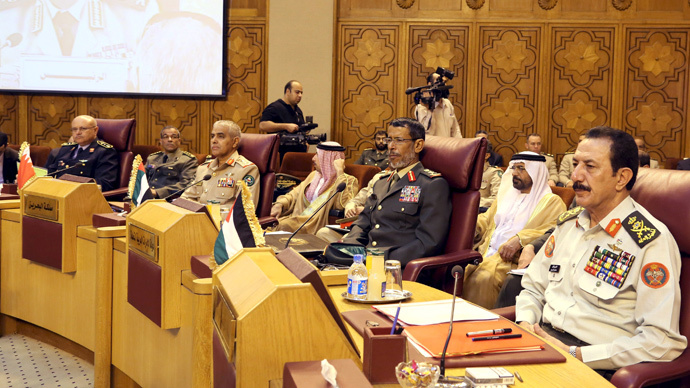 Having a self-reliant Arab security system, as opposed to seeking foreign intervention, is becoming a necessity for a group of Arab states to confront terrorism and safeguard the stability of the region. But will it be effective?
On May 24, the Chief of Staffs of Arab armies concluded a two-day meeting in Cairo where they drew up an outline for the creation of a Joint Arab Force (JAF). The objective of the joint force would be to deal with the threat posed by extremist groups like ISIS.

It was the second meeting between top Arab defense officials in as many months, with both being held in the Egyptian capital.

Egyptian President Al-Sisi in late March formally proposed the idea of a joint Arab force at the Arab League summit, stressing that Arab countries are facing unprecedented "threats to their stability and identity." Arab leaders at the summit in Sharm el-Sheikh agreed to create a "joint Arab military force" to respond to security threats in the region.

Earlier in March, Arab League Secretary General El-Araby had voiced the urgent need for establishing a joint Arab military force to "fight terrorism" as well as "help in peace missions and civilian protection".
Why the need for an Arab force?
The Yemen crisis, with a joint Arab military campaign already underway, seems to make a big case for backing Sisi's proposal. For some Arab countries, at least.

Days before the March summit, several Arab states joined a Saudi-led coalition, Operation Decisive Storm, against Houthi rebels in Yemen and the forces of former President Ali Abdullah Saleh. The countries in the coalition include Kuwait, Bahrain, the United Arab Emirates, Qatar, Jordan, Egypt, Morocco and Sudan.

The air campaign came after Yemeni President Abd Rabbuh Mansur Hadi – who's internationally recognized as the country's legitimate leader - asked the Arab League and the Gulf Cooperation Council (GCC) to intervene militarily against the Houthi advance. Yemen has been in turmoil since September last year when Houthi militia seized the capital Sanaa and effectively ousted Hadi, forcing him to flee to Saudi Arabia.

Prior to Hadi's request for military action in Yemen, Egypt's president Al-Sisi spoke publicly on the issue of a JAF warning that the region would face more terrorist threats. With violence spiraling across Yemen, Sisi later returned to the subject at Sharm el-Sheikh, where the Arab League finally voted in favor of the joint force project.

Khalid Okasha, former brigadier general of the Egyptian military, welcomed the idea saying that it will consist of security and military aid helping other Arab countries that are in danger. He noted that militias becoming stronger than national security forces in the Arab region represent a serious concern today.

"Joint international forces are trying to fight ISIS but they haven't proved any good," the ex-general argued. "As an alternative to seeking help from outside, we will have our own forces, ready to intervene against terrorist organizations."

What came out of the Arab meeting this month was essentially that a consensus had been reached between all participants on the framework of the draft protocol for the formation of the joint force.

The JAF would be able to conduct missions of emergency intervention, combating terrorism and take part in peace keeping operations in member states, according to state media citing the protocol. It would engage in rapid military intervention, deploy to protect civilians, and safeguard relief and humanitarian assistance. It could also be assigned to protect naval and communication lines, perform search and rescue operations and undertake other missions.
Participation in the force would be voluntary.

A minimum membership of seven countries was established: Egypt, Saudi Arabia, the UAE, Kuwait, Bahrain and Jordan and Morocco. There is flexibility for other countries to join at a later date. Okasha anticipated that Sudan might be the next country to join.


Based on the protocol, participant states would contribute troops according to their capability and in a way that does not jeopardize the fulfillment of the duties of their national armed forces.
Dr. Okasha, who also heads the National Centre for Security Studies, explained that any operational details for the military force would entail different plans according to each country's situation and legal framework.

"The JAF would only intervene upon request of assistance from the state party under threat," the retired brigadier general explained.

He added that members of the force would be stationed in their home countries, and prepared to be called into action wherever needed.

Military plans on engagements would be up to the member states' military chiefs.

The question remains as to whether this regional military force can succeed against the current challenges facing Arab nations.

Okasha believes it is possible that it could successfully guard against the likes of ISIS and Al Qaeda, mainly because Arab countries would participate in the JAF with special forces, set to be trained and equipped to confront threats, counter terrorism and safeguard strategic sites.
READ MORE: HRW: New evidence Saudi-led coalition uses cluster bombs in Yemen
It is premature, however, to tell whether the proposed force will be indeed effective in dealing with terror threats to the region as it is mandated to do.

Although Arab army chiefs in Cairo reached consensus on the framework of the protocol, all issues concerning the future force - including organizational and legal aspects as well as its objective, mechanisms of operation - still have to be discussed and agreed upon.

Details regarding size of the JAF, its military capability, and the weapons it would use still need to be defined. Earlier reports indicated it may be formed from around 40,000 elite troops and backed by warplanes, warships and light armor. Nonetheless, there are doubts that all members of the Arab League would significantly contribute to the force.

The force is set to have its command structure, with at the top a commander general to be appointed for a renewable two-year term. The suggested location of its command center is Cairo, the home of the Arab League. Qatar and Algeria reportedly objected to the base chosen.

In Okasha's view, the JAF could be likened to some sort of 'Arab NATO' for several similar elements: a headquarters for planning operations; various states participating with their own army units; its own intelligence to draw up strategies for intervention.

Procedures for the force's creation should be concluded by June 29, as anticipated by Egypt's Chief-of-Staff Mahmoud Hegazy. A final draft protocol will be then submitted for a month's review between 30 June and 31 July. Arab League sources emphasized that negotiations would continue until a consensus is reached.

While State Department officials said that the United States was waiting to see the exact structure and operational mandate of the joint force, it is unclear to what extent such a force would cooperate with the US or any foreign powers.

Okasha stated that the initiative, though an all-Arab concept, would leave some space for cooperation with other states or coalitions – including NATO- depending on the security circumstances and the consensus on the force's intervention.

Analysts say that in cases like Libya, consensus on military intervention would be difficult since different Arab countries support rival parties in the conflict. And with more than one area in crisis within the region, which country should the force give priority to: Yemen, Libya, Iraq or Syria?
For Egypt, the direct threat comes from Libya, whereas a Yemen descended into chaos is one current challenge for Saudi Arabia and, to a lesser extent, other Gulf Arab nations. For Jordan, Kuwait and Saudi Arabia, the greatest threat comes from Iraq and Syria.
There is speculation that the joint force may be used in Yemen, although the new force may not be formally established for another few months. Saudi forces will have perhaps shifted from an air to a ground operation by then.

The idea of a joint Arab military force could be considered a positive move in tackling multiple security threats across the region at a time where the expansion of ISIS is threatening many Arab countries simultaneously.

But rather than functioning as a 'NATO style' collective military alliance that approves interventions, it may result in ad hoc bilateral military cooperation between Arab countries on the basis of will, capabilities and weapons available. The type and scale of operation is another factor that would be taken into account in working out ad hoc arrangements. Countries' military units would be on stand-by and called up for mobilization, if necessary, based on bilateral agreements.

For Okasha, Arab leaders have so far shown political will vis-à-vis the JAF, and the force's implementation is feasible.

The former general foresees possible problems post-formation of the force like political divisions among Arab states or military issues being underestimated that could hinder the JAF's success on the ground.

While Okasha admitted some room for foreign participation alongside, he's definitely not keen on foreign intervention. "Getting help from foreign countries usually makes things more complicated, if not worse," he emphasized.
Alessandra Bajec for RT
Alessandra Bajec is a freelance journalist based in Cairo. Between 2010 and 2011, she lived in Palestine. Her articles have appeared in the European Journalism Centre's magazine,the United Nation's humanitarian news agencyIRIN and The Majalla among others. She tweets@AlessandraBajec
The statements, views and opinions expressed in this column are solely those of the author and do not necessarily represent those of RT.