'West interested in pure crooks, psychopaths and puppets to lead Libya'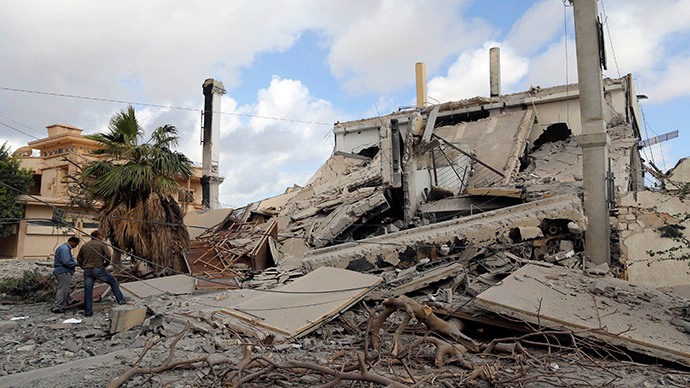 Libya is now a basket case of problems after suffering interference by western powers that are not interested in promoting peace, but rather managing the chaos, Gearoid O Colmain, an independent political analyst, told RT.
The EU has planned a naval operation in the Mediterranean to target those smuggling refugees from Libya to the EU. Such an operation would include reconnaissance runs and the destruction of human trafficking bases in Libya itself. It could even mean putting European boots on the ground.

RT:The EU wants to capture smugglers and destroy their boats off the Libyan coast. Is Europe trying to bring peace and stability to Libya? Or simply stop an inflow of illegal migrants?
Gearoid O Colmain: If you go to the streets of Paris, you can see a picture of one of the leaders of the so-called Libyan revolution in 2011. He has been portrayed and displaced on kiosks all over Paris. His name is Abdelhakim Belhadj and he is an al-Qaeda operative, he is known from official sources to be an al-Qaeda operative. In fact, he was accused by a former PM of Spain, José María Aznar, of being behind the bombing of Madrid in 2004. Abdelhakim Belhadj is now being presented as a possible future leader of Libya and being promoted all over Paris. These are the kind of people Western governments are interested in – pure crooks, psychopaths and puppets.
READ MORE: EU agrees to Mediterranean naval mission to stop migration flow amid controversy
They are not interested in leaders and they are not certainly interested in having a responsible government in Libya. Libya had a responsible government, a civil society. Libya was one of the most progressive countries in Africa. In fact, it was the richest country in Africa and it was making great progress in unifying the continent. And it was attacked in 2011 by a coalition of Islamist groups backed by NATO. They bombed the entire infrastructure, they bombed schools, hospitals and they murdered up to 100,000 people. Europe is not interested in peace in Libya. They are interested in military occupation. They are interested in preventing the development of the entire global south and that what the bombing of Libya was about. I don't think this soi-disant government in Tripoli has any clue how to resolve this problem.
These are people who probably believe in everything they were told by their masters in Brussels, Paris, London and Washington and they are now realizing that Libya has been completely destroyed. It is no longer a nation state. It's no longer a country that has any kind of a future. This problem will grow, you will see mass influx of immigrants and of course there will be more terrorist attacks. But this war on terror is a fraud, a fake and people need to realize that. They are really mocking the intelligence people by their actions. So I don't think that Europe will be interested in anything stable in Libya. What they want is to simply manage the chaos.
I should also point out that an influx of desperate immigrants into Europe in a time of austerity is actually an advantage to Western corporations because these people will work for nothing. They are very desperate and they will drive down wages and wages are already coming down. So they will put pressure on the work force in Europe. And in that sense they are not too bothered by it. But what it will do of course it will lead to more repression because once we see more terrorist attacks like the one we saw in Paris in January that will lead then to more police repression, more militarization of European societies. But the big problem here is that the governments of the EU and the US are clinically insane, their actions are absolutely the contrary of reason. And that is the big problem. We do not have responsible government in Europe. We in Europe and in the US live under a dictatorship and that is the deep cause of the crisis we are seeing now in Libya.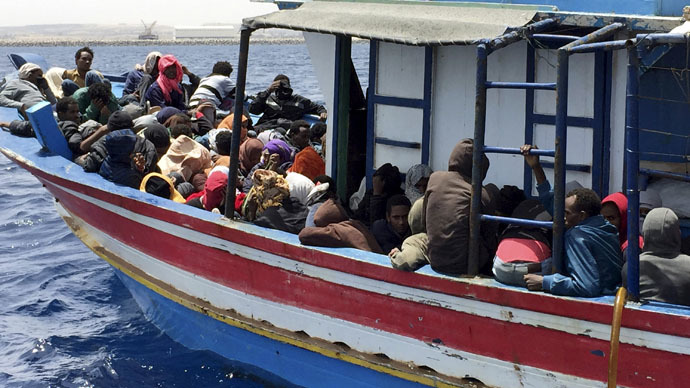 RT:How is this mission different from previous naval operations there? Is Europe trying to control and militarize the Mediterranean?
GC: The term 'Mare nostrum' which was the term used by fascist Italy during the 1930s when they conquered Libya - that was the first aerial bombardment in history. The term 'Mare nostrum' is being used again, now by the EU. In other words, "the Mediterranean belongs to us." The big problem with Gaddafi of course is that he didn't agree with that. Libya was also a country that had its own interests; Africa is other side of the Mediterranean after all. Europe does want to militarize the Mediterranean; it does want to control all the coast of the Mediterranean. There will be a militarization of the other side of "Mare nostrum," which is the Italian fascist term for the Mediterranean which was used officially. So I think there will be a militarization of the North African coast, particularly Libya. Algeria has not been conquered or attacked, but Algeria is on the list. That will come. The destabilization of Algeria has already begun and that will continue. It all depends on whether or not other countries will survive. If Syria falls you will have an absolute chaos in the Eastern Mediterranean, which will spread right up into Europe. We know Islamic State – an emanation [from] US imperialism – has now made significant conquests in Syria and they have also been training in Libya.
I don't see any way out for the Libyan government unless it realizes that if they don't seek other forces, other global powers and perhaps make contacts with them, there is no way they are ever going to get out of this chaos. In other words, they will be well-advised perhaps to go to Beijing and Moscow and discuss possibilities of stabilization with countries that are actually fighting a war on terrorism. Let's not forget there the world is now split up between two forces: the countries who are sponsoring, financing and promoting terrorism, the US and the EU, and the countries who are fighting terrorism – Russia, China and Iran. The Libyan government will have to make this decision if they want actually to have peace and some kind of viable economy in the future. They are going to have to make a decision about who their patrons are going to be because if they continue to take orders from the EU and the US they are going to have military occupation and chaos for very long time indeed.
EU naval mission against African migrants combines 'deep inhumanity & stupidity'
EU foreign ministers have agreed to a naval operation in the Mediterranean Sea to contain an influx of immigrants from Africa, a move Chris Nineham, vice-chair of the Stop the War Coalition, said will only increase bitterness against the West.
RT:Do you think targeting smugglers will be effective in stemming the flow of immigrants?
Chris Nineham: I don't think it will be effective. I think it's a policy that combines deep inhumanity with real stupidity. One reason – probably the main reason – that has created this migrant crisis in the first place is the catastrophe that was unleashed on Libya particularly back in 2011 by the bombing campaign by the West, which devastated the country socially and physically, as well as killing tens of thousands of people. The idea that what is needed in these circumstances, faced with this appalling humanitarian crisis, is more bombs and more military intervention leaves me virtually speechless, frankly. It's the last thing that we need.
RT:How would you gather intelligence? Isn't there a chance the EU's forces could destroy vessels with innocent people onboard?
CN: Absolutely. Any so-called war on the traffickers will in practice end up being a war on the migrants themselves because presumably they are going to be attacking the boats and there are going to be migrants on them. That's the main and most obvious reason why this is a catastrophic decision and a very wrong-headed policy. Any further Western military intervention in Libya itself, which is apparently – unbelievably – now being considered will only increase the level of anger and bitterness against the West but it will also lead to more destruction and devastation. That's the driver of the migrant crisis in the first place. I think this is just a phenomenally inhumane policy and a very misguided one. And it will make the situation it claims to be addressing much worse, apart from creating huge amounts of tension in the region. It really needs to be rejected and they need to think again.
RT:This EU naval mission could also need to put boots on the ground in places like Libya. How likely is that?
CN: I don't know, I'm not part of the decision-making process. It seems almost unthinkable that the people who orchestrated the disastrous military intervention in 2011 could be considering further military action. It's almost as if the EU and the Western powers can only think, when they think of foreign policy, when they think of problems solving, they think of killing, of military solutions.
This is clearly a situation where the military dimension doesn't even need to be raised. What is needed is first of all an acceptance of as many as possible of the suffering migrants into European countries so that they can live some sort of a life. And secondly, there needs to be a reconstruction effort, a serious aid operation to begin to undo the massive damage the West has done in Libya.
MORE:
The statements, views and opinions expressed in this column are solely those of the author and do not necessarily represent those of RT.
The statements, views and opinions expressed in this column are solely those of the author and do not necessarily represent those of RT.
You can share this story on social media: