Kiev's limitations on human rights in Donbass 'not a carte blanche'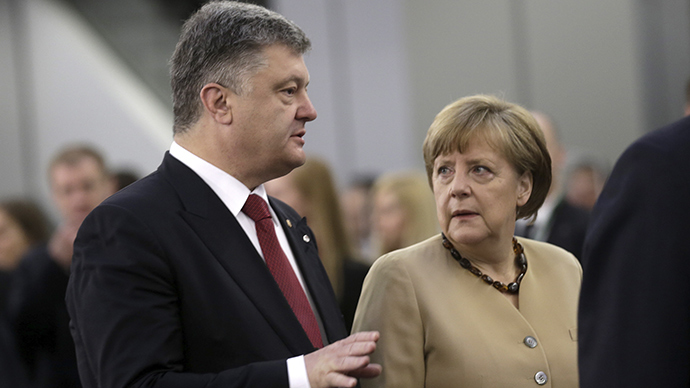 Ukraine's derogation from certain human rights obligations in east Ukraine does not give it carte blanche; all restrictions must be proportionate or necessary, and monitored by international bodies, Rachel Denber of Human Rights Watch, told RT.
RT:What sort of rights are we talking about here? What can the people in the east of Ukraine now expect?
READ MORE: 'No promises' on EU membership for Eastern states at Riga summit
Rachel Denber: What's happened that Ukraine has officially derogated on its obligations under the European Convention on Human Rights and the International Covenant on Civil and Political Rights. That means that the government has said that it would restrict rights... International law allows states to derogate from their obligations, in other words to introduce limitations on rights. But two things... first, it's not a carte blanche, it means that any restrictions that the government of Ukraine introduces in Lugansk and Donetsk Oblast have to be necessary, they have to be proportionate, they have to be non-discriminatory.
The second thing that is important to remember is that Ukraine ... can't refuse to implement such rights as the rights of life, the ban on torture, the ban on slavery. Ukraine still has very serious human rights obligations in eastern Ukraine, not to mention the Geneva Conventions.
RT:Do you think it is a symbolic political move, or do you think this is going to have tangible effects on the people in the two east Ukrainian regions?
RD: It is really hard to say. Since the war started in eastern Ukraine, we have documented all kinds of violations on all sides to the conflict - both by the Ukrainian authorities' forces and by rebel forces. ... The violations that we documented were violations of the Geneva Conventions, for example, which you can't derogate from…
We and other human rights organizations have documented cases of torture on both sides – of people in custody and alike. You can't derogate from the ban on torture.
It means that we need to pay very close attentions to the kinds of restrictions the governments are going to introduce, and to pay very close attention to whether those restrictions are proportionate or necessitated by the fact that they are already at a state of war, and they have lost control over the territory.
RT:All this coincides with the Eastern Partnership summit in Riga, where President Poroshenko in trying to get guarantees for Ukraine's further integration into Europe. Do you think his EU partners will take notice of the current situation with human rights in Ukraine?
READ MORE: Clashes, tires on fire outside Ukrainian parliament in Kiev
RD: I'm not sure because to derogate from something just means that the government is registering with the bodies, with the Council of Europe which is the competent authority on the European Convention on Human Rights, and it is registering with the UN which is the competent body for the International Covenant. It is saying officially: "We're going to restrict certain rights." It is saying officially that these bodies can monitor how these restrictions are implemented. But everyone should be monitoring whether these restrictions are going to be proportionate - this is not a carte blanche.
There definitely have been cases that have been taken to the European Court of Human Rights in other countries that have similarly derogated: Turkey derogated during the conflict in the Southeast; Greece has derogated; the UK has derogated with regard to the conflict in Northern Ireland. There have been cases that have been brought to the European Court of Human Rights [ECHR] by people who believe that their rights were violated because the government had extensively restricted their rights under the derogation.
MORE:
The statements, views and opinions expressed in this column are solely those of the author and do not necessarily represent those of RT.