'Gap now opening up between Kiev & US, Kiev & EU'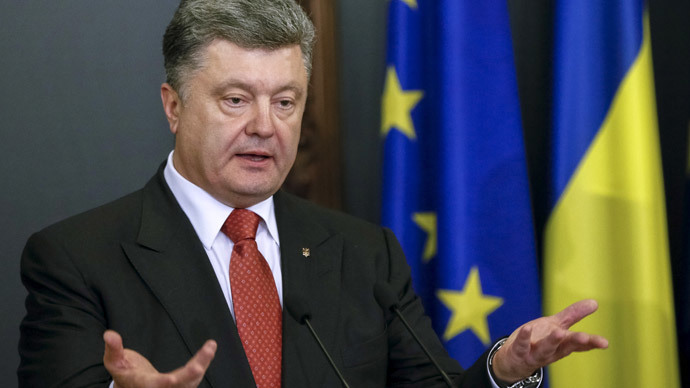 The US, initially strongly behind Kiev, is now telling it to wind down the armed conflict, while the EU also wants the Ukrainian problem to be solved and the sanctions to be gradually lifted, said Martin McCauley, Author and current affairs commentator.
In an interview with German broadcaster ZDF [Zweites Deutsches Fernsehen],Ukrainian President Petro Poroshenko has accused Russia of deploying 11,000 troops in Donbass region. He also made some strong statements saying that "Ukraine is paying a 'high price' for this pseudo truce" and that Kiev will be fighting to the "last drop of blood."
RT:The Ukrainian president claims Russia's increasing its military presence. But again Moscow just says "where's the proof?"
READ MORE: Poroshenko says Minsk deal 'pseudo-peace'; vows to fight to the last drop of blood
Martin McCauley: President Poroshenko is in difficult position because John Kerry has just been in Sochi talking to Sergey Lavrov about the ending of sanctions given the fact that the Ukrainian conflict can be resolved. Also he has been in Berlin talking to Angela Merkel. The Germans would like to see the sanctions wind down - they've got something like 6,000 German companies in Russia [that] are all losing money. They would like those sanctions to gradually disappear so they can get back to normal economic relations. Poroshenko's position is difficult because he's got to wind up the conflict and present it as one which is escalating, so that the sanctions will continue, that the US will continue to support Ukraine and so on. He is a one who is trying to tell Kerry and Merkel: "The situation is much more difficult than you think it is."
RT:Just a few days ago during a joint press conference with Sergey Lavrov in Sochi John Kerry said that "President Poroshenko is advocating an engagement in a forcible effort at this time, we would strongly urge him to think twice not to engage in that kind of activity. That would put Minsk in serious jeopardy and we would be very, very concerned of the consequences of what that kind of action would be." Does this suggest a division between the US and Ukraine?
READ MORE: Kerry urges Poroshenko to 'think twice' about reigniting Ukraine conflict
MM: There is one opening up now because in the past America was strongly behind Kiev and Poroshenko, and the military conflict. They were talking about arming the Ukrainian regime, training soldiers, and so on. And now we've got Kerry saying: "Wind it down, don't get involved in an armed conflict. We're trying to work out according to the Minsk accord, some type of peace settlement."
Therefore, there is a gap now opening up between Kiev and Washington; and there is also one between Kiev and Berlin and other members of the EU who would like to see the sanctions wind down especially France and Italy.
RT:We heard vows to fight to the end, and a 'pseudo-truce' from Poroshenko. These comments don't play well for the peace process, do they? Who do you think have the power here? Do you think it's the US that has the main lever, or is it Kiev?
MM:In the end Poroshenko cannot fall out with Washington, he can't fall out with Americans because they are his main backers; he can't fall out with the EU because he relies on them for economic aid, diplomatic aid, and so on.
So he is in a difficult position. If he goes against Washington, Berlin, Paris - he is going to find himself gradually isolated. They would say to him: "Right, we wanted end to this conflict, and unless we all get together it can't be solved by military action, it can't be solved by a conflict between Kiev and Moscow. It has to be Moscow, Kiev, Washington, Paris, Berlin- it has to be an international settlement and an end to fighting; and you have to get all sides to agree on an end to the fighting." Poroshenko is in fact upping the ante at present - he is giving impression perhaps out of weakness that Ukraine is very, very strong and would resist "to the last drop of blood"... That sounds warlike but in the end Washington will have the major say.
RT:Do you think Washington finds it quite difficult to follow Poroshenko's train of thought as the Ukrainian leader has also accused the Russian media of lying saying that he would never trying to retake Donetsk airport. But just days ago he said that he had no doubt that Ukraine would free the airports because it is their land. Why such inconsistency? It poses the problems for all sides, doesn't it?
MM: It certainly does because what Washington, Berlin, Paris, and Rome would like would be coming together, finding a peace settlement at least starting with Minsk, or something that is after Minsk, but it has to be done with Russia, it has to be done with Vladimir Putin - it can't be done by Kiev alone, by Ukraine alone.
You have a situation in which the Ukraine is saying that the conflict is going to continue, or should continue, "We're going to take Donetsk, it's our territory..." Basically the Americans and the EU are saying: "We've had enough of this conflict, there are other conflicts in the world which are much more important: IS, the problem of Iran, the nuclear deal..." Those are much higher up the agenda of the US and the EU than Ukraine. And they would like the Ukrainian problem solved- some type of settlement agreed as quickly as possible.
MORE:
The statements, views and opinions expressed in this column are solely those of the author and do not necessarily represent those of RT.