'Police and FBI use anti-terror apparatus on domestic activism'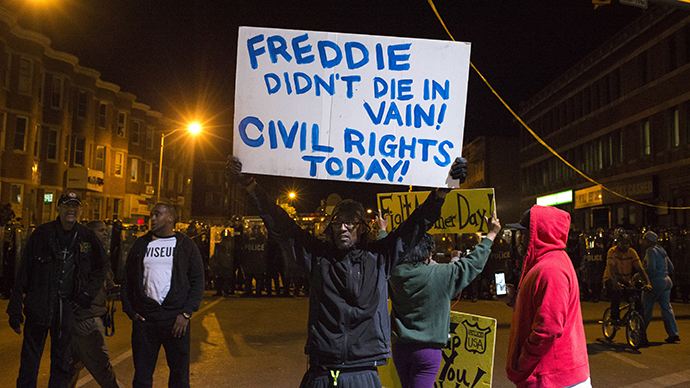 The US police and the FBI use things like monitoring, fusion centers and confidential informants, tracking social media not to counter terrorism but to deal with domestic activism, Adam Johnson, contributor for Alternet, told RT's In the Now.
The police and the FBI used counter-terror apparatus on #BlackLivesMatter in New York. Emails revealed the California Highway Patrol used counter-terror units to monitor rallies in the Bay Area. In Massachusetts counter-terror fusion centers were also used on protesters, according to the Boston Herald. Social media activity was tracked and fake accounts created.The FBI Joint Terror Task Force was used to track #BlackLivesMatter in Minnesota, which was again reveled in emails between local police officials and federal authorities. And finally the Missouri National Guard considered Ferguson protestors as "enemy forces".
For more on this RT spoke with Adam Johnson, contributor for Alternet and the writer who put together these examples of terror tactics on protesters.
RT:What does all of this imply?
Adam Johnson: It implies that the similar tactics we saw during the Occupy movement, which is that the FBI has a kind of turnkey attitude with how this anti-terror apparatus is used or setup, which is the things like monitoring, using fusion centers which is where local, federal and state authorities collect all the information, and the use of confidential human sources or informants which is to say undercover agents or informants acting like protesters gathering information, building relationships… These things are being used on #BlackLivesMatter routinely. Now there had been pockets of the stories that have come up from a really good journalist Darwin Bond Graham of the East Bay Express, Lee Fang of the Intercept had done these isolated reports throughout different cities. And what I did – I put them together in one piece to show that this is part of a larger pattern and I think its right to say part of a larger policy.
READ MORE: Baltimore uprising: Solidarity protests spread across US LIVE UPDATES
RT:So this goes back to the Occupy movement, it wasn't Ferguson that sparked the shift of using of counter-terror units?
AJ: You can argue that it actually happened in 2004 during the Democratic National Convention (DNC) and the New York Police Department (NYPD) and their joint task force.It's always been the case since 9/11 that domestic dissent, environmentalist groups have been infiltrated and the same anti-terror apparatus is used on domestic activism…Anti-terror laws are almost never used to stop terrorism; they are used for domestic and criminal reasons.
RT:How is social media being used?
AJ: They are definitely monitoring social media and I think it's important to make a distinction between what it means to monitor social media and to infiltrate social media. Often you will hear the press recite the police saying that they created fake Twitter accounts to monitor social media but what's important to understand is that Twitter is 100 percent public, more or less, so you don't really need to create fake accounts to monitor Twitter. You create fake social media accounts for the same reason that the FBI and the NYPD create fake protestors. They do it to infiltrate, they do it to gain confidence, to gather intelligence. And they are probably doing that online, they are almost certainly doing that on Facebook. We know the FBI creates fake terrorists all the time on Facebook to lure people into their entrapments. They've done that. And I guess there are six cases that we know of. So these things are pretty pervasive, the distinction between them doing that to catch the sort of ISIS plots and domestic terrorists are basically not distinguishable, there are sort of similar patterns that they use.
READ MORE: Planned purge and thugs: US media criticized for Baltimore coverage
RT:You mentioned that despite CNN revealing the use of language by Ferguson police about protesters the media's own phrases like "quelling riots" is dangerous. Why?
AJ: Words matter. These martial terms are used domestically where they seem actually superficial. They have a very pernicious effect about how people perceive these things, particularly how government justify bringing in the National Guard. Yesterday, it was really weird because even the moderate media was using the term "Baltimore uprising" which is a term usually I would say the radical left generally use it's a term I prefer but what happened - 'Baltimore uprising' was trending on Twitter. So you saw @mashable and @slate started to hashtag #Baltimoreuprising which of course has a very different connotation than "Baltimore riots." "Riots" give the impression of a sort of mindless violence just like the word "thug" which in the intro they pushed back on. But the term "uprising"' has a more sort of romantic, more political connotation. So how we describe these things matters a lot.
MORE:
The statements, views and opinions expressed in this column are solely those of the author and do not necessarily represent those of RT.