'Just chillax and think': Dancing Michael Jackson impersonator to Baltimore protesters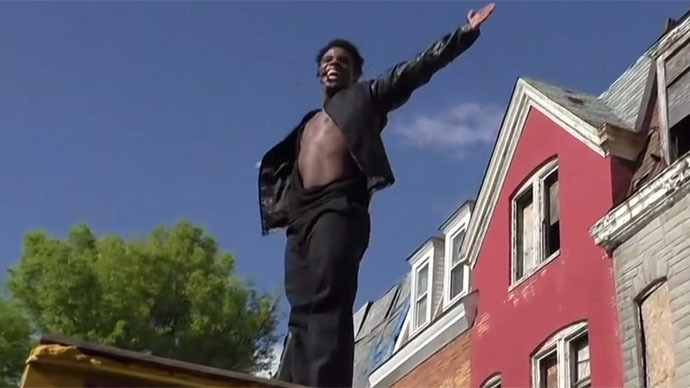 Amid the chaos that gripped Baltimore this week, music has brought some peace onto the streets. "We've had enough violence," Michael Jackson impersonator Dmitri Reeves told RT about his viral performances during the protests.
RT:We've just seen you in action doing your moves, very nice. Do your street performances carry a message for the protesters?
Dimitri Reeves: I think they do. I just want to bring positivity and peace to the streets. I think that we've had enough violence.
RT:Were you not scared that something could happen to you, that something would fly into you and you'd get hurt, because it's been pretty violent?
READ MORE: Baltimore enforces night-time curfew, 'essentially 24 hours per day' for youth
DR: I wasn't scared of that. I was more scared of getting shut down, not being able to perform for the people more than getting hit by a bat or something.
RT:And what do your performances do for the people then? You are talking about positivity...what reaction have you been getting from the people?
DR: Oh, wow. I mean, my manager Ron Mason, he took me on the streets and said: "Hey, we got to do this. We've got to bring positivity!" We've been doing this for two and half years now.
So everybody kept on telling me: "Keep on going!" when I was playing the songs. We did "You are not alone, " Man in the mirror".
RT: Particularly for the people who are protesting, for this kind of violence.
DR: We did songs that protesters would relate to as well. But the one that's going viral is "Beat it!" And a lot of people are saying I want five minutes of fame or something like that. And I'm like "No, Baltimore knows, I always do this." So what better time to do this, you know what I mean.
RT:So who inspires you other than Michael Jackson?
DR: Usher, Chris Brown, hmmm… a lot of other artists.
RT:Dancers and singers then, you like all round performers?
DR: I think everybody; if you can bring art to the table, if you're an entertainer in general, I have respect for you and you inspire me.
RT:I want to ask you, do you think that anything positive could come out of the protests?
DR: Yes, I think if people would stop destroying things and would just be peaceful I think a lot could come out of it.
RT:You've been doing this for two and a half years, that says a lot as well, the fact that you've been happy to do this for two and half years. What does that tell us?
DR: It tells you to watch out. I'm a recording artist myself. I do my own songs they are on Google Play and Itunes, my name is Dimitri Reeves, I'm trying to bring possibility to the streets as well as to the world. And if I'm just a raindrop in a big ocean, so what, I just want to make some kind of change before I go.
RT:Does performing in front of crowds of protesters feel different to performing on stage?
DR: Yes, because it's a raw emotion with protesters. It's this raw emotion, which is like: "We're here, we're all feeling and vibing off each other."
RT:And do you plan any other artistic ways to calm the crowds?
DR: No. Just by dance. Dancing and singing and having a good time. Everybody needs a good time. Everyone is so tense. Everyone just needs to have a good time. Just Chillax.
RT:And do you think this tense attitude on the streets, this violence, this unsettling vibe, do you think it is going to go on for a while? How long do you think we're going to see people on the streets?
DR: To be honest, I do not know. I think that we have to go through hell to get to heaven. So it is going to be a long road.
RT:Because you have been on the streets of Baltimore – is it easy to decipher the difference between the looters and the protesters?
DR: Well the looters went by me. They actually went by me. They stayed and actually everybody that came pass where I was at had, from my understanding, had a great time and danced. Then they went on the street and did what they did but while they were in the midst of what was going on everything was great. And performing in front of Baltimore police and everything, and the riot team. I was actually performing..."Man in the Mirror" [in front of them] and they were backing up and stuff like that. And it was a beautiful moment. A beautiful moment.
RT:What would your message be to the protesters then?
DR: Think. Period.