'US epidemic of police violence - symptom of sick society dominated by social inequality'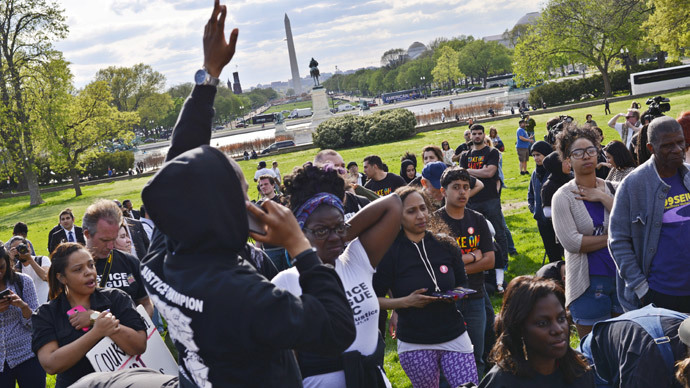 US society is riven by unprecedented levels of social inequality where the state including the military and the police see themselves as an occupying force fighting a hostile population, Andre Damon, World Socialist Web Site reporter, told RT.
Several hundred protesters calling for greater police accountability marched 400 kilometers from New York to Washington DC over 8 days. They are trying to draw attention to a list of reforms they want to see made to the criminal justice system, including banning racial profiling and the demilitarization of police forces. The protesters accuse US officers of using excessive force in a number of incidents across the country in the first months of this year alone.
READ MORE: 'March2Justice' rally arrives in DC seeking to end police brutality
RT:The White House says public awareness of these incidents has increased - not the number of incidents themselves - and that's because of greater media coverage. Would you agree?
Andre Damon: I think it's pretty rich coming from the White House which refuses categorically to do anything, to have any sort of national catalogue of the number of people killed by police. This is an administration which by its own records has transferred billions of dollars in military hardware through federal programs to local police departments, yet absolutely refuses to even keep track of the number of police murders. That's one point. The second point is if it's in fact the case that the number of police killings is at level of above 1,000 per year - that would mean that over the past several decades literally tens of thousands of people have been killed by police. In either circumstance I think it's an extraordinary epidemic of police violence that's taking place.
RT:What has to be done to stem this violence do you think?
AD: These police killings are a symptom of a very sick society, a society dominated by unprecedented social inequality, extreme affluence on the one hand and poverty on the other. And the state steps in, basically protecting police, this social inequality. The state including the military and the police more and more see themselves as an occupying force fighting a hostile population. I think the remarks by the National Guard in occupying Ferguson last year in internal documents calling peaceful demonstrators 'enemy forces' speaks to the extent of the hostility within the state to the population and the social interests of the population. So this is not a question of one individual symptom but in particular of a society that is really riven by unprecedented levels of social inequality.
.@repjohnlewis addresses #March2Justice "we must stand up speak up and speak out!" pic.twitter.com/tFGtquDByL

— Justice League NYC (@NYjusticeleague) April 21, 2015
RT:Police in Missouri have been embroiled in yet another controversy - officers quit en masse in the town of Parma, after the election of its first black mayor. What do you make of that?
AD: Certainly one would be wrong to say that racism plays no role and certainly the militarization of the police stirs up the most backward sentiments and legacies of American history. But if you actually look at the statistics, the numbers of people who have been killed by police over the course of the past year for instance, the majority of them have been white. It is something that affects all races. And I think fundamentally it's not a racial issue but a class question. The police see themselves more as policemen of economic inequality and see people, the poor and the working class, as people who have to be put down.
Historic March from NYC to DC. God bless @lsarsour and the #March2Justice marchers. #takeonhatepic.twitter.com/E6xQg50rPo

— Khaled Bey (@KhaledBeydoun) April 14, 2015
RT:Let's talk about the protesters who marched to Washington DC and who want to reform the criminal justice system. What do you think about their goals? Is it likely to achieve them?
AD: I think that the wave of police killings is really broadly affecting popular conciseness. It's having an impact on the way people see society and the old narrative that the state represents the interests of the population and not the people who rule over the population is being shattered by one police killing after another, documented and then covered up and protected by the state. And I think that is a certain useful disillusionment that people are beginning to see certain realities about society. But I think that frankly any attempt to pressure the Democrats or the Republicans to do something about the police killings would really represent political naiveté. After all, the Obama administration played a leading role behind the scenes in police repression in Ferguson and transferred billions of dollars in military weaponry to local police departments. Time after time it's refused to prosecute on civil rights charges those police officers responsible for murders including Darren Wilson, the killer of Michael Brown, which the Obama administration directly refused to prosecute.
MORE:
The statements, views and opinions expressed in this column are solely those of the author and do not necessarily represent those of RT.