South African authorities' xenophobic remarks 'contributed to outbreak of violence'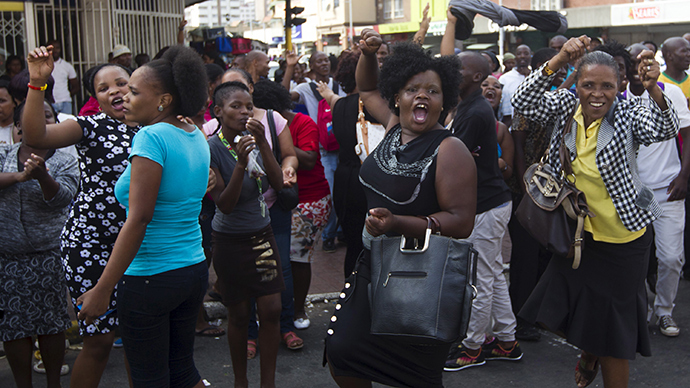 Violent attacks against foreigners erupted in South Africa because politicians don't want to take the situation seriously and only worsen it by their statements, says Abdirizak Ali Osman, Secretary General of the Somali Community Board of South Africa.
Nearly a week of anti-immigrant riots in the South African city of Durban have claimed at least five lives and displaced more than a thousand people. Locals have looted and torched shops run by immigrants and attacked their owners, accusing them of stealing their jobs. The similar outbreak of violence against immigrants took place in 2008.
The latest unrest came after xenophobic statements made by Edward Zuma, son of President Jacob Zuma. He said the country is "sitting on a ticking time bomb," while foreigners are "taking over".
The leader of the largest ethnic group in South Africa, Zulu King Goodwill Zwelithini, reportedly said that "[foreigners should] pack their bags and leave."
According to Abdirizak Ali Osman, Secretary General of the Somali Community Board of South Africa these statements have contributed "a lot" to the violence.
"It seems that the people actually take this statement from Zulu seriously and they have decided to act on his behalf and started looting from the foreigners in Durban and somewhere else. So it's obvious that these statements and these remarks coming from the leaders are one of the factors that contributed to the violence against foreigners in South Africa," he told RT.
Migrants who got attacked complain that people who looted their shops and took their property also wanted them to "leave the country" or even "to kill them," Osman said. He added that migrants are facing violence not only in the coastal city of Durban, but in other areas across the country.
The reason why the situation, reminiscent of that in 2008, occurred again is because politicians do not want to take matters seriously, Osman said. He said that while there are a lot of migrants who arrived in South Africa for economic reasons, there are also many refugees who had to flee their home countries because they face persecution there.
"But that doesn't mean that you have a justification that you can kill migrants whether they are regular or irregular in this country," Osman said.
Mienke Steytler of the Institute of Race Relations, South Africa, also said that authorities' anti-immigrant rhetoric has played its role in stoking the violence.
"It is really sad to see the statements that are being made by people in leadership positions, or at least influential positions. Especially since South Africa's economy and high unemployment is quite unstable at the moment. It is really important for people of that kind of standing to think about of what they say before they say it," she told RT.
"We would have hoped that lessons were learned from 2008. It's [been] almost seven years since the incidents took place around June-July that year," Steytler said. However, since then there have been further indications of the government's policy failures.
"For example, the processes through which people go that seek asylum here. But also there's very high unemployment. We have around 53 per cent of our youth, actually higher than that for many areas, are unemployed- that leads to this tension and that lashing out. We feel that this was the case in 2008, and it is the case now. And in seven years - the government hasn't looked at the root causes and addressed them. That is very worrying for us because we feel that these incidents will continue to happen as years go by. That might go down for a while, and flow up again unless policy changes are made," she said.
"Our labor legislation is extremely stringent, so it is very difficult for business owners to hire people; the minimum wages have been debated as well. There is a lot regulation. We feel all of that stifles economic growth, and stifles people from finding work. But we don't see a move in that direction. You mentioned Durban, but the violence has now spread to CBD [Central Business District] and Johannesburg, as well," Steytler said.
In her view, what the government has done so far are only a short-term solution to the problem which might calm down the unrest for some time.
"But the issue is; just how long will it be quiet?" she said.
The statements, views and opinions expressed in this column are solely those of the author and do not necessarily represent those of RT.