'US states' sanctions on Iran unlikely to sink the nuclear deal'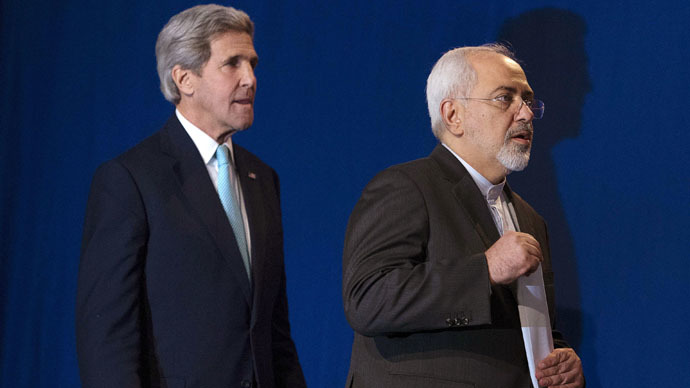 If individual American states keep their own sanction against Iran it will certainly make things more complicated but is unlikely to become the determining fact in the fate of the nuclear deal with Tehran, Jim Jatras, a former US diplomat, told RT.
RT:We're hearing that individual American states may keep their own sanctions against Iran. How likely is that to derail the deal?
Jim Jatras: I don't think it's enough to sink the deal but it certainly points at another level of complication given the federal structure of the US and the fact that we don't have a parliamentary system; and that Mr. Obama can agree to all sorts of things, but that doesn't mean he is able to sell it to the Congress where there are senators and congressmen of both parties who want to be in the position to approve the deal including on lifting of sanctions. And as you pointed out, individual states will make some difference, but I don't think will be the determining factor.
READ MORE: 'US can't afford more war and aggression, people want peace with Iran'
RT:Why is there such discrepancy between the individual states and the federal government?
JJ: That is right, but this is the trend that has been building for several decades in the US... starting with the sanctions against South Africa several decades ago in the 1980's. You have some states where there are problems with Israel because of the Palestinian issue, Central America and others. In the 1980's there were many states and even localities that had their own foreign policy so to speak. It is a pretty clear complication here with this deal where we have such radically different renderings of what was agreed to in Switzerland between Washington and Teheran. I think it is another level of complication.
READ MORE: Americans don't want Congress to sabotage Iran deal – new poll
RT:The Republicans are trying to bring down the deal anyway. Is this breakthrough agreement doomed?
JJ: It is an open question right now - which way this is going to go…It's not just Republicans; there are very strong Democratic critics of this as well. Although they're somewhat less restrained in the criticizing of their own policy, but there are many Democratic senators and congressmen that are not wild about this deal either. And that is just based on the rendition of the deal described by the White House, very different from what even Teheran is saying about the deal. At the same time though there are steps that Mr. Obama can take unilaterally that he is prepared to take. So we'll have to say who gets upper hand at the end of the day.
RT:Will Congress be given a chance to have its say on the deal, and what outcome would you expect and how influential would that be?
JJ: There is a bill pending in the Congress that would require the President to bring the deal back to Congress for a vote. I don't see how that can succeed since obviously Mr. Obama is in a position to veto that law. And on the other hand, while there are some aspects of the sanctions he can lift unilaterally there are others he may not be able to lift without Congressional action. That is where the real difficulty will come in.
MORE:
The statements, views and opinions expressed in this column are solely those of the author and do not necessarily represent those of RT.
The statements, views and opinions expressed in this column are solely those of the author and do not necessarily represent those of RT.
You can share this story on social media: