Private army in Kiev: Why oil stand-off in Ukraine shows oligarchs won Maidan revolution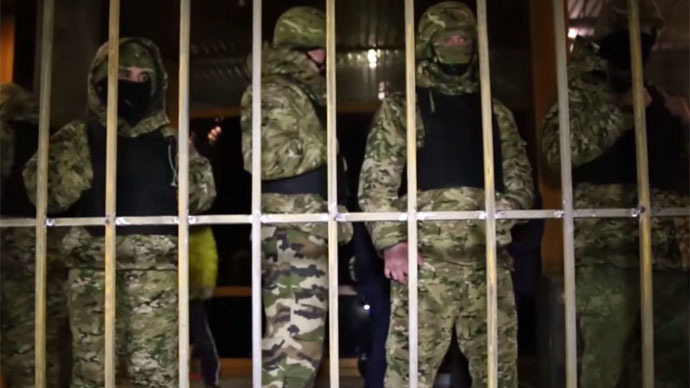 Whatever the outcome of the stand-off between President Petro Poroshenko and his subordinate Igor Kolomoysky may be, their conflict over Ukrainian oil giant Ukrnafta reveals realities about post-Maidan Ukraine which mainstream media manages to circumvent.
READ MORE: '24 hours to disarm': Kiev on verge of violence as oil dispute between govt, oligarch escalates
Firstly, the country is still ruled by oligarchs, not by the people, even though Igor Kolomoysky is formally governor of Dnepropetrovsk region. Kolomoysky's private army simply took control first of Ukrtransnafta (Ukraine's oil transportation monopoly) and later of Ukrnafta. What does this tell us about the Ukrainian state?
Secondly, Ukraine's oligarchs are not at peace with each other; the country is bracing for a major 'war for assets' between the country's richest men (Kolomoysky is worth $2.4 billion on the Forbes list and 'The Chocolate King' Poroshenko is worth $1.3 billion).
Thirdly, the Maidan revolution not only left the country without any meaningful legal opposition in the parliament or in the media – as Kost Bondarenko, director of the Kiev-based Foundation for Ukrainian Politics, put it in his article for the Moscow-based Nezavisimaya Gazeta – but the revolution also left Ukraine in a situation of complete lawlessness, when neither laws nor even the words of the president mean much before brutal force and big money (the main weapons of oligarchs).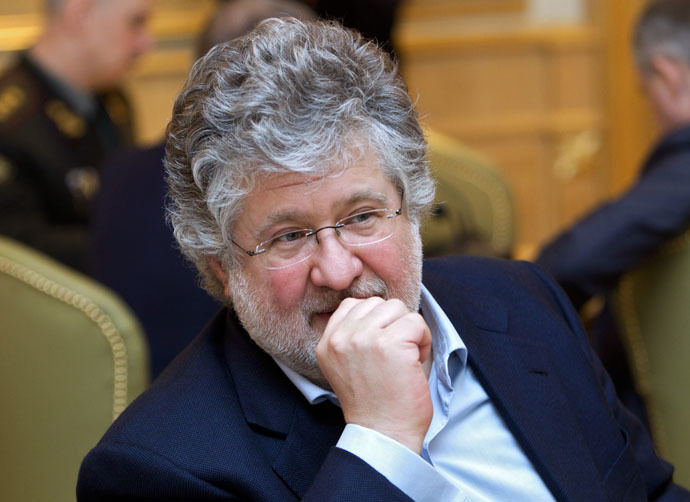 The story of the weekend conflict between Ukraine's president and the governor of Ukraine's most important industrial region is a perfect illustration of all these sad truths.
READ MORE: Ukrainian oligarch helps 'fortify' state oil & gas company HQ in Kiev 'against raiders'
Kolomoysky's men with submachine guns not only took control of Ukrtransgaz on Friday, but the governor of Dnepropetrovsk was apparently untroubled by President Poroshenko's reprimand for his "unethical behavior" issued the next day.
Kolomoysky's response to this "scolding" from Poroshenko was widely reported, along with an officially unconfirmed freeze on the accounts of Poroshenko's companies in Kolomoysky's bank (Privat-bank).
Adding armed insult to the financial injury, Kolomoysky's men on Sunday took control of Ukrnafta, the country's biggest oil company, presenting themselves as members of the "voluntary battalion Dnieper" (a Kolomoysky-sponsored paramilitary group known for its atrocities against civilians in the rebellious Donetsk Region). Despite Poroshenko's order to disarm the gunmen and the president's promise that "there will be no pocket armies in Ukraine," Kolomoysky's men did not leave the building on Monday; instead, they started to put up metal fences around it.
How could such things happen? The answer is simple: the traditional post-Soviet alliance of big money and political power (the fertile ground for oligarchs) failed to be destroyed, and has been strengthened by the Maidan revolution.
"Let's face it: Yanukovich was removed by oligarchs. Some of them financed and supported Maidan. Others, more importantly, betrayed Yanukovich, removing the police guard from the building of his administration in February 2014 and switching the political allegiances of oligarch-controlled TV stations in favor of Maidan," explained Mark Stolyar, former head of the Kiev-based radio station Stolichnye Novosti and a longtime analyst of the Ukrainian media scene. "After Maidan, these oligarchs demanded their part of the spoils, unleashing another redistribution of property."
In that sense, Maidan's sponsor, Poroshenko, was just one of the oligarchs who won the seemingly best prize: the formal position of head of state, adding power to money.
But Poroshenko never took his hands off his business assets after being elected president of war-torn Ukraine in spring 2014 – and this mere fact made him vulnerable. Poroshenko promised to strip himself of all assets, except his TV station – Channel 5 – but he never fulfilled his promise. Today, simply by having his assets and money in many regions, including Russian ones, Poroshenko becomes vulnerable to pressure from richer oligarchs, such as Kolomoysky. The reported freeze on Poroshenko's capitals in Privat-bank is a good illustration of what this pressure could look like. This puts Poroshenko in an awkward situation.
"If Poroshenko does not react to Kolomoysky's challenge now, he will become a toy figure not only to Kolomoysky, but also to other regional strongmen. In this situation, the state will be badly weakened," said Valentin Zemlyansky, a Ukrainian political analyst, formerly the chief spokesman for Ukraine's oligarch-controlled company Ukrenergo.
Vladimir Sinelnikov, a Kiev-based correspondent for Russian radio Vesti-FM, is skeptical about Poroshenko's resolve to cut Kolomoysky to size.
"It is still a big question, who is more powerful, Poroshenko or Kolomoysky. The whole controversy around Ukrnafta started after the Ukrainian parliament put in question Kolomoysky's control over that company. Kolomoysky controls 42 percent of the stock of this formally state-owned asset. This allowed him to block the meetings of shareholders, which required a vote by 60 percent of the stock for a meeting's convention. The parliament lowered this minimum to 50 percent, thus limiting Kolomoysky's powers, but he quickly showed who the true master of the country was," Sinelnikov said.
So much for Poroshenko's promise to cut the oligarchs to size.
This story also tells us where all the Western loans to Ukraine went, and where they will most likely go.
The "democratically elected" billionaires ruling Ukraine after the "democratic" coup of February 2014 have not been able to conceal their rivalries for even two weeks since receiving the first $5 billion batch of the $40 billion loan package pledged to Ukraine by the IMF and other Western financial institutions.
Kolomoysky did not shy away from using his "Russia-stopping" battalions for shielding his assets from the state.
There is little doubt that Poroshenko and other Ukrainian officials will find a way to explain to their Western counterparts that their $40 billion was swallowed by the need to contain "Russia's intervention" from the east. Some of these billions, however, may help Poroshenko and his allies move up the Forbes ratings of Ukraine's richest men. And again, the State Department won't see any link there.
Dmitry Babich,Sputnik International
The statements, views and opinions expressed in this column are solely those of the author and do not necessarily represent those of RT.
The statements, views and opinions expressed in this column are solely those of the author and do not necessarily represent those of RT.
You can share this story on social media: