'Kerry, Obama not ready to send envoys for talks with Assad'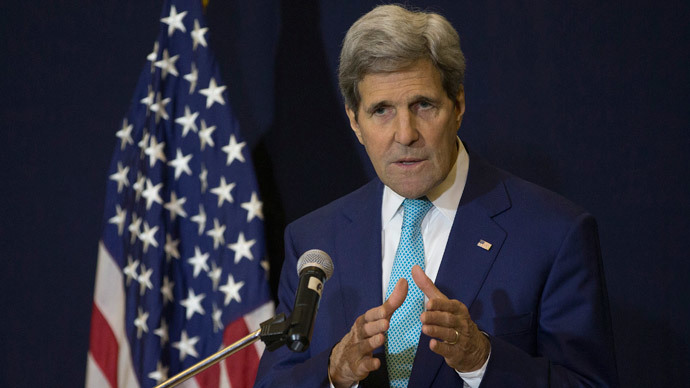 US leaders recognize it could get worse in Syria if President Assad is dropped, they say it's too early to send diplomats to talk with the government in Damascus, Jonathan Steele, columnist for the Guardian on international affairs, told RT's In the Now.
RT:The US was weighing bombing Syria at one point, and they certainly were clear that Assad needed to go. Why the sudden change of heart?
Jonathan Steele: I'm not sure that it is such a big change of heart. I think you have to read what John Kerry said quite carefully. I mean there have been attempts to negotiate with the Assad regime as he put it before - Geneva-II, the negotiations which took place last year… about just over a year ago in Switzerland. He wasn't actually saying that the US is going to meet Assad bilaterally. I think if he'd said that would be important, or if he said "I'm sending diplomats or an envoy to Damascus to talk to the Assad people," that again would be important. I think basically he was simply saying "We have to revive the Geneva-I agreement and try to have Geneva-III," because he did say in the same interview …that if it would have to be any negotiations with the Assad regime, it would be on the basis of Geneva-I and that of course calls for transition away from Assad. So I think it's quite murky what Kerry actually has in mind, it wasn't real U-turn.
READ MORE: Kerry says US wants to negotiate with Assad… State Dept denies
RT:President Assad has commented on John Kerry's statement saying there should be words not actions. What does he mean by this?
JS: I think it would have to be sending an envoy to meet senior figures from the Assad government, and to show that the US wants to send them out with the possible flexibility of possible compromises on what their line is; whether they can work together against IS, whether the rebels that the Americans are supporting and other Western countries and of course the Gulf countries are supporting can work with the Syrian government army against IS. So it's true that there have to be [actions not words]. And these words have been much more clear-cut than what Kerry has just been saying.
READ MORE: Syrian president waits 'actions' from US to back declarations of potential dialogue
RT:What are the chances Assad and the US could team up to root out ISIS in Syria and the wider region?
JS: There are divisions as there always are in Washington between different groups of people in the administration. The head of the CIA last week said that Assad has to stay, it would be worse if he left. And that I think is quite strongly-held view among many people because the chaos of Libya is in everybody's minds, a strong leader was toppled and we've had four years of civil war continuing. And so it could get even worse in Syria if Assad was dropped. And I think many American leaders recognize that, but it's still too early for Kerry or Obama to say "Right, we must, as the US, send envoys to talk to the Assad government."
The statements, views and opinions expressed in this column are solely those of the author and do not necessarily represent those of RT.