Egyptians back from Libya stuck in limbo: to stay or go back?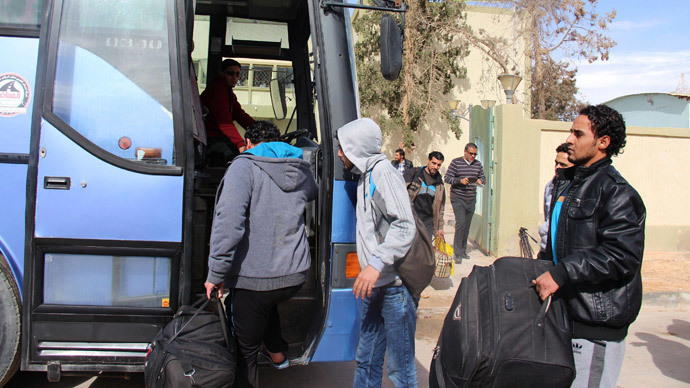 As more Egyptians have fled Libya's violence in the past weeks, for some, returning to poverty in Egypt makes the option of going back to a war zone preferable to staying in their home country with no prospects.
This week the Egyptian government said over 33,000 nationals have returned from neighboring Libya, since the release of a video on February 15 showing the beheading of 20 Egyptian Christian workers by Islamic State militants in Libya, and Cairo's airstrikes on the group's targets that followed. The mass killing was the bloodiest attack of its kind against Egyptian expats in Libya.
After making a hard choice between staying in Libya at their own risk, or going back to their country to find no work, a lot of Egyptian returnees are now faced with another tough decision to make: to stay or go back.
Since 2011, thousands of Egyptians, many from impoverished villages in the south, have travelled to Libya in search for work despite the increased risks amid the state of lawlessness as a multitude of armed groups, up to 1,700 according to estimates, battle for control.
"It's the law of the jungle with many different militias fighting each other, it's the stronger who survives," stated Ali, a former factory owner who lived in Tripoli for nearly 15 years.
A report compiled by the United Nations High Commission for Human Rights and the UN Support Mission in Libya (UNSMIL) reveals that targeted violence, abductions and summary executions are commonplace adding that minority groups, including Egyptian Coptic Christians, have been increasingly targeted.
For Egyptian expatriates, things have got out of hand since last December when ISIS-affiliated militants kidnapped 20 Coptic Christians -13 of them in January- in two separate incidents in the city of Sirte, which is in the hands of Islamist militias, namely the Ansar al-Sharia militia.
Twenty-seven-year old Atif Saad Musaad, who moved to Libya in July 2013 and fled the country last January, spoke of a rise in fear in the Egyptian community after the first kidnapping as people living around Sirte felt like easy targets.
"ISIS is the hidden hand of Ansar al-Sharia," Musaad argued, "They coordinate together, but Ansar al-Sharia is in control of the area."
Malaak Najeh Ishaq, 23, was living in Libya since 2011. He also escaped the rising extremist threat in Sirte last January.
Four of the Egyptian men captured in December were his cousins, who got stopped in their cars on their way to Egypt. Others were seized from a house in January, as Ishaq and other survivors witnessed.
"Heavily armed militants raided the building where we were living, called up people from a list of names, ordered Muslims at gunpoint to tell them where Christians were hiding," he recounted, "We were praying in our homes, feeling like we would be killed anytime, we were so scared."
Similarly for Hanna Aziz, aged 35, who has been traveling back and forth between Libya and Egypt since 2008, the two kidnappings were a wake-up call that he could not stay there anymore. Like Ishaq and Musaad, he left early January driving from Sirte through the Salloum border crossing. Until February 2011, he was living in Benghazi.
In retaliation for the 20 killings, Egypt conducted a series of airstrikes against ISIS targets in Libya, in coordination with the internationally-recognized Libyan government based in Tobruk. The operation was largely welcomed by Egyptian expatriates who believe President Abdel Fatah al-Sisi made the right decision, and the airstrikes help protect Egyptians in Libya.
As well as Sirte, Tripoli and the second city Benghazi are largely in the hands of militias. The situation for Egyptians is worse in the West. Following the Egyptian airstrikes on Sirte, the third major town captured by ISIS, the Islamist led-militia Fajr Libya, which controls Tripoli and a number of western Libya cities, warned Egyptian expats to leave the country.
Some returnees think the Egyptian government should have found a way to bring back the tens of thousands of workers from Libya as quickly as possible.
Evacuation plans have been drawn up for its citizens in Libya since the release of the video of ISIS militants beheading 20 Coptic Egyptians.
Ishaq criticized what he saw as an uncooperative response to the hostage crisis from Egypt's embassy in Tripoli after the 20 Egyptians were abducted, saying the ambassador once hung up the phone when a relative called.
Musaad complained that no-one helped at the time of the kidnapping except for a Libyan man who hid him and other Christians in his house for 15 hours.
Thousands of the Egyptians living in Libya work mainly in the construction and craft sectors. Most Egyptian workers, especially from rural Upper Egypt villages, are seen working on building sites and in factories. Facing grim economic prospects at home, desperate young Egyptians are pushed to seek jobs in the war-torn country.
Among those who decided to come back to Egypt in fear of their lives, many are now trapped in transit as they find themselves jobless again. Some of them are considering heading back to Libya as they cannot find work.
The concern about finding a job is echoed by more than one expat.
"I've been nearly two months out of a job now. If things get a little bit better in Libya, I will go back," said Aziz who used to work in a cement factory in Sirte.
Before leaving Egypt, Ishaq used to earn 40EGP a day as a construction worker whereas in Libya he was earning 250EGP. Since his return, he hasn't earned a penny as no jobs are available either in the government or the private sector.
Despite promises from the Minya governorate, Ishaq found the door closed on the day he went to seek help.
After a 40-day mourning period for the 20 Christian workers killed, he and other returnees plan to return to Libya.
"There are no opportunities whatsoever over here. We will go back whether we end up dying or not," Ishaq voiced, "We prefer getting killed there rather than starving here."
The government has said it plans to invest in Minya and other parts of southern Egypt after decades of neglect.
Others are not planning to go back to Libya, however they have to resort to little, badly-paid work back in their homeland.
As a construction laborer, Musaad used to make 300EGP per day in Libya. He now makes 60EGP.
Other Egyptians, instead, remained in Libya and they don't want to come back as they feel there is no threat to them.
Ramadan Farahat, 30, moved to Zawiya, in the north-west of Libya, about two months ago. There does not seem to be a presence of ISIS forces there. Like many Egyptian expats, he works in the construction industry. His family stayed in Egypt in case the situation deteriorates in that part of Libya.
"The area where I live is safe, people are nice," Farahat commented, "I'm not ready to go back to Egypt unless problems start here."
Many Egyptian workers who returned home did not want to leave as they were earning good money, though families and friends back home put pressure on them to flee.
Ishaq too, like many other compatriots, had expectations when he came back to Egypt, but he soon realized his own country does not help him.
Last month, the Egyptian government reportedly anticipated that it would provide 30,000 job opportunities for expats coming back from Libya. A week ago, the Ministry of Manpower stated that the expats would be compensated financially.
Based on an estimate by the Manpower ministry, there are between 800,000 and 1,000,000 Egyptian workers in Libya. Struggling to get a job in vain, for some of the Egyptian men who came back from Libya there may be no choice but to return despite the growing risks, either to support their families or simply to make a living.
While instability in Libya has prompted a flow of Egyptians coming back, a flow heading back in the opposite direction could be seen in the near future if more returning laborers find no way to earn an income.
As long as there are jobs available, at far higher wages, next-door in Libya while there is no alternatives back home, it's not difficult to see why some young Egyptians appear ready to put their lives in danger out of desperation.
No matter how deteriorating the security scenario may be over there, unless Egypt creates employment for its own citizens, we could soon see scores of Egyptians lined up to buy tickets at Libyan Airlines offices just as we saw until few months ago.
Alessandra Bajec for RT
Alessandra Bajec is a freelance journalist based in Cairo. Between 2010 and 2011, she lived in Palestine. Her articles have appeared in the European Journalism Centre's magazine,the United Nation's humanitarian news agencyIRIN and The Majalla among others. She tweets at @AlessandraBajec
The statements, views and opinions expressed in this column are solely those of the author and do not necessarily represent those of RT.