Netanyahu's Congress speech 'emotional but demagogic'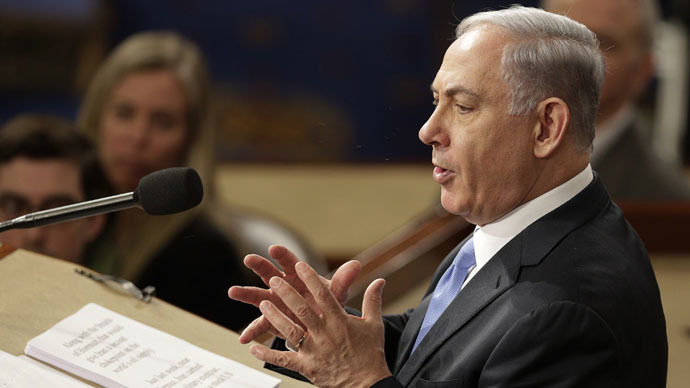 The Israeli PM's speech on Iran to the US Congress was emotional but demagogic, and probably some traditional allies of Israel have been repulsed by his war-like rhetoric, Norman Solomon, the Director of the Institute for Public Accuracy, told RT.
RT:It was quite an emotional speech from Prime Minister Netanyahu - do you think it will change anything regarding US policy towards Iran?
Norman Solomon: It was an emotional speech but I think the whole episode of his visit to go around the White House and speak to Congress has to some extent backfired. If it was emotional, and it was, it was also demagogic and I think even some traditional allies of Israel within the President's Democratic Party have been repelled by the war-like rhetoric that Netanyahu provided.
Kaveh Afrasiabi, Iran nuclear negotiation team advisor 2004-2005, on Netanyahu's Congress speech: "Mr. Netanyahu is only isolating himself, harming his own prospects in the election process a couple of weeks down the road because clearly that was a case of grandstanding despite all his pretensions to the opposite, and pretending that Israel is the ideal type, whereas Iranians are demonized and so forth…"
RT:Relations between Tel Aviv and Washington are at a very low ebb right now, is the US ready to loosen ties to its close ally for the sake of progress with Iran?
NS: It's sort of three cornered right now. The choice of diplomacy is so clearly preferable that a lot of the ruling circles you might say in the US prefer to at least explore diplomacy, and it's clear that the Republican Party as well as some Democrats and certainly Netanyahu and the Likud Bloc in Israel are spoiling for a fight, they are eager for a military attack on Iran, and this is something that created unprecedented tensions between the Israeli and the US governments.
READ MORE: Iran & ISIS compete for militant Islam crown in 'game of thrones' - Netanyahu to Congress
RT:Netanyahu's invitation to Washington came from the Republicans, without White House approval. Barrack Obama has since pointed out that all foreign policy decisions should lie with the administration and the President. Do you think that there is a split within Washington on how to handle Israel?
NS: I think what the President just said is wrong. The Congress shows true its exercise of Article 1 Section 8 of the US Constitution whether it's willing to take responsibility for declaring war or certainly appropriating money for war. Even though I think the President is on the correct side of this argument with the Republicans in the Congress, you ultimately do not want to - under democracy and under the US Constitution - have the US President simply dictate foreign policy that too often had simply dragged us into war.
Kaveh Afrasiabi, Iran nuclear negotiation team advisor 2004-2005, on Netanyahu's Congress speech: "…Mr. Netanyahu accused Iran of sparking an arms race in the Middle East. This coming from the leader of a rogue nuclear state that refuses the slightest international inspection of its nuclear facilities …"
RT:Netanyahu again accused Iran of working on nuclear weapons, and preparing for a global jihad. If he's so sure of this, why do you think he doesn't back up the claims with clear evidence?
NS: Let me be frank. The speech by Netanyahu was the speech of a demagogue. And from the outset he spoke of Persians attacking Jews millennia ago. This is a sort of a religious fanaticism that is a parallel with the religious fanaticism of Islamic fundamentalists who engage in terrorism. In fact Israel has bombed many neighbors in the Middle East. So it doesn't behoove any of us just to support any of this sort of fanaticism whether it's coming from ISIS or the Assad regime or Israel or for that matter from the US which is engaged now in perpetual war in the region.
MORE:
The statements, views and opinions expressed in this column are solely those of the author and do not necessarily represent those of RT.