'US wanted Sgt Bergdahl back from captivity, but silenced'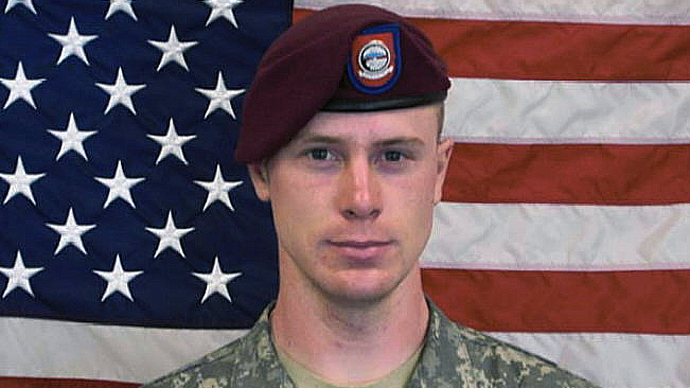 The US made an exception for Bowe Bergdahl, swapping him for five Gitmo prisoners as the Pentagon could not afford to have him in captivity forever, former US marine Ross Caputi told RT.But the military did not want Bergdahl to speak, either.
Sergeant Bowe Bergdahl was captured by the Taliban-aligned Haqqani network in eastern Afghanistan in 2009. He was released last May after being swapped for five detainees from the Guantanamo Bay detention camp. Bergdahl was rather critical in his statements about the US Army. In his e-mails to the parents sergeant wrote: "I'm ashamed to be an American. The US army is the biggest joke the world has to laugh at. It is the army of liars, backstabbers, fools and bullies." Now the US government wants to charge Bergdahl with desertion.
READ MORE: Taliban not a terrorist group? White House official says it's 'armed insurgency'
RT: Is the US Army simply out for revenge here?
Ross Caputi: There are probably some individuals that are. I don't know if that is the policy of more higher-up people within the command. It does look like they are making a consolidated effort to keep everything quiet about Bowe Bergdahl case.
RT: Sergeant Bergdahl was highly critical about the US Army in Afghanistan. Is there any truth in what he says, what do you think?
RC: I think that he definitely had some legitimate criticism, especially in the letters that he wrote to his parents before he deserted. He was very upset about the abuses that were going on within the military, particularly within the rank structure. And he was also very upset about how their operations were harming civilians in Afghanistan. Those were totally valid criticisms. I'm not sure that he went about voicing his objections in a right way.
RT: The US normally refuses to do prisoner swaps. So why was an exception made for Bergdahl?
RC: I can only speculate. I just know that veterans themselves have a lot of propaganda value. Everybody wants to use veterans for propaganda purposes. The left does it as well as the right. They always want to have veterans supporting their politics to give the certain amount of the legitimacy to what their platform is. The US military saw the propaganda value in Bergdahl's case, saw it has been very sensitive.
RT: President Obama welcomed the release of Bergdahl, and yet the army wants him behind bars. Does this point to divisions between the White House and the Pentagon?
RC: It's not necessarily a contradiction. I could see within that logic that exists in the State Department, they want to bring him home and then at the same time also to silence him and to put him away in the same way they just did with Chelsea Manning. That would be a sort of black eye for them if this man just sat in captivity with Taliban for the remainder of his life. I think that would be a bad situation for the Pentagon.
RT: NATO has ended its combat mission in Afghanistan. Do you think the security handover to Afghan forces will prove successful?
RC: I don't see anything really successful about this war and occupation. Afghanistan is certainly far worse than it was before the war began. So I wouldn't call it a success.
The statements, views and opinions expressed in this column are solely those of the author and do not necessarily represent those of RT.