​RT's Paula Slier from Auschwitz: 'We each take from the Holocaust something personal'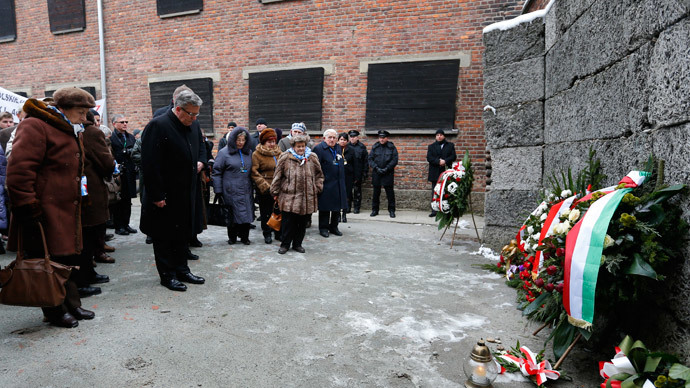 I've been to Auschwitz three times. Yesterday was my fourth. But whereas before I visited to say the mourner's prayer at the unmarked graves of my murdered family, yesterday I went as a journalist.
I am the great-granddaughter of an 81-year-old woman who was forced from her home in Amsterdam and put on a train to Westerbork transit camp. Betje died en route to Auschwitz.
My great aunt Deborah was hanged in Auschwitz. After being chosen for slave labor, she tried to survive – all we know is that she was hanged for doing "illegal work". She was 47. If I have a daughter I will name her Deborah.
I have a long, long list, drawn up by the Nazis, of the exact day and place each member of my family died – they were gassed and burnt in the chimneys of Auschwitz, Sobibor and Gross-Rosen.
— Paula Slier (@PaulaSlier_RT) January 27, 2015
My grandfather and a nephew were the only ones to survive.
I was struck walking around the barracks of Auschwitz 1, how this part of our history is fading. Yes, we will always have the cold structures to remind us of the horrors that took place in a part of the world I imagine God turned his face from for a moment, but the people who survived, those whose stories were already being challenged in their lifetimes, will soon not be with us.
Nearly 300 survivors attended the 70th anniversary of the liberation of Auschwitz-Birkenau on Tuesday, 27 January. Ten years ago there was five times that number. Those who came now were frail, supported by their children, and unable to hide the tears that rolled down their cheeks during the ceremony. They were all in their 80s and 90s. In the months leading to the commemoration several whom were supposed to attend, died, and others were too frail to make the journey.
"#Auschwitz is not a source of strength [...] It is darkness, destruction, annihilation. That is why it takes the form of a warning."

— Paula Slier (@PaulaSlier_RT) 27 января 2015
My grandfather, Isak, was a diamond cutter who immigrated to South Africa with his brother Andries. With the rise of Nazism in Europe in the 1930s, Andries returned to be with the family in Holland. His name is listed as "October 12, 1942, died Auschwitz, aged 53." He never stood a chance.
My father says the only time he ever saw my grandfather cry was when he opened the letter sent to him by the Red Cross after the war, the one I now have, outlining the date of death of every single member of his family, bar his cousin, Nol, who survived because he'd gone into hiding.
I am looking now at the names now:
David Leo Slier, Auschwitz, September 30 1942, aged 16
Philip Slier, Auschwitz, September 30 1942, aged 20
Sophie Roselaar-Slier, Auschwitz, October 8 1942, aged 26
Anna van Es-Slier, Auschwitz, October 12 1942, aged 47
Elisabeth Alvin-Slier, Auschwitz, December 11 1942, aged 30
Louis Slier, Auschwitz, January 31, 1943, aged 30
And the list goes on…..
34 close family members brutally murdered.
We each take from the Holocaust something personal – for me it was a deep sense of injustice and how I wanted to be part of a better world. I grew up in South Africa far away from the horrors that had befallen European Jewry, but with challenges of its own.
Beautiful Portraits of Auschwitz Survivors #HolocaustMemorialDayhttp://t.co/sl8iZTWeuGpic.twitter.com/eQwb5hNsY9

— BuzzFeed (@BuzzFeed) January 28, 2015
Eighteen years ago, a foreman of a demolition company came across a box of letters hidden in the ceiling of an apartment at 128 Vrolik Street, Amsterdam. They belonged to my second cousin, Flip, who'd been forced to work at the Molengoot labor camp. He died in Sobibor at the age of 19. From his letters I saw just how much he wanted to live.
History is not ours to change. My grandfather always spoke with gratitude for the Red Army's liberation of Auschwitz. They were too late for my family but they saved others. By some strange coincidence years later I find myself working for RT as a correspondent, something I know if my grandfather was alive today, he'd be proud of. It is with a deep sense of responsibility that I wear the badge of my profession. Justice, freedom, and speaking up for those who can't are the calling cards I must answer to. As a journalist, I am writing history's first draft.
Paula Slier, RT
The statements, views and opinions expressed in this column are solely those of the author and do not necessarily represent those of RT.