'Kiev talks war when situation calms down, talks peace when things get worse'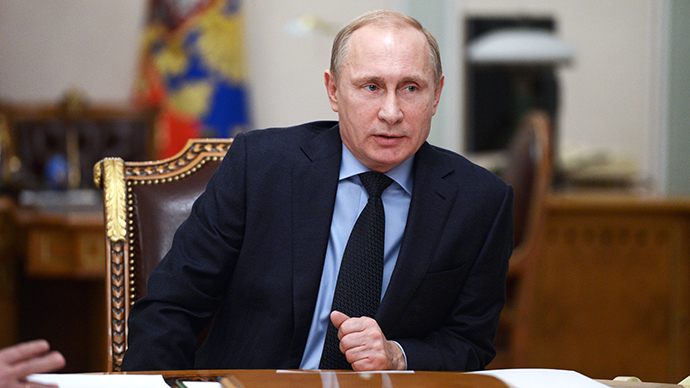 Kiev has made no sustained attempts to look for a peaceful settlement to the crisis and the Russians are starting to lose faith that it's ever going to happen, Alexander Mercouris, International Affairs Editor for Russia Insider, told RT.
READ MORE: Putin: Ukraine army is NATO legion aimed at restraining Russia

RT:Russia's President called Kiev's forces "essentially a NATO legion." Would you agree that the war in Ukraine is being fought now by foreigners?
Alexander Mercouris: I think that what Mr. Putin said goes slightly beyond that. Because if you look at what he said a few days ago at the meeting of a Security Council of the Russian Federation, he was already talking there about criminal orders and was referring pointedly to the Ukrainian government not as the Ukrainian government, but as official Kiev. Now he is talking about the Ukrainian army as a "NATO legion."
Essentially he is distancing the whole of the Ukrainian political and military system from the interests of the Ukrainian nation and is implying quite clearly that they are fighting for a greater political goal that is not a Ukrainian one but a NATO one.
RT:Putin also suggested that Kiev doesn't want to use peaceful measures to resolve the conflict. Yet the Ukrainian president has been pledging his commitment to a peace deal. So why are we seeing the escalation of violence?
AM: The problem here is that Ukraine has repeatedly committed itself to peace deals and entering into constitutional negotiations with the people who are opposed to it in these Eastern regions. Kiev has always withdrawn from these negotiations, they've never happened. What tends to happen is that when the situation seems to calm down, Kiev talks war; when the situation becomes more difficult for Kiev, it then comes back and once again talks about peace.
But there has never been from Kiev any sustained attempt to look for a peaceful settlement. And my feeling about this is that the Russians are starting to lose any faith that that's ever going to happen. And this is what we are hearing from Mr. Putin now.
RT:Ukraine's president also declared a high alert across the country and a state of emergency in the East. What does that mean for the public in Ukraine?
AM: Well, at one level it's rhetorical because of course the Eastern regions have been in a state of war for the better part of the year now. So it's hardly going to increase the violence there. But I don't think it is just an escalation of rhetoric. Making these kinds of statements increasingly puts the whole of the Ukraine on a war footing. And given that there are protests increasing not just against the government in the Eastern regions, but in other places, Kharkov and Odessa, and against military mobilization in other parts of the country it strengthens the legal position of the Ukrainian government to deal with protests in these places.
What we are looking at is a general escalation in rhetoric and in actions. And I'm afraid that has to suggest more conflict too.
MORE:
The statements, views and opinions expressed in this column are solely those of the author and do not necessarily represent those of RT.
The statements, views and opinions expressed in this column are solely those of the author and do not necessarily represent those of RT.
You can share this story on social media: