'PEGIDA rallies – violent threat to democratic societies'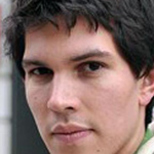 Mark Bergfeld is a writer and activist based in Cologne, Germany and London, UK. He was a leading participant in the UK student movement in 2010. He holds a BA in Philosophy, Politics and Economics and a MA in Sociology from the University of Essex, as well as a MRes in Business and Management from Queen Mary College, London. He regularly writes for magazines and websites such as AJE, The Nation, Jacobin Magazine and others. He is the editor of the e-book "Portugal, 40 years after the Revolution". His writings can be found at mdbergfeld.com. Twitter @mdbergfeld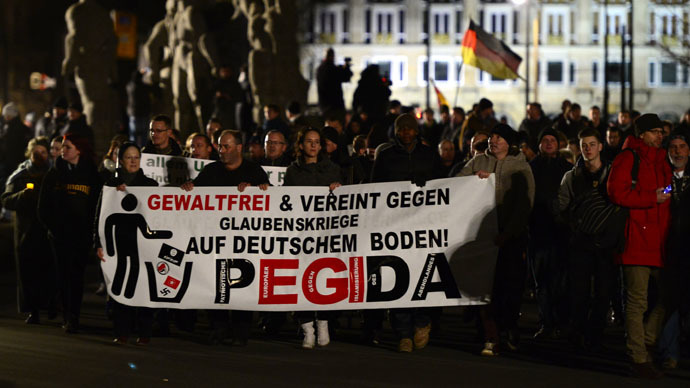 Fascist and extreme right organizations are behind PEGIDA rallies that seek to crush all forms of democracy and free speech in Germany, Mark Bergfeld, Cologne-based commentator on German affairs, told RT.
About 25,000 people in an anti-Islamist rally organized by the PEGIDA movement marched through the east German city of Dresden Monday demanding tougher immigration rules and an end to multiculturalism.
The event – staged in the wake of Paris attacks last week – sparked rival marches. Counter-demonstrations against racism were held the same day across Germany bringing together around 100,000 people.
Hours before the PEGIDA rally Chancellor Angela Merkel said that Islam "belongs to Germany."
The German government will "use all the means at our disposal as a constitutional state to combat intolerance and violence," Merkel added speaking at a conference in Berlin on Tuesday.
READ MORE: Swiss activists plan PEGIDA anti-Muslim march amid rising tensions across Europe
RT:PEGIDA (Patriotic Europeans Against the Islamization of the West) movement says they are honoring the victims in Paris. On the face of it what's wrong with that?
Mark Bergfeld: This is very farcical. The main organizations behind the PEGIDA demonstrations are fascist organizations, very extreme right-wing organizations who want to crush all forms of democracy and free speech in Germany. So, for them to proclaim free speech or solidarity with the Charlie Hebdo editorial board which was brutally murdered is farcical indeed. We need to question their motives because effectively they have been stoking these flames against refugees, against Germany's Muslim population, and are not a peace corps in reality but instead a violent threat to our democratic societies.
RT:German leaders asked the public not to attend today's rally that's only in Dresden, thousands did. Could this be a catalyst for greater anti-Islamic feeling in Germany?
MB: One thing is very clear: Angela Merkel and all the politicians in the mainstream have supported Germany's Muslim population. Merkel stated only today and in her New Year's speech: "I'm the Chancellor of all the Germans; the Islamic religion is part of Germany…" And what we have seen is that in the western German cities the demonstrations have only mustered a couple of hundred. This is a particular phenomenon in Dresden and in Saxony where right wing and neo-fascist structures have been able to flourish over the last 10-20 years.
RT:Why they have been able to flourish?Why hasn't the government been able to diminish them?
MB: We need to understand that after the fall of the Berlin Wall, federal states like Saxony have seen high levels of unemployment, low levels of political participation in the democratic processes, low levels of immigration to Dresden and the federal state of Saxony. It is particularly in those states that fears about the economic decline, about precarity, and about threat of immigration are far higher when there is no democratic culture, when there is no deliberation and discussion about what kind of society people want to live in.
So I think that the mainstream parties need to start to think about how do we tackle the problems that people have in those cities, such as unemployment, such as the fact that young people cannot get jobs, or have no perspective. And it's in that vein that we all can start to build unity between the German Muslims and German native citizens.
RT:There's debate in many European countries about tighter border controls and immigration. Is that more likely now?
MB: We already see some of the tightest controls on the outside European borders in the European Mediterranean. We have seen more than 3,000 deaths of refugees in the last year alone. And people are dying at the European borders. The question is how we can start to have a discussion about how refugees can safely enter Europe and how they can live a decent life without going into criminality or without having the prospect of being on the edges of society. That means providing jobs for people, native as well as refugees. I don't think that the solution is to have tighter border controls but we need to think about how we can enable people to find the safe haven here when there is war raging in Syria and the rest of the world which have been incited by the West to begin with.
The statements, views and opinions expressed in this column are solely those of the author and do not necessarily represent those of RT.