'Anti-Muslim bias, police failures': Mending France after Charlie Hebdo attack?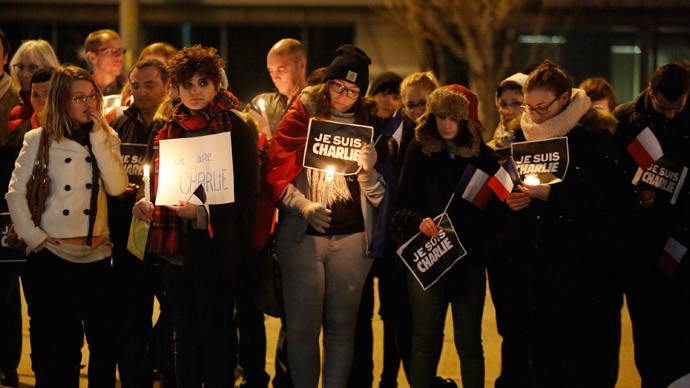 Wednesday's tragic killing of 12 people at the office of the satirical Charlie Hebdo newspaper in Paris has raised questions about what policies and actions have led to the attack, and what sort of fallout can be expected in French-Muslim society.
READ MORE: Who profits from killing Charlie? (OP-ED)
While the reaction to the shooting massacre in central of Paris largely focused on condemning the atrocity and showing solidarity with the slain cartoonists and policemen, some have attempted to analyze what actually led to the terror act.
Europe's multicultural policies, the problem of antagonizing Muslims in society and the weaknesses of police forces that are not trained for "war-type situations" have been highlighted by critics among less obvious grounds for the attack than the religious extremism and the Middle Eastern wars.
Some blamed France's multiculturalism model for creating a rift within the French society between the Muslim and non-Muslim populations. Chairman of the English Democrats Robin Tilbrook told RT he thinks this kind of policy is not sustainable.
"It is the fundamental problem of multiculturalism and the whole model of multiculturalism. We've got societies living side by side now that have very little contact with each other and have no shared values. Consequently, we've got this increased of ghettoization of our society. It is not only French society, but society here in England as well," Tilbrook said.
'Growing anti-Muslim sentiment'
Even before the recent string of Islamist attacks, many Muslims living in France have felt the staunchly harsh anti-Muslim sentiment that is sometimes exacerbated by the authorities, Cecile Le Roux told RT.
Le Roux, herself a Catholic French, who is spokesman and wife of Rachid Nekkaz, a prominent Algerian-born businessman and political activist, said she experienced "upsetting dissidence" after she got married to a Muslim and had a child.
"Anti-Muslim sentiment in France is something that was new to me when I married Rachid Nekkaz. And having a child you sort of feel like it is unsexy to be Muslim and Arabic in France," she said.
"The French government has contributed to [this sentiment]. The government seems to be unsure of how to handle the fact that the growing part of its youth population is of Muslim culture, even if they are not necessarily all practicing Muslims," Le Roux said.
Local lawmakers began to use the law to limit personal freedom as one of the solutions.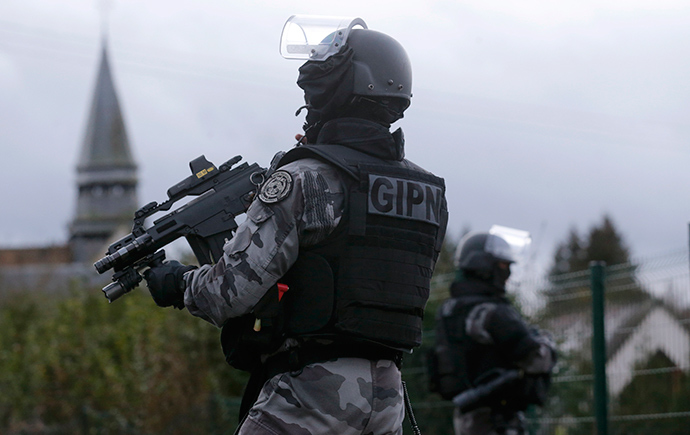 "At the moment instead of my being able to tell you that France is looking into how to cohabitate and how to peacefully live with different cultures and religions, one very clear thing that has happened is that a law has been passed that forbids young women to dress the way they want."
Le Roux said she is afraid that even tougher times are ahead for the French Muslim community, as tensions are high in the wake of Wednesday's attack.
'French police not prepared for war situations'
Meanwhile, questions are also being raised about whether the French police are prepared to deal with extremists who return to the country from wars in the Middle East.
"[Police] are not trained to face a war situation," Eric Denece, director of the French Center for Intelligence Studies, told RT. "They are very lightly armed – just pistols, guns and some machine guns."
Denece said that the situation is unlikely to change any time soon, because in retrospect not many people die every year as a result of terrorist acts to trigger a significant change in funding and policy.
"From 9/11 until today, we had only 28 people killed because of terrorism. So it's about two people killed a year, so we are not going to change our system just for two people a year."
Don't hate what you don't understand. #CharlieHebdo#AhmedMerabet#JeSuisAhmed#JeSuisMuslim#JeSuisCharliepic.twitter.com/1Ex4AayuFz

— the_agongcaliphate (@FazrieySyah) January 8, 2015
Another difficulty facing French police is the sheer number of potential terrorists under surveillance.
"We have around 1,000-1,500 people who are thinking to go into action to do something in France. Most of them are already on the police record, but we don't know exactly which ones are going to act in the coming days," Denece said. "These kind of people are much more close to serial killers than terrorists because it's impossible to anticipate their actions. It is impossible to know what they are going to do."
Another obstacle is that after several months of inactivity, French intelligence has to drop watching the individual. This is exactly what happened in the case of the Paris shooting suspects, Denece stated.
It's the terrorists' aim to create a gap between French citizens who are Muslim and the rest of the French society, he added.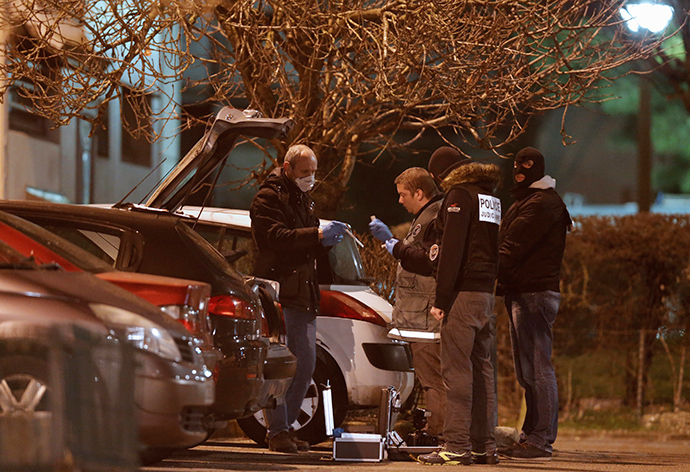 'Vilifications of Muslims must stop; support integration'
The attack has also sparked discussions on what the French Muslim community's response to the tragedy should be. While some argued that the country's Muslim leaders must immediately come forward to condemn the attackers – which some of them did – others questioned why the five-million-strong French Muslim population has to apologize and face backlash for the crime committed by fanatics in the name of their religion.
Asghar Bukari, founding member of the Muslim Public Affairs Committee UK, told RT he believes extremists on both end of the spectrum should not be allowed to polarize society. Instead, both the religious leaders and the government should do "a better job" of integrating Muslims into society and "telling their story" in an unbiased way, he said.
"What you have is a worldwide context… across Europe, across the Muslim world – a polarization, a hardening of views, a feeling that we [the Muslims] are so different, we can't live together, we have to be at war," Bukari said, adding that the so-called War on Terror only worsened things and made the Muslims feel they are hated by the West.
I am not Charlie, I am Ahmed the dead cop. Charlie ridiculed my faith and culture and I died defending his right to do so. #JesuisAhmed

— Dyab Abou Jahjah (@Aboujahjah) January 8, 2015
While assessing the French satirical journal as "racist," Bukari said he thinks that such publications are given a green light in Europe only because "Muslims are not seen as human enough" and are being "vilified" on purpose.
The Western leaders "have to change the mood music, we have to stop talking about each other as if we're enemies… as if our values are so different – we are human beings, all of us have to live here in this world," he stressed.
According to Bukari, "three people should not be able to get France to turn against five million Muslims."
Iraq, Syria blowback?
Critics have argued that the Charlie Hebdo attack could be a blowback for France's role in the Iraq war and Syrian crisis, and their involvement in training and aiding rebel groups, some of which were later denounced as extremist.
READ MORE: West should own up to its mistakes amid Charlie Hebdo aftermath (OP-ED)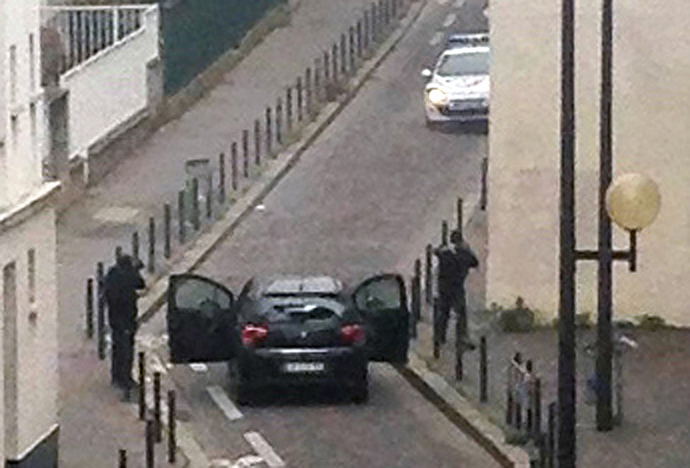 In September last year, Interior Minister Bernard Cazeneuve said that about 930 French residents and citizens, including 60 women, are either already fighting in Iraq and Syria or are planning to go there.
Islamic State militants have released a series of recruitment videos, some of them particularly targeting English-speaking Muslims in Europe and Australia, others aimed at jihadists in France.
READ MORE: Nearly 1,000 Frenchmen join jihad, dozens of women and kids 'stopped en route'
In the Charlie Hebdo attack investigation, police have identified two suspects who are currently on the run: brothers Said Kouachi, 34 and Cherif Kouachi, 32.
There are unconfirmed reports that Said Kouachi received weapons training in Yemen in 2011 with an affiliate of the Al-Qaeda terrorist group.
Meanwhile, his brother Cherif was sentenced to 18 months in prison after being charged with terrorism in 2008 – reportedly for taking part in an Islamist cell that enlisted French nationals from a mosque in eastern Paris to go and fight Americans in Iraq and Syria.
The statements, views and opinions expressed in this column are solely those of the author and do not necessarily represent those of RT.