Opportunity for Russia? India cancels $1bn minesweeper deal with S. Korea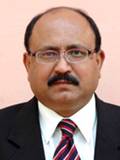 Rajeev Sharma
Rajeev Sharma is a New Delhi-based journalist, author and strategic analyst. He has been in journalism since early 1982 and has so far published two fiction books and five non-fiction books, the latter all pertaining to international politics and terrorism. He tweets @Kishkindha and can be reached at bhootnath004@yahoo.com. He describes himself thus: "I am a journalist not by vocation but by passion. If posterity ever were to remember me, it would do so for my investigative book 'Beyond the Tigers: Tracking Rajiv Gandhi's Assassination.' This book is the decoder for the quintessential journalist in me."
Rajeev Sharma is a New Delhi-based journalist, author and strategic analyst. He has been in journalism since early 1982 and has so far published two fiction books and five non-fiction books, the latter all pertaining to international politics and terrorism. He tweets @Kishkindha and can be reached at bhootnath004@yahoo.com. He describes himself thus: "I am a journalist not by vocation but by passion. If posterity ever were to remember me, it would do so for my investigative book 'Beyond the Tigers: Tracking Rajiv Gandhi's Assassination.' This book is the decoder for the quintessential journalist in me."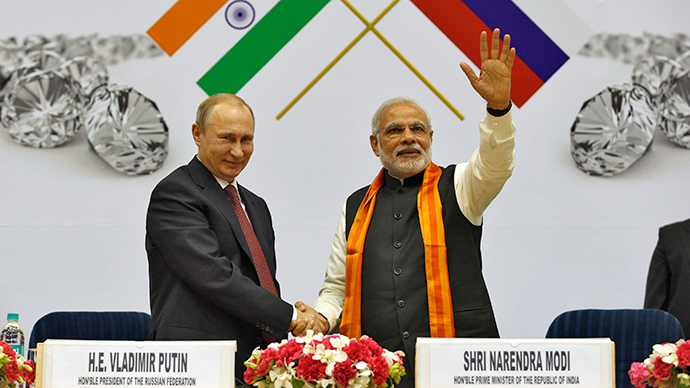 An opportunity has arisen for Russian shipyards to tap the Indian market, with New Delhi canceling a billion dollar deal with South Korea for the supply of eight Mine Countermeasure Vessels (MCMV) to the Indian Navy over suspected irregularities.
An MCMV is designed for the location of and destruction of naval mines, combining the roles of minesweeper and mine hunter in one hull.
Strategically, the MCMVs are of crucial importance for all countries as terrorists become more and more tech-savvy and embark on newer ways to wreak mayhem. India and Russia are no exception. There were several intelligence reports recently in India conveying threats from terror outfits from the sea.
In early November, the port of Kolkata in West Bengal was put on a high alert after intelligence reports warning of a possible terror attack by well-trained terrorists with help from Pakistan Navy elements. Two warships, INS Khukri and INS Sumitra, were ordered to set sail as a pre-emptive move.
As many as 41 ships and vessels of different parameters are currently being constructed in India at a cost of $32 billion. However, given the current security scenario, the role of MCMVs is of increasing significance for keeping sea lanes mine-free, protecting naval assets and for clearing minefields near enemy shores for launching offensive attacks.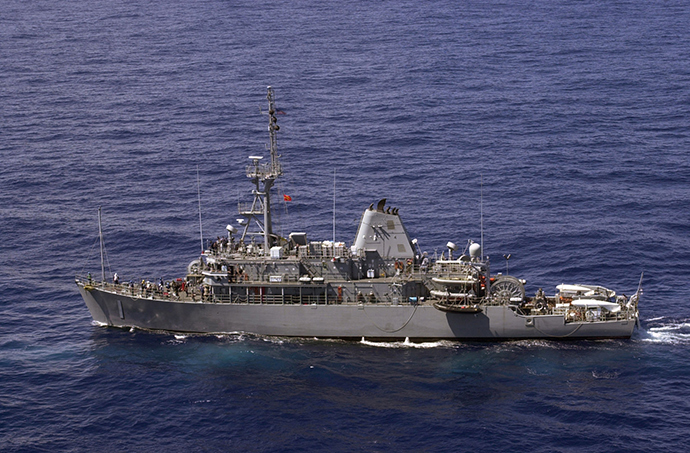 India has previously done business with Russia with MCMVs. The Indian Navy currently operates at least seven aging minesweepers bought from Russia four decades ago.
But before we elaborate on the Russian angle in this context, it will be in order to give a brief background on India's cancelation of the MCMV deal with South Korea.
Cancelation of S. Korean contract
The Indian decision, the first major decision taken by Manohar Parrikar after taking over as defense minister on November 9, was formally conveyed to South Korea earlier this month, Sitanshu Kar, chief spokesperson of the Defense Ministry confirmed to this writer.
The South Korean company Kangnam Corporation had worked hard for years for the minesweeper deal with the previous government headed by Manmohan Singh and had won the competition in 2008 by quoting the lowest price for the minesweepers.
The Bharatiya Janata Party (BJP) government inherited the South Korean minesweeper contract along with a major lacuna – the suspicion that Kangnam bagged the deal with the help of a middleman, which is a big 'no-no' for the Indian Defense Ministry. The matter was further complicated as the Korean company refused to give a guarantee that no middleman was used to clinch the MCMV deal.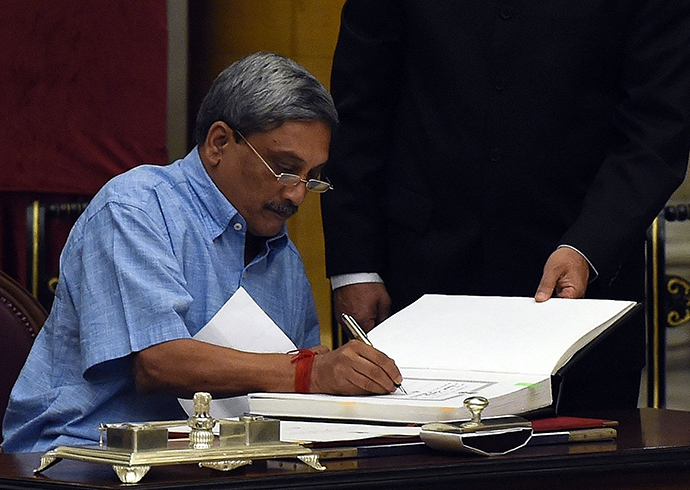 The BJP government was extra cautious about the minesweeper deal as one of the clauses of the deal was that the Koreans would deliver two fully built MCMVs to India while the rest of the six boats would be built by Goa Shipyard Limited through technology transfer.
Manohar Parrikar is from Goa and is a former Goa chief minister. He felt that the MCMV deal negotiated by the previous government could be a trap for him and the BJP.
However, the Defense Ministry has not blacklisted Kangnam Corporation for the simple reason that blacklisting invariably backfires as the rest of the companies having required specialization take advantage of the situation and jack up their prices.
India's Defense Acquisition Council (DAC) has given its approval to Goa Shipyard Ltd (GSL) for construction of all eight minesweepers for the Indian Navy, with the option of additional vessels. The Indian Navy requires at least 24 MCMVs urgently.
The Indian government is likely to encourage roping in a foreign vendor for the MCMV project. This is where the Russian angle comes in.
How Russia can be on board
Russia is working on its own MCMV project: Aleksandrit class minesweeper (Project 12700). The new Russian minesweeper is being constructed for the Russian Navy. The first ship was laid down on September 22, 2011 and was launched in June 2014.
Currently four ships are planned to be constructed but Russia plans to induct 30 minesweepers in its navy by 2050. The Russian MCMV's hull is made of monolithic fiberglass, which gives it advantage in minesweeping. The vessel's USP is that it is capable of detecting and destroying all kinds of modern sea mines, even if they are silt-covered.
At a time when Indian is looking for foreign vendors who have proven expertise in building MCMVs, Russia can throw its hat in the ring. This could be Russia's wild card entry into a new defense area of MCMVs and get on board with the Indians at this opportune time when Prime Minister Narendra Modi is eagerly looking toward foreign companies' participation in his pet 'Make in India' scheme.
But this is not going to be easy as the South Koreans won't be throwing in the towel. Indian Foreign Minister Sushma Swaraj would be in South Korea this weekend (December 27-28) to attend a meeting of the India-South Korea Joint Commission.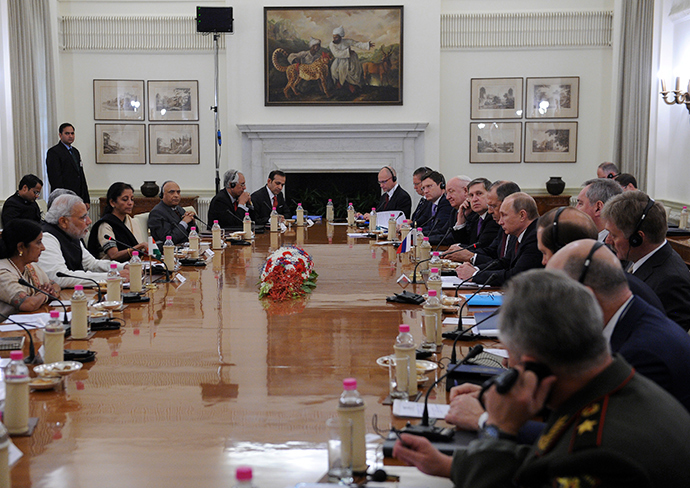 The Koreans will definitely be raising the MCMV issue with Swaraj. India has not shut the door on South Korea. Its problem was only with regard to its concerns on the suspected involvement of middlemen.
Moreover, India would not like to let the cancelation of the MCMV deal affect its bilateral relations with South Korea, an important country for India over the larger issue of its strategies in dealing with China. Political ties between India and South Korea were put on a very high pedestal by the previous UPA government and the Narendra Modi government is also keen on continuing with the same policy toward South Korea.
India and South Korea have a bilateral trade of $17 billion and Joongyu Lee, South Korean ambassador in New Delhi, went on record as saying at an event in New Delhi on 18 December that the two countries had the trade potential of $100 billion.
What the Russians can do is to convince India of their utility and proven expertise in the area. But Moscow will have to take the initiative. It could be a multibillion dollar opportunity as the two sides can sweeten the deal for themselves by developing these vessels for joint exports as well.
This may well be a low-hung fruit as boosting defense exports is a stated objective of the Modi government. If all goes well this could be another input in consolidating Indo-Russian defense ties, a priority area for both New Delhi and Moscow.
The statements, views and opinions expressed in this column are solely those of the author and do not necessarily represent those of RT.