Imperial growing pains: Obama's popularity among troops sinks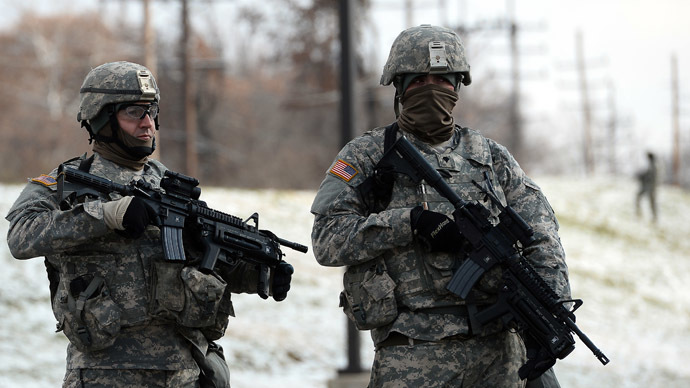 US foreign policy continues its bold global juggernaut, but support for Obama among the rank-and-file has sunk to just 15 percent. At the same time, just 12 percent of the troops say America's two-party political system is working for them.
If Barack Obama was aiming to please American soldiers by transforming the intensely conservative institution of the military along loose liberal lines he was seriously misguided. A whopping 55 percent of troops said they disapprove of Obama's performance, according to the results of a survey of some 2,300 "soldiers, sailors, airmen and marines" by Military Times ('America's Military: A conservative institution's uneasy Cultural Revolution.')
While the survey addresses many of the issues plaguing the military, it gives no indication as to why Obama sought a military "cultural revolution" when the Pentagon already had its plate full with overseas entanglements.
READ MORE:US Army opens risky gay front
Obama's repeal of the "don't ask, don't tell" rule, for example, which attempted to shut the closet door on the issue of homosexuality among recruits, together with his decision to lift the ban on women in combat roles, shook the military institution to its very core.
Some critics have suggested that the Pentagon wanted to reverse the ruling on barring openly gay, lesbian, or bisexual persons from military service because it needed every man, women and transsexual it could get its hands on. With the new ruling, no service member could avoid a foreign conflict based on his or her sexual preferences.
The survey speculated that the Democratic leader's "heavy-handed social engineering" – which probably caused General George S. Patton to roll over in his grave - could eventually "undermine good order and discipline."
Military veterans interviewed for the survey admitted that the changes introduced by Obama could be "jarring." That seems to be putting the matter a bit mildly.
"It's a very different Army than the one I came in to," said Sgt. 1st Class Eric Rexilius, a helicopter repairman who served in the US military for 21 years.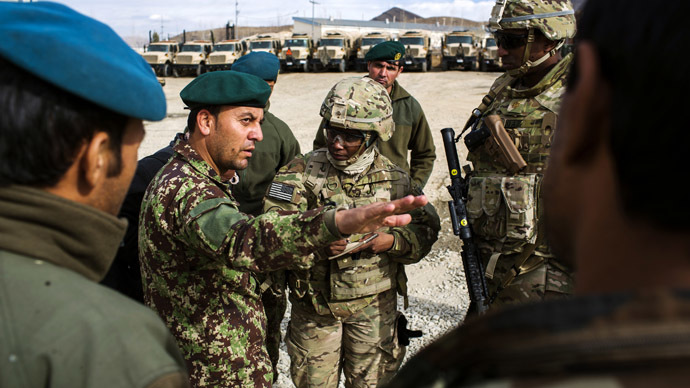 "For most of my peers," Rexilius said, "[the institutional changes enacted by Obama] makes them uncomfortable because it's not what they are used to."
However, the survey suggested that homosexuality in the military has generally been accepted by the rank-and-file. In 2009, 49 percent of troops believed homosexuals and bisexuals should be barred from military service. In 2014, disapproval dropped to just 19 percent.
Still, it remains to be seen what kind of legal repercussions this sort of colorful gay parade will have on the conservative institution. For example, will military leaders get bogged down in more mundane matters related to lawsuits filed by disgruntled servicemen who may feel their personal lifestyle - gay, straight or otherwise - caused them to miss a promotion? Ultimately the question boils down to whether the military is really the place for such liberal-minded transparency.
At the same time, acceptance of females into full combat roles remains a delicate subject among troops, but for some rather unexpected reasons.
The survey cited the comments from an Army captain who said he saw morale problems during his last tour to Iraq when female soldiers embedded in his infantry unit. According to the captain, females pose a problem on a different sort of battlefield – the battlefield back home where anxious housewives are wondering what happened to their weekend warriors.
"Another problem is the wives," he said. "Everybody's OK with an all-male unit until the wives see there's a fit, ambitious young lady, and you're going to go overseas with 15 dudes, and I'm supposed to trust that situation?"
The poll also revealed another surprising trend among the traditionally conservative-leaning institution: an increasing disillusionment with America's dysfunctional duopoly. But given the US public's increasing dissatisfaction with America's two-party system that poorly masquerades as democracy, it should come as no surprise that the troops are also getting suspicious as to what really motivates military conflicts abroad.
The Pentagon will have to rationalize its hyperactive behavior abroad better than by simply saying it is 'planting the seeds of democracy,' especially when much of the planting is being done at an altitude of 35,000 feet, courtesy of drone missile launches.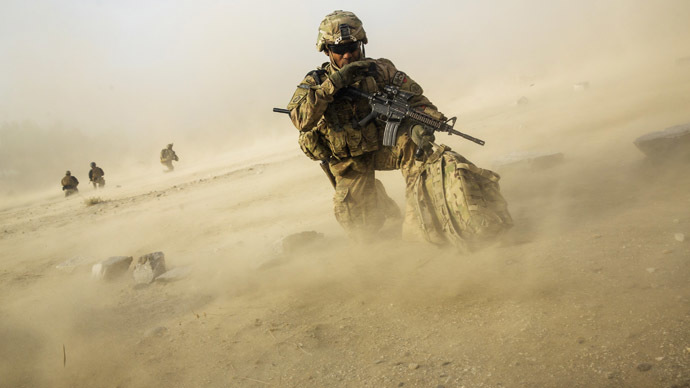 It speaks volumes about the deterioration of morale in the US military that just 12 percent of the military rank-and-file believe the dual-party political system in America has "the armed forces' best interests at heart."
At the same time, more than one-third of the military service members polled said that neither Democrats nor Republicans have been a "strong advocate for the military," while 44 percent say both parties have become less supportive of military issues. In fact, the survey reveals that military service members are "more likely to describe themselves as Libertarian (7 percent) or independent (28 percent)."
Such political views suggest that members of the US military are growing weary of non-stop globetrotting, and are searching for a new form of political leadership to finally "bring the troops home," as Libertarian politician Ron Paul regularly advised.
"I just feel like all politics goes back to money," said Army Sgt. 1st Class Gregory Pettigrew, 32. "It seems like all the [congressional] debate now is completely disconnected from reality. They don't really seem to care about how their decisions impact us."
The survey puts the hawks in Washington in a tricky predicament: While their appetite for death and destruction appears to intensify with every new conquest, the rank-and-file are showing wear and tear from the global ride. Perhaps America has given undue attention to the technological side of its military adventures while neglecting the most important asset of any fighting machine.
As far as his efforts for military reform, the US leader ignored the timely advice that commands: 'If it ain't broke, don't fix it.'
Instead of concentrating on military reform, Obama missed his historic chance to launch aggressive reforms of the financial industry, which certainly needed it much more than any other sector of American life.
Robert Bridge is the author of the book, Midnight in the American Empire, which examines the consequences of extreme corporate power in the United States.
The statements, views and opinions expressed in this column are solely those of the author and do not necessarily represent those of RT.
The statements, views and opinions expressed in this column are solely those of the author and do not necessarily represent those of RT.
You can share this story on social media: