Hush Money: West turns blind eye on Qatar's terrorism funding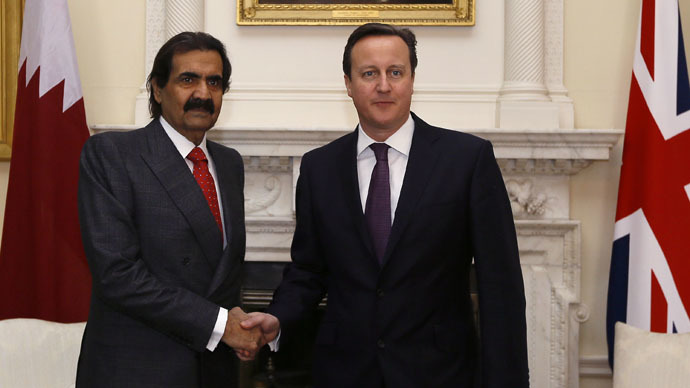 Qatar gives Western countries money they desperately need, and in return it gets a blind eye to its actions in the Middle East, even sponsoring ISIS and other jihadists, Danni Makki, researcher specializing on Middle East security, told RT.
The Qatari royal family is planning to create a residence in the very heart of London, converting three properties in Regent's Park into a single mega-mansion valued at over £200 million. The Al Thani family already owns some famous London landmarks like the Shard, the Olympic Park, and Harrods. While Qatar actively buys UK property and heavily invests in Britain's economy, the appalling situation with human rights abuses in Qatar is simply ignored by London. In fact, Britain also turns a blind eye to Qatar's links with extremist groups in the Middle East.
RT:What do you make of the accusations that Qatar is funding terrorists? They are pretty strong, aren't they?
Danni Makki: They are very strong. Qatar is one of the global funders of terrorism in the entire world. Fair enough, Qatar has excellent economic relations with the Western countries but it has a policy of double standards. It maintains a great relationship with the Western countries and within the Middle East it fuels bloodshed, violence and lots of conflicts as we can see now from Libya to Syria, Iraq, Somalia, even the Gaza Strip. Qatar has a hand in funding terrorism in the Middle East; there are numerous radical jihadist movements within the Middle East who get funds from Qatar. And the Qatari government has turned a blind eye to its own nationals funding these movements for a number of years now. So in essence we must put the blame the US which does exempt Qatar from accountability in regard to this matter.
RT:If all this is well-known, why don't we see more outrage over this?
DM: Of course not because the Western governments at this moment of time have fragile economies, they are struggling, they are desperate for funds. Qatar gives them funds. In response the Western governments allow Qatar to act as it wills in the Middle East and do what they want. There is in essence a kind of socio-economic agreement. Qatar has very well-known terrorist funders living within their country. Even the US Treasury added that Qatari nationals send up to £1.5 million every single month to ISIS fighters. And this is the same Islamic State which the Western countries are attacking.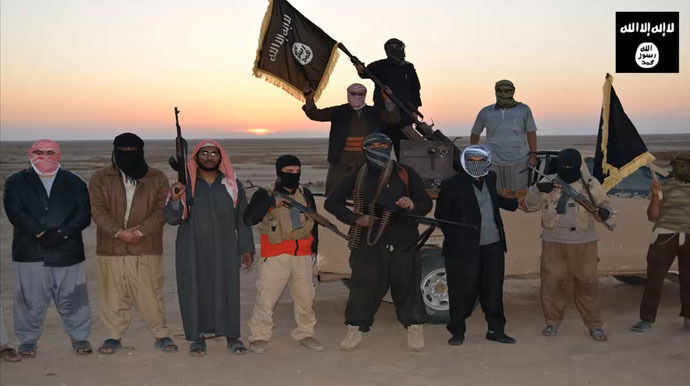 RT:Britain is very sensitive to any terror-related things. ISIS killed its citizens, British soldiers are helping to root out ISIS in Syria and Iraq…Surely it would have reacted if these allegations against Qatar were true. What's your take on it?
DM: Indeed. Qatari funds are killing Western journalists as we speak today, and there is, especially in the Western media, a kind of direction which is saying that Qatar is a terrorist state. We can get the statements of Sir Malcolm Rifkind who was a former Foreign Secretary and Defense Secretary. He stated that Qatar should be sanctioned, and this is very significant. We can argue today that people are shopping in Harrods, on a Qatari funded basis they are committing or aiding terrorism in a sense. It's quite amazing in a sense, but this is actually reality on the ground. Qatari nationals have funded terrorism all across the Arab world. We could argue that groups like Al-Nusra Front or Ahrar Al-Sham in Syria, these groups who have been admittedly funded by Qatar, even a mayor of Qatar in his previous interview stated that "we stopped funding terrorism, we stopped funding extremism." Of course Qatar hasn't stopped, it has continued funding terrorism. At the same time Qatar is playing a policy of double standards, it's almost lying in a sense to Western nations, attempting to exert its failed influence in the Arab world. The conflict zones in Iraq and Syria are very big testaments of that. We can argue that Sheikh Muhammad al-Arifi, the extremist Arab Sheikh who is banned from entering London was invited, after he was banned twice, to Qatar on government-sponsored visits. So Qatar is very complicit in aiding extremist groups, jihadists groups, and is very complicit in terrorist activities all across the world.
RT:You argue that Britain needs Qatar for the money. But why does Qatar need Britain?
DM: Qatar needs Britain first of all because Britain has a seat in the UN Security Council, because Britain is a very important country in terms of prestige. Qatar needs strong Western partners for its investments because it uses the Western world as a gateway to more economic domination, more economic hegemony. It feels that it has feasibility to roam around the Arab world, up to attempting to overthrow governments and create rebel groups who are Islamic extremists. And the West is accepting this. Why? Because they need Qatari funds. In France alone up until the year 2012 Qatar has invested up to £15 billion. In the UK today Qatar invested tens of billions of pounds. This is very significant for the actual basis of the Western economy this time and place, especially after the credit crunch. Qatar invested millions and billions into the Western economy. So without that you can argue that Western governments rely more on Qatari funds than Qatar do on Western government's political power.
The statements, views and opinions expressed in this column are solely those of the author and do not necessarily represent those of RT.
The statements, views and opinions expressed in this column are solely those of the author and do not necessarily represent those of RT.
You can share this story on social media: