'OPEC decision will undermine global oil industry'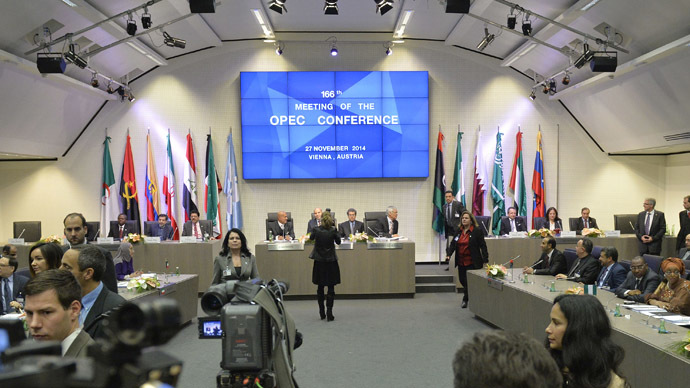 OPEC`s decision not to reduce oil production will affect major oil producers and may undermine the global oil industry, planting the seeds for a major oil crisis in 2015 or 2016, international oil economist, Dr. Mamdouh Salameh told RT.
READ MORE: Oil slumps 4% as OPEC leaves output unchanged
RT:How unexpected was that decision?
Mamdouh Salameh: This is a very bad decision by OPEC, because it means that the price of oil will slide down further. And that will affect the oil producers whether they are in the Arab Gulf or Iran, or Venezuela, or Russia. It could also undermine in the long-term US shale oil production, and of course, it will also undermine, above all, the global oil industry, because many of the oil majors will have to cut and sell assets, and cut investment. That will be reflected in lower production in the future. It means they are planting the seeds for a huge oil crisis in 2015 or 2016.
RT:Why do you think they made this decision?
MS: It was a difficult decision, it was difficult to predict, because Saudi Arabia has a political agenda against Iran. And they wanted the price to slide because they can take a bit more pain than Iran, because they need $100 a barrel while Iran needs $125. They want to damage Iran's economy, which is a very [wrong] decision because it means Saudi Arabia is playing with fire. Furthermore, they hoped that the sliding price will kill US shale oil production. And that will antagonize the United States which is a protector of Saudi Arabia.
RT:We've heard there were some dissenting voices in OPEC, but the decision was accepted anyway. Do the countries that wanted to cut production even have a voice?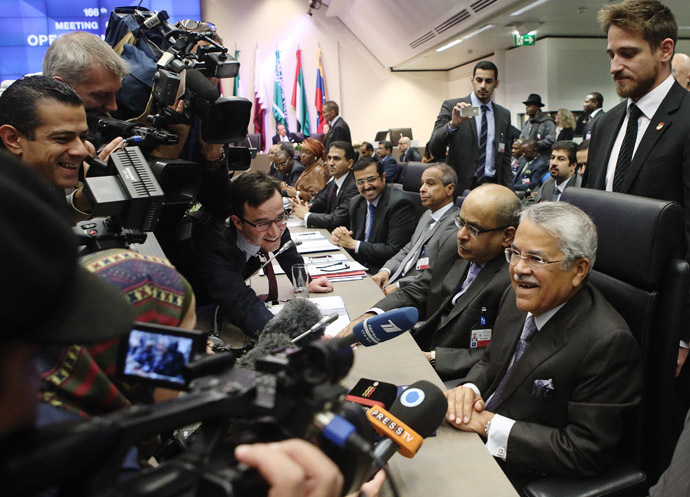 MS: Of course. But the overwhelming majority, led by Saudi Arabia, didn`t want to cut [oil] production. Of course, Iran is worried as well as Venezuela, because they need a price, in the case of Venezuela of $110, and in case of Iran $125. This means that they are worried, they might not agree with the price, with the decision, but they are not going unilaterally to cut their own production, because that will lose them a bit of market share.
RT:Saudi Arabia is driving the prices down to hurt American shale oil fracking. But will it really achieve this goal?
MS: As I said it was a wrong decision, but let me explain it to you. Shale oil production: to produce a barrel of shale oil you need a price ranging from $70 to $80. Some efficient producers can live with $70 a barrel. Most of them will need $75 to $80. So Saudi Arabia thinks that if the price slides to $70 or below it means it will undermine the shale oil production in the United States. But that's a wrong decision, because sooner or later the price will get back and start to rise. And shale oil producers will go back to producing oil in America. As I know that Saudi Arabia and Iran are having a proxy war. So Saudi Arabia can take less pain than Iran from a reduction in the oil price, but they cannot tolerate it for long, because sooner or later they have to balance their budget. And they cannot balance their budget with $70; they need $100 or more.
RT:OPEC says it's going to compare statistics and forecasts with Russia, but nothing else. How is that going to help?
MS: I don't think that was cooperation. Russia was prepared to cut production to the tune of 300 or 400 thousand barrels a day, provided OPEC takes the decision to reduce production by 2 million barrels, which is the amount, needed to soak up the glut in the oil market. OPEC took the wrong decision, I think. Russia is free not to cut production. Russia is not going to cut production, if OPEC itself is not cutting production in a meaningful way and in an adhesive way.
The statements, views and opinions expressed in this column are solely those of the author and do not necessarily represent those of RT.
The statements, views and opinions expressed in this column are solely those of the author and do not necessarily represent those of RT.
You can share this story on social media: